Humax HDR-FOX T2 Freeview HD PVR
(Humax Digital, 500GB, RRP £300, on-street price around £250-270, 1TB version also available)
Freeview hard drive recorder boxes (or personal video recorders, PVRs to give them their posher name) have been around for a while now, and Humax have generally made some very good and reliable recorders for normal Freeview use. With Freeview HD now available in most of the UK as a stable and working terrestrial digital high definition platform, and with future HD content planned once the whole of the UK goes digital, now may well be a good time to get a device that allows you to record the programmes you want, but also watch and record in 1080i high definition. Note that as Freeview HD only broadcasts in 720p/1080i, 1080p isn't an option as yet, although some devices can output as that as needed.
NOTE: Of course, like with any Freeview box, you need to make sure before you purchase that your aerial is up to the job of receiving digital signals. Here where I live, analogue got switched off a while ago, and so everyone really should have digital in some form anyway, but if you've been using cable or Sky TV, and are thinking of leaving due to the costs involved, or are due to move to digital it may be worth you checking out your aerial just in case to be sure you can receive all the channels now.
The Humax HDR-FOX T2 is a twin tuner Freeview HD recorder. In effect what this means is that you can record one programme whilst watching another, or even record two programmes at once if you so wish. Bear in mind if your TV is a Freeview TV you could set the recorder to record two programmes and you watch a third on your Freeview TV as well, thus giving you even more choice. It only requires one aerial socket input though, and there's one which loops through to your TV set as needed.
Inside And Around The Box, and Setup
The HDR-FOX T2 has a feel as soon as you take it out of the box of a really sturdy build quality. What's also a very nice touch is that there's an easy set up guide to take you through the basics of getting it set up, along with a full user manual with every instruction in more detail. You also get a really nice ergonomic remote control with batteries, a HDMI lead and even a SCART lead for connecting to your older TV set if you've bought the box for a bit of future proofing but want to use it now. The only quibble I'd have is that the power lead is attached to the box instead of a say figure of eight power lead and socket seperately.
The back of the box is fairly well laid out, and should make connecting to your TV and home cinema system a fairly easy thing to do:

The Common Interface slot on the left is covered by a bit of rubber to protect it from dust, but you can easily remove it if you want to place a module in there. It has an optical digital (SP/DIF) output next to the HDMI, with ethernet and USB next door. The old school composite audio/video is above the SCART, and overall it shouldn't be a problem for anyone to connect it up to their system. I connected the optical digital cable to one of the input sockets of my Sony STR-DB790 AV amplifier and a ThatCable HDMI cable to the TV (my AV amp doesn't have HDMI switching, but not a biggie) and all was set to go. Note the power switch at the back - if connecting the aerial cables it's recommended that this is off before you do so.
Around the front of the box is the main standby/off switch in the middle, along with a front USB port covered by a rubber flap, so when not in use the box looks neat and tidy. The display when on is a nice orange on black little graphic, with the titles of the channels and the menus you're accessing all neatly laid out and clear on the eye. So, I switched the Humax on with the remote and up came the first time installation screens, and they were a doddle. It searched through the channels first that were standard defintion, then did another pass to find the high definition stuff. All good, and all channels were found without issues.
It then asked about the standby mode - and this is important. You can set it to a very very low (less than 1W) power mode when in standby, but if you do this, and you have a normal Freeview telly or anything else running out of the aerial loopthrough, it won't send enough power through the loop through. You need to decide either way, but for me as I've got a Freeview TV, I switched this mode to off as I may just want to watch Freeview on that without the Humax being on. Within a few minutes I was all set and ready to go, and as I had no network cable or wireless dongle connected (more on networking later) it simply fired up the channels and off you go.
The TV Guide and Recording
One of the nice things about the newer Freeview boxes in general is that the 8 day Electronic Programme Guide (EPG) works really well, and that you're able to easily browse as to what's on in the future. The Humax here is no exception, but I have to say in terms of ease of use the guide is a really lovely, clear and well thought out guide. When watching on the Humax, the guide button on the remote takes you to the 8 day EPG, with the current channel on smaller display on the top left, and two hour's detail for seven channels - which you can scroll down or up easily.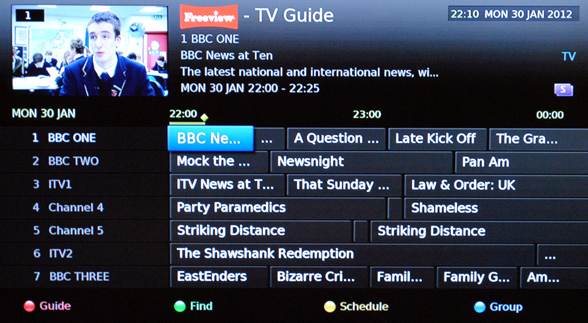 The current time is indicated by a little diamond at the top of the guide, showing where you are. You may be wondering (like I did) where the back and forward one day is. A quick read of the manual shows it's on the <| and >| (previous and next) buttons, and the rewind and fastforward buttons act as a two hour step back/forward too. Once you get used to this, it's really easy, plus you've got a find option as well to search by keyword, and that worked out really well too - made locating a programme also a nice easy thing.
Pressing the i (info) button on the remote for any programme gives you a nice window with further information: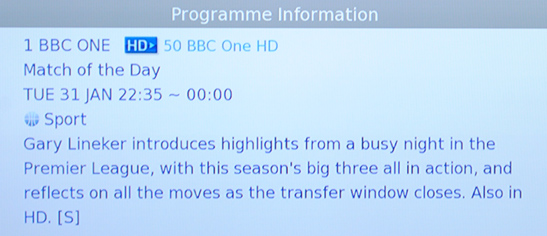 I skipped a day here - and notice something else too. If the programme is transmitted in HD, it'll give you an alternative channel to be able to watch it in HD - something that's part of the Freeview HD specifications - hence if you're watching BBC1 and there's a HD version on BBC1 HD, the Humax will tell you that with a press of the OK button to take you to the HD version. Some people get annoyed by this, but to be fair it only happens if there's a genuine HD version showing on the equivalent channel, so I can easily live with it.
Okay, so what if you want to record something on the guide? Well, that's really easy, and something other Freeview recorders need to note. Humax have really made it as simple as using a Sky+ or Tivo box to set up recording. You can either press OK or the record button on a programme in the guide, or if you find a programme, and the options come up to either record the whole series (aka Series Link) or just the one programme: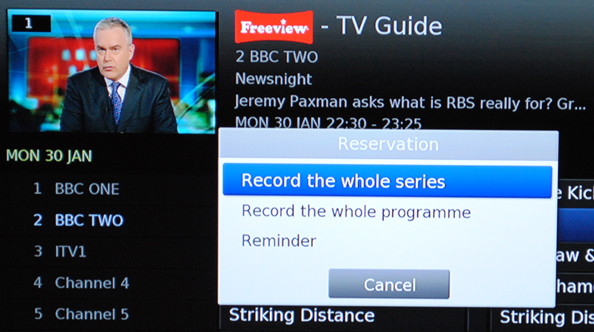 That's really easy, and note with the TV guide as a backdrop you can still keep your eyes on what's on (in this case BBC News at Ten) whilst making your mind up what to record. Of course if like me you're sometimes out when a particular programme is shown, you can do a record the whole series and off you go.
Simlarly to watching a programme in HD, if you want to record something and there's a HD version available to record, you're informed accordingly before making your decision:

When you've got something scheduled to record, and if the Humax is on, the normally blue LED circle at the front of the display goes red to indicate that you're recording. Recordings also work with the Humax in standby mode too, meaning you don't need to leave it on to be able to record - handy if you're out for the day and don't want to waste the electricity on the box doing its thing.
You also from the TV guide have a schedule button, which shows you the programmes that you've got in your schedule to record, so you can check quickly if you've already set up a recording without having to traipse through the guide, nice touch this: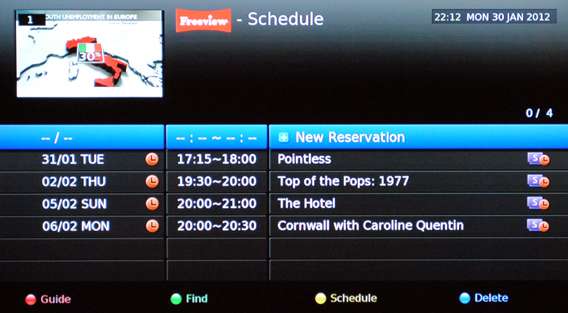 So, recording seems easy enough. But does it work? The answer is a massive qualified yes. In fact, the Humax was clever enough to know that if a programme had been rescheduled, not to set recording off before the signal is sent just before the start of the programme you want to record, so for example the snooker final over-ran, meaning that Ski Sunday was delayed which had been scheduled to record. It was no bother - the Humax recorded Ski Sunday correctly and so I was able to watch it when I arrived home later, and without any issues whatsoever. Isn't it great when things work?
The picture quality of the recordings are also spot on - just like the originals in fact. Normal Freeview channels are dealt with well and the pictures are stable and just the right side of smooth without appearing blocky, and Freeview HD recordings are first class - really indistinguishable from the original transmission with lots of detail and super smooth playback as well - just like it should be. I should also mention that the picture quality during normal transmission is really good - with a quality twin tuner in there offering some excellent signal strength and plenty of detail throughout.
Changing channels and infact bringing up teletext on BBC was also lightning fast - much quicker than my Samsung LCD Freeview TV manages. And with a smooth and slick interface, this box so far has a heck of a lot going for it - already.
Media Playback
Of course now you've recorded some programmes on to the Humax, the chances are you want to play them back. This is where the Media button on the remote comes in - as it doesn't just access the recorded programmes, but you can also display your photos from relevant media and also play music files too if you so wish, as well as video files of certain types including those which are DivX encoded - pretty neat if you download a fair bit of web video and want to show them on a TV screen instead of your PC monitor.
The menu is pretty straightforward to use, as are all the menus I should mention, and selecting the video section of media comes up with your TV recordings that you've already made: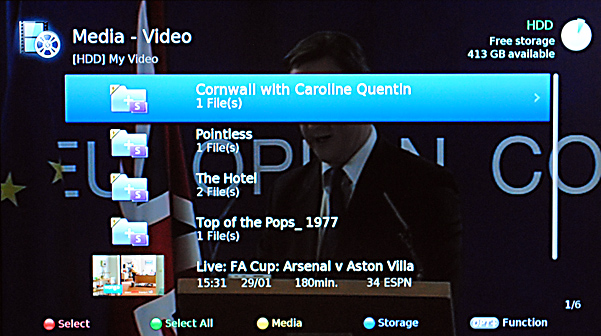 Note how if you've got a series on Series Link, a folder is created with the episodes from that series in there - meaning that organisation is a doddle to do. Single recorded programmes appear underneath the folders - as you can see, I had a nice dose of football to watch there too). Browsing the folders and files then allows you to select a file and perfom various actions: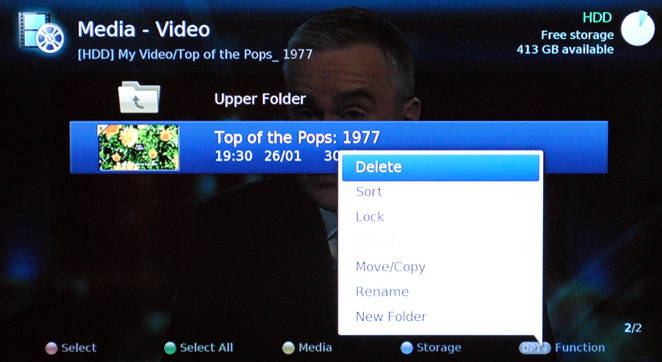 You can do some file management here, but of interest to some may be the move/copy function. If you have a USB stick or USB hard drive attached (the front USB port has its uses, you see) then you can effectively copy the recorded media to another device, which is pretty good all round. One other nice touch: if the recording is standard definition, it'll also decrypt itself at the same time, meaning you can play the file on your PC or even archive it to DVD if you so wish. You can't normally do this for high definition recordings though, so be warned.
With the storage options you can also select the recording device - so if you want future recordings on an external hard drive, it can be set up that way. This option is perhaps better for those who have the HD-FOX T2 Freeview HD receiver, as attaching an external hard drive turns it into a single tuner recorder, but it's nice to have that flexibility nonetheless. The media coloured button also lets you switch between the type of media. If you add a USB hard drive or USB stick, the Humax will detect it and ask you what type of media is on there, and you can quickly an easily browse to where you want. I had some DivX encoded video files on a stick as a test, and the Humax played them all without issues whatsoever. This might be handy in future to play them on a bigger screen, so it's good that it works and indeed works flawlessly.
Oh, and something else to mention here: recording a programme works fine even if you're playing media from either the hard drive or an attached USB drive, or for that matter if you're even using the TV Portal online (see next section) so you don't need to worry about exiting the media menu if you've got a recording line up. Samsung in particular, take note!
Online Functionality
Most Freeview HD boxes and indeed a fair number of Freeview HD television sets are now coming with online functionality, usually via an Ethernet cable hooked up to your router. The Humax has an Ethernet socket and so if the router is close enough, you can simply connect the cable, set up the network settings for the network (usually DHCP and it'll work straight off) and away you go. The settings menus for the network connectivity, like all the other menus, are nice and crisp and clear to follow which is how it should be.
Like many other manufacturers, Humax also make their own wireless dongle, designed for use for their boxes, and at £29 is a fair bit cheaper than what other manufacturers charge to get their own devices to go wireless (Sony and Panasonic in particular, take note!) - however, you can make this cost even cheaper still with the Humax. Humax's own wireless adapter uses a Ralink RT3070 chipset and as the box effectively runs a Linux application for its operating system, then any adapter with the same chipset will work with a generic Linux driver installed with the Humax dongle in mind. I managed to source a Edimax UMn7711 wireless USB adapter for a mere £7 (all Edimax 7711 adapters use the RT3070 chipset so you should be good to go with those)
I plugged in the dongle, the Humax box detected it no problem, and I was soon able to enter the wireless settings, with it detecting my wireless network name and encryption, I put in the WPA2 key, and it connected, got itself an IP address and away you go. Simple. Well, almost - thankfully my wireless key doesn't have weird symbols or spaces etc, but some keys do and they may cause issues if you can't input those characters into the Humax. Most service providers' routers don't have this by default, but for those being über-secure, just something to watch out for.
Being online meant I could now press the TV Portal button on the remote and come up with a nice menu of its web applications, which are being updated all the time. Sky Player (now Sky Go) isn't there as yet, but Humax are working on this to try and get it added which might be a very worthwhile addition. So as it stands at review time, here's what you get presented with: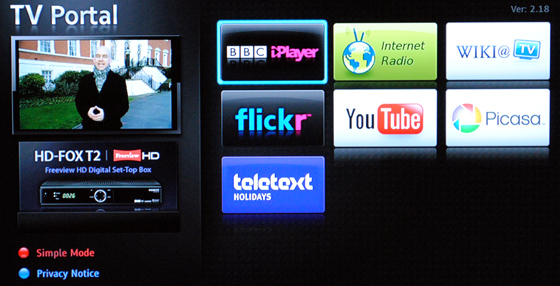 Seven options in all, and the most useful by far is BBC iPlayer, which is very slick and smooth indeed. You launch iPlayer, it comes up with a nice menu which you can then browse by channel, by time or just choose a recommended programme from the front page. iPlayer playback was possible at the highest quality setting and is a massive improvement over the very good iPlayer channel on the Nintendo Wii, with quality and speed really showing itself nicely to do the job. It seemed very easy to use on the whole and really shows off the portal to its best here.
Wiki@TV is a made-for-TV version of Wikipedia, which sensibly splits the pages into main headings for ease of browsing, and Internet Radio allows you to hunt plenty of Net-only station well. Picasa and Flickr are here, but mainly for viewing only - there's no sign in available on the Flickr app for example so you can't just browse your photostream that easily if you wanted to. The other big app here is Youtube, which works well - you can search for videos by using an onscreen keyboard or in SMS text format typing, and then the video displays in the left side window or you can go full screen. I did some video tests and the quality was pretty good considering the compressed videos you can get on Youtube.
If like me you have a TV unit that the Humax will sit in, it might be worth ensuring that your wireless dongle (even the Humax one) isn't going to have the TV unit blocking the signal. I used an easily available USB extension cable for this and that allowed me to position the wireless adapter somewhere unobscured in terms of signal clarity and strength, but out of the way of general view so it is discreet still. That showed a marked improvement, so might be worth remembering when you connect the dongle at the back.
You can also set the Humax to be a streaming server over your home network, and/or turn FTP on, so you can if you want transfer files to and from the Humax over your home network too. I tried this and FTPed some files back and forward, and that worked without issues (although the manual doesn't tell you the username or password for its FTP server, but you can easily find this out) which gives it more possibilities further down the line too. Overall, the online experience worked rather well and was very stable indeed - and that was over wireless, so I can imagine Ethernet being just as good.
The Common Interface Slot, and TopUpTV
As you'll have noted, the back of the Humax has a common interface slot. It's actually CI+ as well, which in theory allows for CAM modules that require greater encryption to be installed. (In the UK that means for example that TopUp TV offer Sky Sports 1 and 2 as well as ESPN through Freeview, but more on this later). If you're subscribed to ESPN only, your normal TopUp TV CAM (which is CI only) will work on a CI+ slot as well, so as I have one, I inserted this into the back of the Humax, gave it a few minutes on channel 16 (QVC) and then went to Channel 34, and there was ESPN in all its glory.
Of course, inserting the module into the Humax meant I could record things on ESPN and of course play them back accordingly afterwards, which is a nice plus to have, and certainly well worth doing when you happen to be away from home and there's football on there. However, as yet TopUp TV haven't yet certified the Humax as a device which they will allow to transmit Sky Sports 1 and 2 through, so if you really do want to watch them through Freeview, this isn't (as yet) the box for you. Just something to note in case that happens to be a real game changer.
Options and Manual
The options are crisp and clear throughout on the Humax, with the settings divided neatly into sections so it's relatively easy for you to find what you want. The network and Internet settings are all grouped together, as is the settings for channel management, audio outputs and even a lip-sync option with the audio so if your TV response rate is slow, you can make up for it nicely. One thing though that I wish the box did have (and I couldn't see it in the options) is HDMI-CEC compatibility, so for example if I switch the Humax on, it would switch my TV on and set it to the HDMI input that the Humax has. It's a little thing but as many other boxes do do it, it'd have been nice really.
The instruction manual also deserves a lot of credit for being really easy to read and also comes up at the bottom of each page for a handy summary of the instructions or what keys on the remote you need to use to work the options in question. It also comes with a full list of remote codes and instructions so that you can use the Humax remote to work your TV, audio amplifier and DVD/Blu-ray player accordingly without issues. I tried this and had my Sony AV receiver and my 37" Samsung LCD TV working some functions from it - simply press the buttons near the top for TV, Audio etc, and then the commands work rather nicely. Handy if you don't want to faff around with four or five remotes all at once.
Overall
I have to say I am very impressed with the Humax HDR-FOX T2. It does what you want with the minimum of fuss, the response is slick and smooth, the interface is one that's been designed with the viewer in mind - being easy instead of technical, and the picture and sound quality is second to none. It's a flexible player for playing media, and with its networking capabilities, whilst not being the most equipped in terms of SmartTV-type channels or apps, does at least do what it's supposed to do - and unlike the Panasonic recorders, has a proper working BBC iPlayer that does it justice.
Not just that - but with the ability to archive recordings to USB drives to free drive space, transferring files via FTP if you wish to do so, plus the lesser cost of going wireless than some other Freeview HD boxes, Blu-ray players or Smart TVs, and you're immediately on to a winner with this one. It's fast becoming a main part of my AV rig already and one that you won't regret purchasing for a second. Yes, there may be cheaper models, but none of them will be as robust, stable and efficiently easy to use (and efficient) as the Humax is. Yes, it is that good. Basically if you want Freeview HD and be able to record two things at once (which the What Hi-Fi award winning Samsung cannot do!) then this is your baby, hands down.
Warren's rating: 95%