Forgotten Indie Bands #3: Bennet
Once upon a time, there was a band from darn sarf that made some damn good and catchy indie-pop tunes. And yet after two albums and one Top 34 single, they went their own ways, an absolute shame. Here I recall the fond moments of their music, seeing them live, and generally enthusing about them, because they were good and no one had taken too much notice.
Anyway, late 1995, I heard Bennet's demo and thought to myself "well these are a chirpy bunch". They also seemed to be enjoying themselves thoroughly, and not caring that in 1994 Blur had annoyed their way to people's hearts with Parklife. Oh no. These songs were played with some real care in their hearts. And after a limited 7" single release, which I never got to see, out came their first proper single, "If You Met Me Then You'd Like Me". I spotted it in Vinyl Exchange for not much dosh and thought "I'll give them a go!" And bought it. And played it. A few times!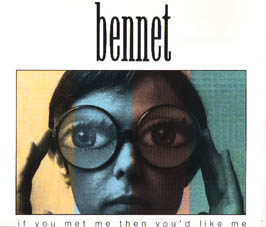 Darned infectious, this was. And it had a nice punchy sound to it which rocked along nicely. One other nice tune was the B-side Back to Back At Bracknell, definitely worth hunting the single alone for this track. That was to be one nice feature with this band - their B-sides were always different, something I always appreciated as a fan of The Cure.
A few months later there I was in Vinyl Exchange again, and noted that their second single had come out, which was Colossal Man, and the lyrics were really quirky - "I am Elvis Presley, we are the same person, the King and I" and indeed how this man was the one that all women wanted to be with. A sign of the times, maybe. But definitely catchy. As was the slow tinge of Motorbike as one of the b-sides.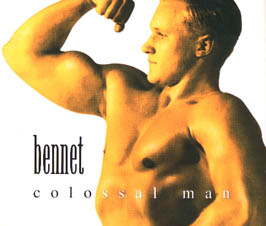 The theme of love and women was something that was throughout Bennet's early singles, as proven by Someone Always Gets There First. "I've been waiting so long, for a girl like you, but someone always gets there first.." Hasn't that happened to us all? Well of course it has. Again, a neat little set of B-sides, not least their intro song when they played live, "Hello We Are Bennet" in which the only lyrics were those words in English and French, along with the band introducing themselves. Ah, yes, better tell you who they were at this point:
Jonny Peer - Vocals, guitar
Jason Applin - Vocals, guitar, one finger piano
Kevin Moorey - Drums, vocals on the odd track here and there
Andy Bennett - Bass guitar
In a way, a classic foursome combo.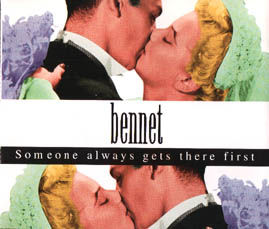 And then out came the album, Super Natural. And wow, what a really good record this is! Put it this way, take the best bits of Blur's Parklife, make them less annoying and have four blokes singing them with a smile in the hearts and a never care attitude, and that was Bennet and that was Super Natural. The sort of album when you listen to it that you just have to listen to and be cheered up by. It's really catchy, has lots of good guitar hooks in it, and has songs with great lyrics in it to boot.
The two highlights of the album have to be "Wanker", a tale of someone who dates women, sleeps with others behind their backs, and never even thanks them for sex. The killer vocal is right at the end though: "She let you inside of her, that was very brave of her, you didn't thank her, you're a wanker". And then it ends right on that note, great timing. The other stand out was then to be the band's next single, aimed about how advertising makes people want things and how we all want more,and how you don't stop wanting. It was a pretty serious message but done in such a fun way, and with the lead hook being "thank God my Mum has gone to Iceland". For those of you not in the UK, Iceland is a leading frozen food supermarket that at one time advertised a lot items they had in store including prawn ring and ice cream topping, hence them being mentioned in the song, you see.
One little caveat: if you use Windows Media Player to play your CDs, and you ask it to look up the track listing off the Internet, you'll see that they couldn't be bothered to get track three right. It's misnamed Only Thirty rather than its true title Curly Shirly.
So sure enough within a couple of months out comes Mum's Gone To Iceland as a single:
Off the back of some radio airplay and the fact that John Peel would play them on his radio show, this became the band's only top forty hit, reaching number 34 in the first week of release. It was at this time that I also saw them live for the first time, they played the Roadhouse in Manchester in what can only be described as one of the most under-attended concerts of all time. It was the Sunday they'd found out they hit number 34, and around sixty people had turned up to see them. That didn't matter. They rocked the place, playing most of Super Natural and when they played Mum's Gone To Iceland said "this is our top 34 single!" which showed their humour was intact. Amongst the songs they played were some new stuff, including Generation Pepsi, a great song that one. As you'll see later on, that got them into trouble with a certain soft drinks manufacturer..
Flushed with success, the record company, Roadrunner, did one of the worst things possible - re-release an earlier single! Someone Always Gets There First had the treatement in early 1997, and what was more upsetting for the true fan was that there were two CD singles (due to the change in the way sales could count for singles, you could have two CD singles released) - and CD single 1 was the same track listing as the original release! Bah.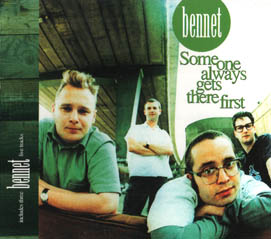 The same sleeve was used for both CDs (with just the green at the left and the logos and titles being red in CD1). This is from CD2, which at least featured some live tracks, including the perennial favourite "Wanker" and that definitely was a must have. It sounds very raw live, but definitely excellent. And not even a "parental advisory" sticker back then despite the swearing in that one. Ah, the days before political correctness went mad..
So for a while, nothing from the band, but they kept gigging, and not long after, I saw them supporting Echobelly. Rialto were also supporting and were pretty good, so I got three good bands for the price of one, although I must admit it was mainly Bennet I'd gone to see (and, ahem, Sonya Aurora Madan from Echobelly - yummy!) and they didn't disappoint. They did play some new songs along the way though, and within a few months,a brand new single!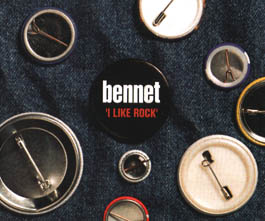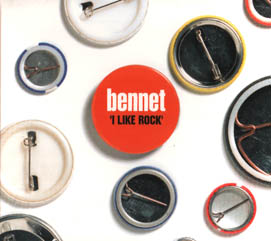 Again, two CD singles for this one. I Like Rock was infectious stuff though, as the band proclaimed "I'm going to get myself a Fender, and a great big Marshall stand". And you couldn't argue when they say "I like rock music, because you know where you are". It also sounded a bit harder than their earlier work too, which meant a nice hardening of their sound, but not losing their chirpiness along the way. Top stuff.
A couple of weeks after that, and out came Street vs Science, their second album. And although there were some tracks which were damned great, like Horse's Mouth (which once I played it I recognised it - it was Generation Pepsi when they played it live back in the day) but there seemed to be something missing. Whether they felt they had to rush out a second album I don't know, but with only eleven tracks, and some of them seemingly being fillers, I couldn't help thinking that with a few months more to make the album, it would have been even better. Having said that, it's still worth checking out if you can locate it, if not least for tracks like Hotshot and Something's Wrong With Mark.
Early 1998 and it would be the band's final fling, as the live favourite, Generation Pepsi, got released, under it's album title of Horse's Mouth. Apparently Pepsi didn't like the song mentioning their brand, or the band just didn't want to face the hassle (can't say I blame them). In any case, it's still mentioned in the lyrics, so go figure!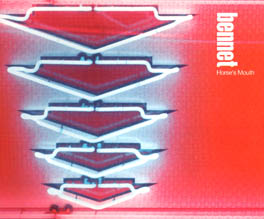 Both CDs featured these arrows. This is from CD1. CD2 has the arrows pointing rightward (basically the picture rotated 90 degrees). There were some not so great B-sides on here which was probably a sign of things taking their toll on the band, and they split sometime in 1998. A real shame that for some reason either record company hassles, the public not wanting any more quirky pop (Britpop had done its best to kill that) and/or just not being able to court favour with the music press masses, that it was two albums and a few singles to their name.
If you were a member of Bennet, or you remember them, please do get in touch!
Discography (possibly incomplete)
Singles
Curly Shirly (1995)
7" (Roadrunner RR2322 7) Curly Shirly/Space Is Ace
If You Met Me Then You'd Like Me single (1996)
7" (Roadrunner RR2316 7) If You Met Me Then You'd Like Me / Oh Yeah
CD (Roadrunner RR2316 3) If You Met Me Then You'd Like Me / Oh Yeah / Back to Back at Bracknell / Jute's Theme
Colossal Man (1996)
7" (Roadrunner RR2306 7) Colossal Man / Big Fat Wife
CD (Roadrunner RR2306 3) Colossal Man / Big Fat Wife / Club Foot Angel / Motorbike
Someone Always Gets There First (original release 1996, re-release 1997)
7" (Roadrunner RR2298 7) Someone Always Gets There First / Hello We Are Bennet
CD (Roadrunner RR2298 3) Someone Always Gets There First / Hello We Are Bennet / Charity Dave / Congregation de Frietas
CD1 (re-release, Roadrunner RR2298 3) Someone Always Gets There First / Hello We Are Bennet / Charity Dave / Congregation de Frietas
CD2 (re-release, Roadrunner RR2298 5) Someone Always Gets There First / If You Met Me Then You'd Like Me (Live) / Wanker (Live) / Club Foot Angel (Live)
NOTE: The original CD single release has a different sleeve and also doesn't have the catalogue number RR2298 3 on the side spine!
Mum's Gone To Iceland (1996)
7" (Roadrunner RR2285 7) Mum's Gone To Iceland / Bennet Have Left The Building
CD (Roadrunner RR2285 3) Mum's Gone To Iceland / Bennet Have Left The Building / Hope You'd Like To / This Is a Song
I Like Rock (1997)
7" (Roadrunner RR2260 7) I Like Rock / Air Hockey
CD1 (Roadrunner RR2260 3) I Like Rock / C'mon C'Mon / Touch Too Much / Rock and Roll All Nite
CD2 (Roadrunner RR2260 5) I Like Rock / Air Hockey / Ocean
Horse's Mouth (1998)
7" (Roadrunner RR2243 7) Horse's Mouth / Married With Children
CD1 (Roadrunner RR2243 3) Horse's Mouth / Self Murder / Dogs / A.l.i.e.n.d.i.v.o.r.c.e.
CD2 (Roadrunner RR2243 9) Horse's Mouth / Married With Children / Polka / Home Karaoke
Albums
Super Natural (1996) LP (Roadrunner RR8866 1) CD (Roadrunner RR8866 2)
Norway Wife / If You Met Me / Curly Shirly / Jordan Bennet / Cha Cha Charlie / I Hate My Family / Wanker / Colossal Man / Young, Free and Sorry / Sandman / Mum's Gone To Iceland / Someone Always Gets There First / Mockney Rebel / Kiss The Radio / Never Ending Blue / Secret Track
NOTE: If You Met Me Then You'd Like Me is shortened to "If You Met Me" on the tracklisting, but it's the same song.
Street vs Science (1997) LP (Roadrunner RR 8761 1) CD (Roadrunner RR8761 2)
Unlucky Pixie / Hot Shot / Be a Superstar / My Friends Are Getting Fewer / Swap It Around / The Horse's Mouth / I Like Rock / Built To Last / Something's Wrong With Mark / Karaoke / Das Boot