Dear Diary... October 2023
Sunday 29th October - Brighton Rocks
So today was my final visit to see Kristin Hersh live on this tour, and indeed the final date of the UK tour as a whole. I had booked my ticket months ago and had planned it so Bristol was near the start, Manchester in the middle and Brighton at the end. Plus, I'd not seen a gig in this city for many years and so wanted to rectify that a little bit to, and in a new venue for me, Komedia, which looked like it was in a good location within the North Laine area of the city centre. However, a few weeks beforehand, engineering works had been announced meaning no trains direct South of Three Bridges. So this was a challenge and I was up for it!
I worked out that using three buses, I could get all the way to Brighton from my place. So first of all was a bus I had been on before: the 405 to Redhill (I saw some snooker there at the theatre a few years back.) As it was a red TfL bus, the £1.75 fare kicked in for that and it sped through Coulsdon and Merstham, way beyond the M25 too as I reached Redhill with plenty of time to shelter in the small bus station, avoiding the rain, before the next bus: the 100 to Crawley. This started off quick but then went by some housing estate in Horley and to the Lidl in the centre, then heading to the North Terminal in Gatwick Airport, looping on itself to get to the South one, and then through some industrial parks and the Northgate area of Crawley before finally arriving at the bus station some 10 minutes late. Good job I had allowed for this!
I then did have a little worry in Crawley as the screen said that the next 271 bus was at 1320. That wasn't good - it was supposed to be 1050. Anyway I did see a bus leave the bus station and then turn round at a roundabout close by, and thankfully it was the bus that we wanted - the 271 to Brighton. This was the longest journey of the three, and it took me through lots of countryside and towns along the South Downs, so heading through Handcross and Staplefield to Haywards Heath, then to Wivelsfield and Burges Hill before skipping around Hassocks and Pyecombe and joining the main A23 road all into the centre of Brighton, alighting at the Old Steine in good time.
It was a little bit windy (understatement) and the rain was attempting to fall so headed to the Palace Pier and inside the amusement arcade. To my delight they had two good pinball machines, so I played Dr No first, all very nice James Bond themed complete with missions, and that was fun. More so of course as I got a replay free credit for getting a decent score, so go me and all that. The rain had started to ease off so had a walk down the seafront and spotted one of the Shaun the Sheep statues dotted around as part of a trail (there were plenty more I would see too.)
It was nice too to then walk to the North Laine area later where the gig venue Komedia was, but also to have a look inside a lot of the smaller shops that were along the narrower streets, with some highlights being the excellent record shop Resident, with Nick Cave being played in the background (excellent) and I did stop off her for a lovely coffee too at Jolliffes too, which was really needed as the rain and wind tried again to lash it down somewhat. It was a nice way to spend the afternoon all round and have a good mooch around, and it gave me some nice ideas too.
Later I then walked past Old Steine and on to Kemptown and located the venue where a retro gaming live music gig had been held, along with the pub that held the after party, both of them were good memories with friends. I then headed to the seafront, took the stairs down and followed the Madeira Drive - where the terraces are still in need of some TLC but by the beach are all these nice new buildings with cafés etc and all look nice too. It was good to head back to the bar in the pier, take note of Manchester City destroying Manchester United 3-0 (understatement) before then going back to the pinball machines and this time playing the Rush one very well and earning a free credit there. Go me!
After some tea in a pub, it was off to Komedia and glad I got there a little earlier: it was unreserved seating so managed to get right near the front and indeed was able to use my coat as a basic bagsy of the seat and head to the bar, where they had some nice beers on. I got one and then headed to the seat, where they did have tables. When you consider the downstairs of Komedia is more a comedy venue with the tables arranged a certain way, it did all make sense to be honest.
On came Kristin Hersh arouind 8pm complete with cello player Pete Harvey, and it was all a very enjoyable set. Once again Sparky started things off so that was me happy straight away, and also early on we got the likes of Bo Diddley Bridge (classic Throwing Muses track) as well as Krait, and some songs from the new album Clear Pond Road too, so the likes of Reflections on the Motive Power of Fire, Constance Street (still my favourite at present from that) as well as Palmetto too. All of those were very well received from an appreciative audience who were nice and quiet, as it should be during an acoustic gig.
The second half carried on in much the same way, with some of the big hitters coming out including a sparkling rendition of Your Ghost and a full on passionate version of Your Dirty Answer, which was really good. I did also like the fact that the Hips and Makers tracks again had full acoustic and cello treatment, and Teeth was particularly gorgeous (so tune of the day) and Sundrops was also fairly epic The time sped by and by the time the encore was all done, it was 9.45pm and time to exit the venue. The last UK date for a while but I am debating a European date if she announces them in the future.
After a stop off for a coffee (I found somwehre that did it and late) it was over to the same bus stop I'd got off when arriving to get the coach for part of the way back. I couldn't get local buses back, so hatched a plan to get the National Express coach to Gatwick South Terminal (as I'd booked that cheap) and then jump on the train from there to East Croydon. The coach was all good, but the first train I had to let go as it was 4 carriages with a rammed platform (thanks Southern Fail, not) but the next one was direct to East Croydon and 8 carriages, so plenty of room and got a seat to head homewards. A long day but a good one.
Saturday 28th October - Down By The River
One thing I hadn't been doing so much of lately, primarily as I'd not always had a free weekend to myself, was to carry on doing some more walking and getting myself out and about, so wanted to rectify that today, and before the rain set in later in the day. With a couple of ideas to hand, and after checking out the trains, it was off to start the South Bank of the Thames Path (having done the North one a while back) and therefore it was on the train first to Clapham Junction, and then via Wimbledon and Kingston to Teddington, and after a walk through the very nice centre of there (which looked rather lovely it has to be said) it was on towards the lock footbridge and to cross the Thames.
Section 1 is split into four sub sections (A to D) and felt that as both A and B were seven miles in total that I could get both done in the one go, and give myself a good distance to cover. Once at Teddington, and seeing all the posh houses with their gardens and moorings facing the river, it was then onwards to the Ham Lands on the right hand side, the nature reserve that flanks the river. It was good to look across and see what was happening on the North side also as the path was winding its way right and towards the point for Hammerton's Ferry, which taks people from Ham House back across to Twickenham across the river.
Some of this path I'd actually walked before when The Love In My Heart and I walked from Richmond to Ham House to look around it (as we're both National Trust members.) As such doing it in reverse was nice and I also got to see the rather wet Petersham Meadows with plenty walking their dogs despite the mud, and then through Buccleuch Gardens to the riverside at Richmond itself. Of course the swans were out in droves wanting some feeding, and someone was giving them frozen peas from a bag and they were loving them for some reason, don't know why or if it was even safe for them to eat in the first place.
Once past there and on to Twickenham Bridge with the Richmond Railway Bridge before it, that marked the end of Section 1a and on to 1b, following the path round with the Old Deer Park on the right, together with its hidden three obelisks, the King's Observatory in the middle of the park as well as a meridian line (which isn't the Greenwich one just to make that clear.) On the other side Isleworth came into view with its small island Isleworth Ait also visible from here, with plenty of aeroplanes overhead as I was now on the flight path to Heathrow no less!
The path straightened up and I got to see the far North end of Kew Gardens, with places for people to sit and enjoy the view of the River Thames, as well as the benches to relax in. I did want to go into the gardens but knew it was a fee to be paid, so carried on and headed towards Kew Bridge, and then the iconic green coloured railway bridge which takes over the District Line and Overground now. I did see a pleasure boat go past and it headed around Oliver's Island, the small river island that inspired the beer of the same name from the Fuller's Brewery, just down the river in Chiswick too..
As Mortlake Crematorium and Chiswick Bridge came into view, that marked the end of the walk and a nice few miles it was too - and headed via a small park in Mortlake to the train station, and got the train via Clapham Junction home, and again avoiding Zone 1 so much less to pay there too. I even waited some time to try out Popeyes Chicken and see what that was like - and the chicken burger was very good indeed, but not sure it warranted it for £5.99 alone of £7.99 as a meal deal with fries and a drink. The queues outside were round the block though which says to me it's been immensely popular.
Later on after a good chatter with The Love In My Heart, I settled in to watch Strictly Come Dancing. It was the Halloween special and Claudia Winkleman looked delightfully Goth in her dress (of course I approve!) and for me the best dance of the night was the last one, with Ellie Leach and Vito Coppola smashing their way with a dance to Sophie Ellis-Bextor's classic Murder on the Dancefloor. The Love replied by text with "TUNE" which said it all, I can't disagree whatsoever with that, tune of the day is then!
Thursday 26th October - Changes of Heart
It was a busy day working from home today and I was able to sort out a number of things to do with some migration pieces of work: we had agreed a naming structure for the groups that applications would be deployed to, and the way it was explained by my manager for sync to me sounded positive, so he was going to get the groups all organised tomorrow and then once that would happen, I could road test and see what happens when I look at running an application install. All should be good but it was good to have a meaningful chat and to discuss a good way forward.
I was checking the Manchester City website this afternoon as a tranche of tickets for later in the season would be released. Unfortunately the demand was high and that meant that I wasn't able to get one for the final game of the season against West Ham United. With that in mind, knowing I wasn't going to be paying out so much for the tickets I couldn't get, and with tickets still available for tonight, I decided to go to Altered Images at 229, a venue in central London, this evening. The set was to be in two parts: one playing the band's 1983 album Bite in full, and then a set of hits and album tracks.
I had some food after work and then headed off to West Croydon station and pulled off the cheaper move to get to another TfL station, so train to London Bridge, followed by a switch there for train to Farringdon, and on the tube to head across to Great Portland Street. Had this been a warm day, the aircon all the way was also a good option but even so, doing that was is £3.50 instead of £5.70 from East Croydon, due to West Croydon being a London Overground station (so the touch in / touch out assumes TfL managed station at both ends, you see.) Handy to know for reference that.
From the station it was literally a walk across the road to the venue, and the main venue 1 of 229 being used. I was checked in and headed downstairs to where the venue and bar was - and it looked good, with a stage at a good height to be able to see from anywhere and a bar that wasn't that expensive, their own 229 lager was £5.80 a pint which was pretty reasonable and nice. It was that or a Greene King beer, so yeah, easy decision really - not their horrid IPA but Icebreaker and Level Head, so not exactly that inspiring a choice.
Gary Crowley was DJing no less and he had some nice varied late 1970s and 1980s classics including Boys Don't Cry by The Cure, Rock Lobster by the B52s and plenty of others. A projector screen came down showing some vintage Altered Images footage, and not long after 8.30pm the band took to the stage: with the three guitar players all in a black suit and tie, with the drummer too, then Clare Grogan came on in a black dress and shades, evoking all the best Audrey Hepburn style possible, and got cracking with the first track from the Bite album, Bring Me Closer, and sounded all tight.
I thought I had recognised the bass player from seeing another band, and then when Clare announced the name, I remembered - it was Mandy Clarke, who was with Bombskare when they featured in Britain's Best Part Time Band years ago with Midge Ure and Kim Appleby. She looked like she was having a whale of a time, and sped through Another Lost Look, Love To Stay and the more emotional Now That You're Here to end side one of the album with suitable aplomb.
We then got side two, so the ace single Don't Talk To Me About Love was on first, with Stand So Quiet and another single Change of Heart following, and the saxophone player who had been on for Bring Me Closer came back for the album closer Thinking About You, which was really good. Clare Grogan had got emotional earlier on as she didn't expect the venue to be full and fans genuinely liking the fact the band was playing an earlier album in full, and she did have some family and friends in the audience whom she mentioned in between songs. That was the first part of the set done, so off to the bar to grab a beer for the remainder.
The latter part of the show as an intriguing mix of the old and the new: three tracks from the band's excellent 2022 album Mascara Steakz, including the title track, Gliter Ball and Double Reflection, all sounding really fresh and spot on. As for the older classics, we did get I Could Be Happy and See Those Eyes but then for me the highlight, Dead Pop Stars. I love that song and reminded me of when the band were more Goth and Clare was very Siouxsie in her manner too. The song was so well performed and Clare really belted out the "Dead, dead, dead, DEAD, DEAD!" at the end, so spot on and tune of the day for me. The set ended with Happy Birthday and that left everyone happy. Much better than I expected, and a really good gig!
Wednesday 25th October - Time for Tromsø
It was a long day in the office but one that proved worthwhile as I was able to get a few things sorted and also have a plan of action for later this week, including deployments of some software and amending the WIndows 10 build to include a new WIM and two new software releases that we needed to add as well, so definitely was a nice positive. What wasn't so positive was the state of the transport getting home - a train had broken down earlier meaning the route out of City Thameslink and Blackfriars was very screwed to say the least, definitely not one that I'd want to take.
So I thought of Plan B - go to Waterloo, get the train to Wimbledon and the tram home. Sounds simple, right? Well actually it was to a degree. Waterloo did seem to have their own delays going on but for some reason everyone was on the concourse and didn't see that the train from Platform 6 was in and heading to Wimbledon, so I headed there and managed to get a seat without issues. Not daft me you know! The train left a few minutes late but was rammed and had to refuse passengers at Vauxhall and Clapham Junction before mass exoduses at both Ealsfield and Wimbledon. I got the tram and as I had got a bus to Waterloo, hopper fare kicked in. Nice!
Once home and after having a lovely chat with The Love In My Heart, it was time to settle in for an online gig from Penfriend, called sad songs to make you feel better. This was the artist in their new home in Nottingham, with a rather nice Bjork album art to the right, playing some of the current tracks and also archive She Makes War songs too (as Laura was She Makes War prior to being Penfriend.) Once a loose microphone cable had been sorted out, all was well and time for some lovely songs, including The Best, and the beautiful Dear Heart (which is tune of the day for me.) It was just lovely.
It was then on with the final of Race Across the World and also keeping an eye on Manchester City away at Young Boys in the Champions League. City did win 3-1 with two Erling Haaland goals, so that might prove to be good for Sunday. As for Race Across the World, it was a shame that Billy Monger and his sister Bonny had to drop out due to a family emergency - I think that they had mastered the trip and might well have won. That did leave three hours between first and last, and a race across Scandinavia, trying to avoid expensive trains and stick to buses where you could.
In the end both Alex Beresford and his dad Noel along with Harry Judd and his mum Emma ended up on the same bus heading to Tromsø, and from there it was a case of working out how to get to a cathedral and then from there on foot to a cable car, where the book was at the top. In the end both of them did have enough money left - Mel Blatt and her mum Helene basically used the final amount of money to get one last taxi and so it was a case of them having a mere €1 left at the end - so they did make it by the proverbial skin of their teeth. In fact only four minutes separated first and second!
Sunday 22nd October - Shop Til You Drop
It was nice just to be able to have a relaxing morning, pottering around. I did get up around 8.30am so I could watch the F1 qualifying highlights on Channel 4 (because they are on stupidly late otherwise) and then had a coffee and just relaxed for a while, whilst The Love In My Heart and Brian the cat had some quality rest and sleep time. I could hear Brian's contented purr so he was more than happy to be close to his Mummy for a bit. We did have some nice breakfast and then thought about what we could do for the afternoon.
After our original option to head out for lunch was a non starter due to it already being fully booked, we came up with a Plan B in that we'd go to the big John Lewis in Cheadle and have a look for some festive gifts in there, and also we would be able to have lunch in the Ashlea down the road which is always nice. In fact, I did need some birthday cards anyway so it made sense to kill multiple birds with one stone and before long, it was off down Kingsway and then turning off at the junction for the John Lewis and Sainsburys. It did feel a little less busy than usual which was good.
Most of the Christmas gift ideas were on the ground floor and they had moved the cards further along, and was able to get all the cards I needed, plus a gift card for a present for someone. That was all good, and then it was mooching around the ideas for gifts - with plenty of suggestive ideas for you to be tempted to part with the cash. I must admit that it was nice to see some of the baubles and some of them were even styled like Quality Street sweets, which was intriguing especially if someone was tempted to think they were a chocolate!
I did see these rather posh new coffee machines which looked the business, not cheap though as they were £1200 or so. However, the member of staff did give us a demonstration and indirectly that meant that I was able to get a free coffee as they showed how it worked. I have to admit that it was really nice coffee, so maybe when I win the lottery I might be able to afford one. We shall see. The Love did get a few nice little things for the tree when she puts that up in December and we did think of some other nice ideas too.
Later on it was off to the Ashlea for lunch, and I have to say the chicken and ham hock pie was rather nice to be honest, it really did taste full of the meat and most importantly, it was a proper pie (so met with my approval). The Love had the Sunday Roast pork which was lovely too, and I even did the little mini pud and coffee deal to have a nice little baked vanilla cheesecake with a coffee, and that went down nicely. As did a coffee on the train later on as I headed home with (for once) the train being on time and me blasting out some lovely She Makes War tunes including Please Don't, which sounds so just made for a journey - so tune of the day for me there.
Saturday 21st October - Brighton Rock
It was a very tense journey up to Manchester last night on the train, with a number of train lines closed off around the country due to Storm Babet and the flooding it had caused due to the excess rainfall. In fact, no services were going north of Preston after a tree on the line at Lockerbie, and some passengers being stuck at Carlisle for absolutely ages. A lot hadn't heard the news and turned up to Euston thinking all was well, and then realised they probably had to either go back home or find a night in a hotel on the off chance that today would be doable for them (spoiler: it wasn't.) So I guess a half hour delay getting to Manchester actually wasn't so bad all told and The Love In My Heart did come and collect me, which was always lovely.
Today was Manchester City against Brighton and Hove Albion, the first home game I'd been to since the start of September (I had missed the game against Nottingham Forest as I had friends over that weekend) - and for me somewhere new to sit, in block 304 with a decent view almost dead central in the ground and being able to at least not be too high up in there. In fact I headed over around 2pm and made sure I had a steak pie in the ground to keep me going, and then made my way to the seat and had an excellent view, so no complaints there and I could enjoy the game.
City kicked off and all the intentions were there from the off: try and play their way around Brighton. It was soon clear that them having former City man James Milner at right back was not the smartest move, and Jeremy Doku was taking him on for fun. In fact, one such run down the left meant he got to the byline and pulled the bal back for Julian Alvarez to scuff his shot somewhat but it looped over Jason Steele in the Brighton goal and that meant 1-0 for City, so no complaints there.
City kept pressing and after some more good work, the ball went out for a throw in. From the resulting throw in, the Brighton midfield passed it back but straight into the path of Erling Haaland. He ran on towards goal and unleashed a shot from the edge of the 18 yard box into the bottom corner with venom and power. You were not stopping that one, and 2-0 City. Brighton had Danny Unwellbeck go off injured (another injury for them and they are piling up) and City could have scored more, but if someone said to me you'd be 2-0 up I would have bitten the proverbial hand off.
Brighton made a change at half time and they looked a lot better, with Pascal Groß running the show somewhat in midfield. City still went for it but couldn't get a third, and an attempted lob of the keeper resulted in a Brighton break and them scoring to make it 2-1 with a good finish from Ansu Fati after a poor defensive clearance. City did hang on a bit and went down to 10 men near the end when Manuel Akanji got his second yellow card of the game for a needless challenge in the midfield. But hang on we did, three vital points in the title race, especially with Liverpool winning earlier today and with Arsenal-Chelsea to come later (that finished 2-2, which was good for us anyway!)
Later on The Love In My Heart and I watched Strictly Come Dancing, and I have to say that out of all the dances during the evening the one that brought the fire was Ellie Leach and Vito Coppola, who did a fiery Paso Doble to the Faithless classic Isomnia (cracking choice so tune of the day) - it was a case of showing how much they could add drama and scored 37 in all, and a nice 10 for Ellie in that. Altough Layton Williams and Nikita Kuzmin would score higher later on with a 39, for The Love and me their dance was good, but not as good as Ellie and Vito. We did both think Eddie Kadi and Karen Hauer were favourites to leave though.
Thursday 19th October - Any Minute Now, Pop Will Eat Itself
After a busy day working from home and managing to further test out a good working solution that I sorted out yesterday, and proven that all the correct registration for Windows Hello for Business was doing exactly what I wanted it to do, it was good today to get a start on some documentation being written, which I would finish tomorrow, and then be able to submit to the project team for approval. The good thing is that I had the majority of screen shots sorted at least which meant I could just write it all up neatly around that, complete with any frequently asked questions as you would need.
It was therefore off to central London later, and being a tad crafty in the fares department, I headed to West Croydon to start the journey there. There are certain trains that run fast to London Bridge, then I swapped over for a train to Farringdon, then hopping on the purple train to Tottenham Court Road. The main advantage of that is that at both stations I head down to the western end of the train, meaning the western Dean Street exit at Tottenham Court Road, closer to the old office (kind of wish I was still there to be honest) as well as very close to the gig venue of the 100 Club. And because both stations start and end are TfL, it treats it like the cheaper Zone 5 to 1 tube fare of £3.50. Nice.
I went into the 100 Club, used their cloakroom to drop the jacket off (as it was raining outside so wanted to stay dry later on) and then got myself a beer from the bar. And fair play to the club for being good on the pricing, if you really wanted to, a pint of Becks was £4 (which is cheap!) and the nice ale from the Lost and Grounded brewery was £5.80 for a pint, which for central London is actually very good value. And it was cracking. All of that whilst Jim Bob formerly from Carter USM was spinning some tunes in his DJ set, which was eclectic and included the likes of X-Ray Spex, Sex Pistols and Will Smith's theme tune from the Fresh Prince of Bel Air. Yes, really.
On came Pop Will Eat Itself later and the atmosphere was really good. The band were doing this set tonight prior to two gigs at 229, also in central London. As such they were playing tracks from Box Frenzy and The Looks or the Lifestyle, and some of the tracks from the former hadn't been played live since the late 1980s, so definitely good to hear them again without a doubt. Not least the superb Hit The Hi-Tech Groove (got to be tune of the day that one) complete wirth its samples of Mel and Kim, Whistle and the likes, and wrapped up superbly in some grebo rap as well. Excellent.
A lot of the other tracks from Box Frenzy were great to hear - normally a staple of PWEI live shows, There Is No Live Between Us Anymore did get an airing of course, but massively good to have the likes of She's Surreal, UBLUD and Grebo Guru too to add the proceedings. Again, with The Looks or the Lifestyle album, normally Urban Futuristic and Bulletproof get played in a live set, but really good to hear the likes of Mother and also Karmadrome (which apparently hasn't been played live since the 2005 Reformation gigs I went to!) - so definitely good to pogo along to that.
After the album selections came more of the singles, and honestly, it was like a Christmas present wrapped early with so many PWEI classics back to back - Wise Up! Sucker, Can U Dig It, Dance of the Mad Bastards, Ich Bin Ein Auslander, Everything's Cool and also good to have the single The Poppies Strike Back from last year too, which got a great reception. The encore was also ace, Touched by the Hand of Cicciolina with then a blistering version of Their Law to round things off. An excellent set all told and one I'll look back on as a very memorable gig indeed, and shows just how good the band still are. Kind of wish I was going to 229 later this week now!
Wednesday 18th October - Diving Deeper
I had had a productive day at work in the office yesterday, upgrading our inventory system's front facing web interface several versions in order to keep up to date and secure, which was always a good thing, but also this meant that I could be able to run a number of reports off that maybe I wasn't able to do before. In addition, I did note that logging in could now be done via the email UPN attribute as well as the domain slash user name one, which for me is better anyway for some. That was tested yesterday and this worked really well, so can't complain whatsoever really.
Anyway, today was more of the same and with several of the team and the manager in, it was good to be able to get things worked on and worked out. And once I had worked on the remains of testing for the likes of the other reports and queries that I wanted to run on the inventory system, and with me suitably refreshed after a brisk walk and some lunch, it was time to work out just why the way that you'd want multifactor authentication to work on one of our new instances was failing - and time to take a deep dive into it all.
What I was able to see was that for the Azure instance concerned, Microsoft's own multifactor was kicking in too many times without our federated multifactor kicking in, and another instance was working fine. The sign in logs compared side by side showed me what was working and that wasn't, and despite my manager's confirmation that both domains should be federated. So what next? Well, let's connect to MSOL (Microsoft Office OnLine for the O365/Azure instance) and see what the federated settings are..
And this was the difference. In the one domain where stuff was working spot on, you could see that the federated multifactor was present and turned on, the other was off. It ended up being a tick box in the other that my manager could set to get the federation to act as the correct multifactor agent (and I think a third party who didn't understand our infra may have said to untick that!), and once that was done, I could re-enable the Windows Hello settings for the other tenant to replicate what I was able to get working successfully in the other one, giving things suitable time to do what should be done.
And.. badabing! I joined the domain and rebooted, and on login I was then asked to register the PIN for Windows Hello. The prompt came in for multifactor and this was the correct one using our federated auth, and with that done and sorted, it all worked as we wanted it to. Hallelujah! I felt positive knowing this was actually working correctly and without issue, and was good to have a working instance to compare against so that we know it was all behaving as intended. Feel rather justified today which is good, and I knew it wasn't something I would have set or done - just had to demonstrate it with facts. Go me! And tune of the day is the brilliant version of Yes I Can used for Channel 4's 2016 Paralymics coverage. Because, folks. YES. I. CAN.
Monday 16th October - Complaining Is Nothing Compared To Leaving
Today was a mixed day of two halves really. First of all during the day I spent some time in my lunch break writing a strong letter of complaint to East Midlands Railway. As I knew the trains to London were going to take ages, and had further been compounded on the day by a signalling issue at Euston, it was a case of you would think that East Midlands Railway would be ready for extra passengers and their usual Sunday evening travellers. But no.
I was due to board the 1743 to Sheffield yesterday, and at Manchester Piccadilly I noted that the train was to be formed of 2 carriages, instead of the usual 4. Oh no. I knew that it would be rammed on the platform and so was the case, so much so that with everyone rushing around to get on, the conductor basically told us all we would not be able to board, and had to wait. No ticket acceptance was also arranged with Transpennine Express for the 1819 train (and to be honest, that was rammed out with standing only too) and so waited for the 1843 to Sheffield, then boarded the 1951 from Sheffield.
That was also further delayed because the train was rammed and despite the far end carriage having seats, no one could get to them because the aisles were choc full. Some ended up sitting in first class with the guard attempting to keep that clear and move people on - and no initiative was given to him to basically declassify at least the first class part of Coach D to alleviate the congestion. More to the point, a 5 car train instead of their usual 7 car Meridian, once an hour from Sheffield to London? Yeah, that's not going to work so well either, and the lack of information or even attention paid to passengers was shocking - and under Delay Repay conditions, their site doesn't even allow for "my train was overcrowded" as a reason for delay, hence the complaint needed. We'll see how it goes.
Once I got home from work and had a good chatter with The Love In My Heart, I also heard the very sad news from MJ Hibbett that Ruth Miller, lead of the Leicester indie band Po! and also forming of a number of modern punk bands around the Leicester area, had passed away. This was quite a shock really, more so because she had passion and fire in abundance for her music and her punk girl diaries, and was full of the joys of life, so to have that taken away must have been awful for her family especially, whom I am thinking of.
More to the point, Ruth was absolutely lovely. She did do a few of the MJ Hibbett Totally Acoustic events at the King and Queen, and one fond memory in January 2020 was her giving me the encouragement and support I needed to be part of the backing choir on the MJ Hibbett and the Validators' song "People Are All Right (When They Are Given Half A Chance)" so that has to be tune of the day. She was absolutely awesome, and we both ended up singing our choir bits together, which was an honour for me to do so, and later on when PO! rocked the place acoustically, it was brilliant and I could understand even more why the band and Ruth were so well loved. She will be missed. A lot.
Sunday 15th October - Na'then!
After a good lie in The Love In My Heart and I had some breakfast and fussed over Brian the cat for a good while, with contented purrs and him also playing ball being the main highlights of the morning. And indeed watching some classic episodes of Bullseye and Family Fortunes (Max Bygraves era no less) whilst The Love was getting herself showered and ready. Unlike the somewhat mixed rain and sun weather of yesterday, at least today was going to be dry so we thought it would be nice to take a walk and to at least make the most of that with some lunch later too.
In fact, we decided to head down the Ashton Canal, one of our favourite walks, and end up in Manchester city centre. It's always good to follow the towpath and pass by the likes of the canal locks, see some of the building works for the new Co-Op Live venue due to open in April 2024, as well as the many walkers with their dogs heading out for a good stroll. The vibe is always good anyway and we do like a nice walk along New Islington Marina and on towards Ancoats, with Cutting Room Square being busy with Sunday afternoon people having a drink outside and inside Seven Bro7ers, with The Counting House also being very busy for lunch - we do need to check that out sometime.
I did have a hunch about one pub close by and so suggested the Smithfield Market Tavern on Swan Street, close to Mackie Mayor. Sure enough when I went in they had plenty of good beers on the go, always well worht it, but also this - yes, a bar billiards table that really does invoke all the good memories of the Indoor League television series and Fred Trueman saying "Na'then" in his thickest Yorkshire accent. You just had to get a token and pay £1 (card only though!) and the token then allowed play for around 15 minutes until the bar dropped.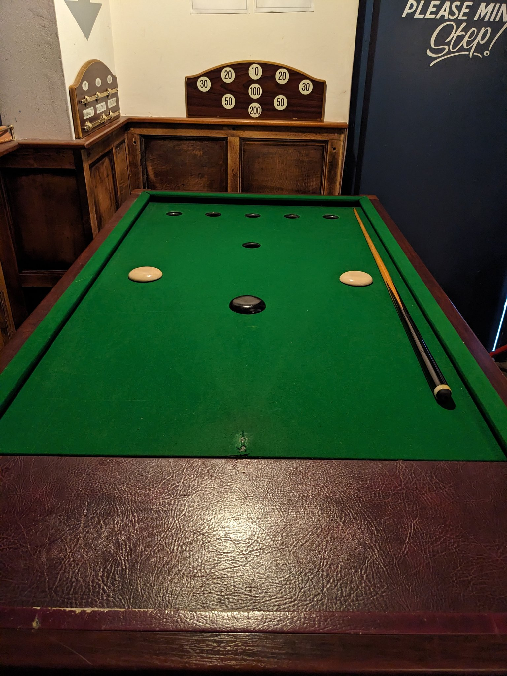 Well of course I was going to have a go of that wasn't I? The Love very kindly was the other player and once I'd explained most of the rules, she got the idea and was knocking a few balls in herself. I did play one of the white balls off the top cushion and rebounded all the way down to the 200 hole, mightily pleased with that shot. Of course, I did knock the black skittle over later on so the score was wiped out, but did enough at the end to score decently. Still, thoroughly good fun and now I know where one is I might have to try and get someone else to have a good go of that. I'll si'thee then! Tune of the day is the theme to Indoor League, aka Waiting For You by André Brasseur. Ace.
Later on The Love and I walked over to the Abel Heywood in the Northern Quarter, where a lovely Sunday lunch was ours. I had the meat and potato pie, and it was a proper pie, half a massive pie actually, and with some mash, peas and lots of gravy. Ace. The Love had the Sunday roast pork belly which was melt in the mouth gorgeous along with vegetables, Yorkshire pudding and a really nice gravy too, so we both enjoyed that with a drink too. The less said about the horrible train journey home later the better, although I might wish to use that as the basis for a formal complaint tomorrow...
Saturday 14th October - Strictly Saturday
It was a relatively relaxed day today after I had worked from The Love's place yesterday, doing a work from home sort of day, and then we headed out to get some shopping and have a pizza and some waffle fries for tea last night. We did have a lie in this morning of sorts but Brian the cat was dropping hints at his Mummy to get up as you might well have expected - he does tend to do that quite a bit and was purring contentedly to try and drop hints to get more fussing as well as some Dreamies and other treats. I relented first and happily gave him some treats so that meant The Love could have more of a rest.
It was nice later as The Love's sister came round, as did some more of the family along with The Cute Little One and her parents. She was a little quiet probably due to a few of us being there but she did look lovely in her little duffel coat and ready to head out to a birthday party later on. I think she was more than happy to just cuddle up to her Daddy and have a little look around. She did later ask me to see if we could find Brian, and he was hiding in the curtain in the bedroom window well away from the noise. Awww Brian, he's so adorable and cute when he peeps his head out.
With everyone having departed later on, we headed off to see my Mum for coffee and a chatter. It was good to catch up and she had been with her friend to see The Great Escaper at the cinema with Michael Caine. She did say it was good (and I do fancy going) and also she mentioned to me that my sister had booked a place for Mum's birthday next month, just a nice little family meal out, and so that was also good to know. The time sped by and it was nice to spend some time there before heading off to the Gateway for a well earned drink and a chatter.
Later on we settled in with a lovely chicken and some vegetables for tea, and we watched Strictly Come Dancing, as is our norm for the Saturday evening. I have to say that Claudia Winkleman looked lovely in her outfit, which pleased me no end, and with no themed week it was back to some hopefully quality dance, started off well with Ellie Leach and Vito Coppola. Throughout the night it seemed to go well, with for me the dance of the night for me being the excellent Adam Thomas with Luba Mushtuk doing the waltz to Curtis Stigers' iconic 90s hit I Wonder Why. Mega pleased Luba has someone decent!
Also, Krishnan Guru-Murthy and Lauren Oakley dancing to Red Hot Chilli Peppers' By The Way was a rather inspired move, so tune of the day for including such a classic for that one. Bobby Brazier and Dianne Buswell also went all red for a dance to David Bowie's iconic Fashion (no surprise considering Bobby was a model too) and there were plenty of other good efforts all round. Sadly I do think Jody Cundy with Jowita Przystal will be out this week as they tried hard but didn't quite make the mark with their routine...
Thursday 12th October - Hersh at the Hallé
I had the Thursday afternoon off work and with good reason - it would be the second time to see Kristin Hersh on her current tour, and this time in Manchester at the Hallé St Peter's space, which used to be a church and now is a really nice place, especially the Café Cotton which The Love In My Heart and I do pop in occasionally for coffee or even a late breakfast if we feel like it. I was heading from the office to Euston and made it in more than good time for the 1353 train from there to Manchester Piccadilly. The Love was on an early shift at work and so was able to finish early and come and pick me up at the station.
Once we got back to The Love's place, and I dropped my stuff off and unpacked, we fussed over Brian the cat and fed him - and he was purring happily as I stroked him too which was very nice indeed. It was good to see him scoff his tuna and Dreamies for his tea, and once that was all sorted we headed back out and looked to park somewhere in Ancoats close to the gig venue. There's some off street parking which is 20p for each 20 minutes, and after 6pm it's free, so as we got there just after 5, we didn't have to put much in and have a parking space til 8am the next morning. Winning.
We went for a drink in Seven Bro7ers Beerhouse first of all and the beer in there was as lovely as ever - I will definitely have to try the new satin stout sometime. The Love had booked a table at the Hip Hop Chip Shop so we could have some tea in there together - and the vibe in there is always good, plus they do have some Magic Rock beers on, so always something decent to have. In fact, we both went for the fish and chips, and it's really good - three good portions of fish in a lovely batter, and the chips were spot on, proper style. It was pretty busy too so was super glad we had booked a space before it was full, and enjoyed the food with a good chatter also. I can recommend that place highly.
I walked The Love back to the car and she was all good to head off, and I went to the Hallé St Peter's, where I was let in around 7.20pm ahead of the doors and the start of the set around 8pm. I had to giggle seeing the sign for the Victoria Wood Suite, thinking of her iconic sketches. Maybe I should be looking for her friend, Kimberley, I pondered to myself. Anyway The Love had seen Kristin Hersh with me years ago and decided it wasn't her thing, but didn't mind going it alone as you can't expect everyone to have the same music taste. The venue filled up nicely and I got a good seat with easy reach to the bar - where they had some cans of beer and also some soft drinks.
On came Kristin Hersh with the cello player Pete Harvey in tow, and with a wonderful backdrop of the semicircular dome in the Hallé St Peter's as the stage, it was idyllic. What I wasn't expecting was the instrumental Sparky to start things off, definitely tune of the day for me there and a lovely warm inviting way to start. In fact the acoustics of the venue coupled with a good sound engineer really did make the venue sparkle with its sound - it was gorgeous, and always better when someone knows what they are doing to make acoustics sound right. That set the tone for a rather lovely evening all round.
I have to say also that the audience were just as good - listening to the music without chatter, and being enchanted with Kristin's tales behind some of the songs, especially the Throwing Muses song Bywater, all about a goldfish that looks like Freddie Mercury, and a book reading to boot as well. Constance Street from the new Clear Pond Road album again sounded utterly gorgeous, with a raspy vocal from Kristin to boot. Flooding as well sounded even more dramatic and emotional than it had done at Bristol, so that was lovely and really did set the tone so well too.
There were some songs that I love about the set, and played tonight, the fire brought once again with Your Dirty Answer, as well as a rather nice version of Sundrops too, and Teeth (both of those from her 1994 debut solo album Hips and Makers). This hairdo is truly evil, and I'm not sure it's mine. There's so much lyrical wordplay around and it just merits the attention and a deserved listen, and the two hours or so with an interval sped by without realising, always a sign that you have been at a good gig. Before I knew it, it was around 10.10pm and time to head off to The Love's place, but with a happy spring in my step and lots of warm music in my heart thanks to Kristin and Pete. Can't wait til Brighton now.
Sunday 8th October - Electric Shuffle
The Love In My Heart and I had a lightter breakfast this morning with a view that we would be out later in the day and having a good time with her niece and boyfriend, and we would be doing something I've done before - basically electric shuffleboard, which is a standard shuffleboard table but the pucks have sensors in which tie in to an electronic screen you can see, which shows you the scoring and also does a video replay if you really do play well. I have to say I really did enjoy it when I went to the one in Canary Wharf with work some time ago, and because you can't book a table for just 4 on the Saturday, we did the Sunday instead.
The Love and I headed to East Croydon station to get the train - it was a little delayed, primarily due to everything being turned round at Three Bridges due to engineering work on the Brighton main line, which will also affect me in three weeks' time when going to see Kristin Hersh, but I do have a plan of action for that one, thankfully (all will be revealed nearer the time.) In any case the train did at least speed up heading towards London Bridge and we did make it just about on time to meet The Love's niece and her boyfriend.
All was well and we headed over to Electric Shuffle, which was near the road that goes underneath London Bridge station and towards the Bermondsey Beer Mile. In fact the place was wholly under the brick railway arches which gave it a really nice quaint feel but the decor was in keeping with the Canary Wharf one. We were shown to our shuffle table, which was nicely underneath more arches, and certainly felt very nice and relaxed. You could even do the call host button and order drinks to save you trapising all the way to the bar which was massively appreciated.
We did start off with the eclipse game, basically curling for shuffle pucks to get closest to the centre. The Love was super impressive getting hers close to the centre, and with two teams of two and various match ups, this did work really well and we were all getting close to the centre line, showing a total eclipse replay if you got it dead on. Then it was the game where closest to the edge scored the most points: The Love actually got a 6 pointer as her puck was hanging over the very far edge, and that counted, so that was a super impressive move and whilst we did all get 5, no one managed that so well done to her!
There's also the game where you have to get two of your own pucks closest together, so you really do have to think tactically about where to put them and not to get knocked off, and we all got two close on that one, followed then by the territory one, which was amazingly tactical and we did well on that, working out some really good strategy to place the pucks in the right zone and block the other percentages for the other side from growing. It did work well and we enjoyed that one for the tactical side. Some good tunes in the background too, so definitely a relaxed vibe.
Although you could do 60 or 90 minutes, we did the 90 when we booked as it was better value, and we got more games in too - in fact there were right rounds per game so that you could all play each other and be first or second (so you had the last puck too) and did every game once, plus a second go of both the eclipse and the scoring one, so that worked out really well, and finished with 8 seconds to spare of the 90 minutes doing that, so definitely got the money's worth!
We had also booked a table for lunch too and it was quite cosy, but also comfortable too. I ended up having the chicken bites which were lovely and some waffle fries with sour cream to go with it, whilst everyone else had a different burger, one meat, one chicken and one vegan. The food was good and we definitely enjoyed that and chattered for ages about all sorts. I know they aren't decided as yet as to where they may end up moving (if need be) but I think they were both happy to take time out for an enjoyable afternoon. I did feel sad later when I said farewell to The Love at Euston, but happy we had a good weekend, and later on watched Strictly to give The Love the results, with Kids in America by Kim Wilde (make that tune of the day) playing some part.
Saturday 7th October - Canal Carnage in Camden
It was a nice warm day today so after I made The Love In My Heart and I a lovely full cooked breakfast to get us going for the day, we decided that it would be a good day for a nice walk, and to head back to some places we'd been to before and quite liked. As such it also meant we'd be able to relax a little bit today as we did have something nice planned for tomorrow, and make the most of the time that we would have together. So we headed off to East Croydon station and took the train to Farringdon, and from there then crossed over to take the Hammersmith and City line tube to Paddington.
Part of the reasoning for that is that the tube station exit at that end of Paddington now has an exit which takes you to the canal path there, and so we walked along the canal, stopping off for a drink at Vagabond in the sunshine and shade, with the rather nice canal boats in the background giving the place some nice ambience, and one of them were even selling things like records and also copper pots and pans, all sorts really. It was good to sit down there even if the drinks were not that cheap (mental note: should have gone next door to Beany Green. Ah well.
We followed the canal to Little Venice, and admired the boats there and the nice bridge, before then following the Regents Canal. The pleasure boats were there with a queue of people ready to take the ride to Camden, but we were going to walk the canal instead. It proved to be as nice as ever, and once we got past Cafe Laville and headed over the Maida Hill tunnel, it was along the canal around the back of Regent's Park, stopping off to head towards Primrose Hill Park and see the many people on top of the hill taking in the sun too.
We then carried on walking back on the canal path, taking the sharp left at the Feng Shang Princess and as we got towards Camden, it definitely felt a lot busier - indeed the market and the food stalls were totally rammed and we were quite glad to escape all that and then follow the little shops alongside the railway arches which were much nicer, and the vibe definitely felt good. We were going to possibly stop a brewery tap room here but absolutely no chance of a seat, was rammed, so we carried on walking along the Regents Canal instead, following along towards the former gasometers and under the Eurostar tracks.
Before we knew it we'd reached Coal Drops Yard and the back of Kings Cross station, with the yard itself being much less busy and actually having a more relaxed vibe which suited us much better. We were going to pause at German Gymnasium for a drink but the staff were snotty, telling us that one section was for a private party (despite there being zero signage) and then insisiting on a cramped table for two which we had no chance of accessing. Won't be going there again in a hurry and I've marked that down as one to avoid in the future.
It was a good walk all told and four miles or so in all, so nice to show The Love a little bit of the canal walk, and without realising it, all of section two of the Jubilee Greenway (and part of section three also) so well done to her. We did get a drink at another pub close to St Pancras instaead before then heading on the train back to East Croydon from there, so that was pretty good all round. I definitely think that it's a good way to see different places although of course Camden was absolutely rammed and somewhere I tend to walk through and avoid being in, such is life.
We did watch Strictly Come Dancing later on and although it was movie week, why did the first dance from Nigel and Katya basically do the TV series theme tune to Batman by Neal Hefti (I love that soundtrack from the 60s series, so tune of the day right there for me.) Ellie and Vito were very good we thought, and surprisingly Krishnan and Lauren really did well with their dance too. I did think though that Angela and Carlos' Fosse inspired Charleston was superb, and really did deserve some good scores, and really showed what they could do. So many good dances out there!
Friday 6th October - Rocking at The Fox
It was good to get the week completed with a half day of work in the morning as I did some investigations into a couple of issues, as well as document what was needed ready for next week. I think sometimes it's good just to be able to have a number of things planned and in shape and does mean that I am more prepared for the time ahead. I also had the Sainsburys food delivery arrive too, so that meant it was less hassle than having to head out to the shops during the weekend, especially with The Love In My Heart on her way on the train.
That in itself was a bit of fun and games, because first of all Avanti West Coast said that her train was cancelled due to some overhead wire damage meaning less trains could run between Manchester and Stockport - and yet with an hour to departure they then reinstated the train - it did mean they sourced one from Longsight depot so that was empty at least, and with the previous train being delayed and people piling on that, her own train was lovely and quiet, so that definitely was a plus point all round really, and it did get delayed a little but got The Love to Euston safely.
I went to meet her at East Croydon station, and as the weather was still nice and with the thought of being sat outside in a beer garden also being a little treat, we decided to have a drink at the Dog and Bull and relax for a while there, with some quality 1980s tunes being played that we both appreciated, and chattered loads as the time sped by. It got busier in the beer garden as people finished work and it really does feel a nice oasis of calm in the town centre, so definitely for me a good thing to do.
We got changed later on as I had booked a table for us to head to The Fox in Coulsdon Common, as I'd been in it on my London Loop walk and it was nice, and thought somewhere out more in the country was a good idea for a change. We headed out and on the 466 bus through Purley and then Old Coulsdon, stopping off at The Fox, and crossing over to a road with no pavement to head to the place. The staff there had rung me earlier in the day and said a live band would be on, and it'd be no issue if we decided to cancel, but thought it worth us going anyway and to enjoy the meal out.
And enjoy it we did actually, it was all very nice indeed. I had the baked mushrooms with cheese and a garlic sauce, which was lovely, and The Love had the duck parfait with some nice bread. She had a really gorgeous mean of a chicken schnitzel with bacon, cheese and barbecue sauce on the side whilst I had the gammon steak which was delicious. I even went for a mini dessert with a coffee and so had the creme brulee with a latte, which was lovely and just enough for me without being too much. We did also have a voucher for £20 off when you spend £40, so that helped too.
By this time the band for the night had started playing and we had already recognised things like Lucky Man by The Verve and Californication by Red Hot Chilli Peppers. I did say to The Love that there may be some Oasis on later (and sure enough they did do Wonderwall!) but also they did do a really nice blues rock version of Tainted Love (originally by Gloria Jones, most people will know the Soft Cell version) so because The Love adores that so much, has to be tune of the day. Various other rock songs were played too including Sultans of Swing by Dire Straits (I approve!) - and overall a good night all round.
Wednesday 4th October - Striking For Home
It was a nice wake up in the retro rocket at the Brooks Guesthouse in Bristol this morning, and having had a good shower and got myself changed and ready, the view outside was a little cloudy (and it had rained overnight, I could hear it pattering on the outside of the retro rocket!) but all seemed well. I headed down to the lounge room for breakfast, and the staff were lovely. I could have some yoghurt with fruit, so did some natural yoghurt with berry compote, as well as croissants and pastries as well as some fruit juice, and coffee or tea. I did have a pot of coffee to get me up nicely as well as a full breakfast, with sausages, mushrooms, bacon, poached eggs and hash brown. It was very very nice!
I headed back and collected my things, checking everything for one last time so be sure I didn't forget, and then checked out. I did feel sad that the stay had come to an end but it was lovely, and I think I'd go for the largest retro rocket next time I would stay here (the 20ft one instead of the 16ft one) to see what the difference is, but also for a different view from the location it's in, on the other side of the building's roof. I took the walk over to Bristol Temple Meads station, as I had checked beforehand that the train I had booked was still running despite the strikes (and had booked a Megabus just in case.)
All was quiet on the Temple Meads front, and was able to get on the 1030 departure to London Paddington no problem. In fact there were some that had arrived so early for their booked 1130 train that they were on the same platform waiting even before my train had set off, which was something. As it transpired it was all good and the train got to Paddington on time, and had Kristin Hersh on the iPod to listen to as well (so thoroughly was enjoying some of the back catalogue, so Sundrops from the Hips and Makers album is tune of the day - and that passed the time well.)
At Paddington I had to make a split decision and as it turned out the right one, despite the tube being back operational and no strikes. So it was the purple train over to Whitechapel and then heading to the Overground to get to West Croydon. That did work well and was pleased that I had got out of Paddington main line station to head down to the purple train platform and get on the next service out of there to Abbey Wood in good time - it made the connection less stressful at Whitechapel for sure. Isn't it great when transport works and is all connected up?
Which leads me on to today's announcement, although I suspect the decision was made weeks ago, and to effectively scrap HS2 beyond Birmingham, meaning Manchester won't get any high speed rail if ever. Instead a lot of peacemeal "could be made" promises from the Government, which, having read their proposals, are utter rubbish. They talk about a Metrolink tram extension to Manchester Airport - what, you mean the one that was completed as part of Phase 3 in 2014? Dear me. I do think it's a massive blow for the North.
Tuesday 3rd October - Kristin Bristol
I had a half day off work today and with good reason - I was off to Bristol to see Kristin Hersh for the first of three times over this month, with other gigs later in the month planned for Manchester and Brighton. Part of the reason is that I do love Kristin's music, and she doesn't always tour the UK, so whenever I get a chance to go I do like to take it up and make sure I enjoy a good gig, and second is also because the set lists are going to be different most nights and so will effectively see some different shows, not the same rigid set list either. I like that approach, it makes the gig unique and certainly for me there's always some moments I'll look back and think "She played this song during the set and it was brilliant to hear it."
I did do a half day working from home and then it was off to East Croydon to get the train to Farringdon, then from there the Elizabeth Line over to Paddington. This did work out quite well overall and meant I arrived in plenty of time to nip into Sainsburys and get a meal deal, and then wait for the platform to be announced to go on the 1400 departure to Bristol Temple Meads. The train was pretty quick and comfy and went via Reading, Didcot Parkway, Swindon, Chippenham and Bath Spa before arriving in Bristol on time. Not been here for a good few years, possibly the last time was for the Gromit Unleashed exhibition.
I made my way to Victoria Street and across the Bristol Bridge, and via the old markets at St Nicholas, as the place I was staying at was right in the middle of the old town - Brooks Guesthouse. Not only was this convenient for the gig venue and city centre, but I was also staying in one of their retro rockets, an all American aluminium caravan which are based on their roof garden at the top of the building. I checked in and paid my remaining balance, and the staff were lovely. I went up to the retro rocket, and it was lovely inside - very very compact, but had all you needed, nice big double bed, tiny bathroom with shower and toilet, space for two to sit at a small table with a cuppa and rounded cushions, tea and coffee with kettle, hair dryer, and TV on a stand that you could rotate so you could see it sat at the table as well as in bed. Nice!
I locked up and headed out for the late afternoon, first of all following the roads down to the venue later so I knew where it was, and had a good look in Rough Trade too before then making my way along to the main squares and onwards to the harbourside, which was quite relaxing and not as busy as I thought. I did get to do a circular walk of sorts around there and cross over another bridge to head back, and certainly seemed nice enough. The skies were blue, and felt relatively pleasant as I made my way along Clare Street and Corn Street back up towards the market, stopping off at a pub for some well earned food.
Back at the retro rocket I had a shower and got myself changed and ready: in fact I had my Throwing Muses University tour long sleeved t-shirt from 1995 on (amazed it stll fits!) and so headed out for the evening. It didn't take me that long to walk to the venue for tonight, Strange Brew, and I was thinking that it had been sixteen years since I did a gig in this city - at the Cornubia in 2007 with MJ Hibbett and Pete Green doing acoustic sets, with the Cornubia being in a lovely little place just off Temple Street. There were people queueing outside as although the ticket said doors at 7pm, looked like it was 7.30pm when I checked on the door itself.
Still the time passed away quickly and I was in the venue, checking in with scanned code and off to the bar for some Wiper and True pale ale to keep me watered. I found a good seat four rows back (unreserved seating, glad I was there early) and an end aisle seat so no one sat one side. This was a good and bad thing as some used that row to get to the bar. Still, it looked a really knowledgable audience all told and I was hoping that it would be a case where they would be respectful and listen to Kristin playing, not chattering all over the place. Thankfully, that was proven to be right, so well done everyone, my sort of gig audience.
Kristin came on just after 8pm with the cellist Pete Harvey. Straight away you could tell the good chemistry as the set started with some really affectionate playing from both. Second song in was Sundrops, one of my favourites from the Hips and Makers album, and you could tell the diehard fans by those who didn't cheer the false ending (gets people every time that one to be fair.) A lot of the new album Clear Pond Road was played as you'd expect, including Ms Haha, Reflections on the Motive Power of Fire, and later on also Dandelion and my favourite from that album Constance Street, so definitely good to entice people in to listen and enjoy that one.
There were basically two sets with an interval in between, but definitely felt all intimate and lovely and with an appreciative audience. I didn't expect some Throwing Muses numbers, but got the likes of Slippershell, Static and Bywater. I also wasn't expecting some classic Hips and Makers material either, but Teeth during the first set was simply beautiful. This hairdo's truly evil, I'm not sure it's mine. I was sort of expecting Your Ghost as that's often a favourite on tour, but still delivered really well and with added cello sounded very much like its original recording but in a different key.
As for my favourite though, has to be Your Dirty Answer, the opening track from Sunny Border Blue - it's one of my all time faves anyway, but delivered here with acoustic and cello sounded beautiful, with suitable anger from Kristin during the second part of the song, showing power and passion in the same breath - tune of the day for me without question. It was also nice that she did a couple of book readings, from her book Seeing Sideways, with the stories being told with gusto. It was a very enjoyable evening and the time sped by, always a good sign that it was excellent.
I made my way back to the retro rocket and tucked myself into bed, and it felt really comfortable. There was even a little reading light above the bed as well as a main light switch, so you could switch the lights off there instead of by the main door, and as the noise outside from the bars died down, the stillness of the night and almost sleeping under the stars felt very different, and that was rather nice actually. Not necessarily something I'd do all the time but having this sort of experience definitely made it a worthwhile one to try out - and can recommend it highly if you want a more quirky place to stay.
Sunday 1st October - Wine and Wallop Jazz Club
It was good to have a lie in of sorts on the Sunday morning, and with the rain hammering it down, it definitely wasn't a case of going out straight away anyway. We did have some breakfast, and I was keeping an eye on the World Road Running Championship from Riga in Latvia, which had a 5K road race, then a one mile road race, and also a half marathon. In the mile we did have a British athlete get second and the lead athletes broke four minutes, which was pretty impressive. The half marathon was also pretty good for the women in that two British athletes attempted to battle the likes of Kenya and Ethopia, and so well that they ended up bronze in the team event based on aggregate time - excellent.
We did need to head out later in the day as The Love In My Heart needed to get some halogen little bulbs for her kitchen lights. For some reason the ones she was after wasn't easy to find, but I suspected the local discount and pound shops near where I used to live would be useful - and as it turned out, the first one we went in had them and at a good price, which meant that she would be able to get some and stock up. They were the right ones too and later on she had them all working, so bonus!
We popped over to see my Mum for a coffee and a natter. All seemed well but it did turn out that despite Mum ringing me asking me aboiut buses to one place, they went on the bus another way and went to another place that was actually even nicer, so that has to be something I guess - and always ask a local or advice is always a sensible thing to do, if you're not sure. It was good to spend some quality time there and before we knew it, it was time to head off and out for a couple of hours and some lunch before I would end up taking the train back homewards.
First of all, it was off to The Gateway for some lunch together, with The Love having the boneless basket and me having a nice chicken strip burger with some chips - not a massive amount either but just what I needed to keep going so that was a definite plus. We then went over to Wine and Wallop in West Didsbury where there were some much more relaxed vibes playing as they had someone with the likes of jazz and bossa nova records mixing them and doing a decent job, even though part of me wanted to do the Louis Balfour character from Jazz Club and go "Niiiiiiiiiice grrrrrrrrreat" (and so on.)
It was hard to say goodbye later at Piccadilly Station as I headed on the 1935 train to London, but The Love and I had had a good weekend all told so that was good, and I had the added bonus of some time with The Cute Little One too. The train back did get delayed due to a trespass incident between Watford and Wembley, but had the tunes on to relax with including the excellent Beastie Saudades by Grand Couloir (make that tune of the day) which wouldn't have sounded out of place in Wine and Wallop earlier on today, such is that relaxed vibe that it presents.