Dear Diary... March 2022
Thursday 31st March - Absolutely Brilliant, Part 3
So once I got home from the office tonight a nice little package was waiting for me, and inside were two more Codemasters Commodore 64 games that I used to play back in the day. In fact, I'd had another three arrive earlier in the week so after having some tea it was time to get out the trusty first run Commodore 64C along with the 1530 tape deck, and with games and Powerplay Cruiser stick in hand, let's see if the old reflexes can still cut it on the old games, many of which I did used to own first time around and are getting back now. Of course, being Codemasters, they'd all be absolutely brilliant, right?
Well, first off were both the games featuring CJ the elephant, and two games I did love originally. The first of them, CJ's Elephant Antics, was up first, and just as cutesy and lovely as I remember it. It is pretty difficult in parts but once you get used to using down on the stick to get the bombs, then be sure to use that and the firing peanut at the right time, you'll be good. I did manage to get all the way through the France and Switzerland levels (so the first two) and that pleased me that I still had it. And the title tune by Ashley Hogg is so bright and breezy, it has to be tune of the day - it is just so nice.
The sequel CJ in the USA has the title theme were it starts playing the national anthem of the USA, but then the USA letters make CJ fall over on the screen before the tune continues as an original piece. If of course you just listen to the tune without the game in context, it's easy to think it was wrong (but it's not.) More of the same here admittedly, but I do like the in-game more waltz like theme which actually works well. It is a bit more difficult in places than the original but you do at least have an idea of the obstacles ahead most of the time - just a bit more working out needed as to what the best route might be.
It was then a throwback to the 1980s with Pub Trivia Simulator, with the main game loading from side 1 only, and then the additional packs of questions (packs 2 and 3) loading from side 2 of the tape. There's a good mix of 80s music, showbiz, sport and other random questions, but I do think that it's a bit unfair until you accumulate some money (as often a question will be wrong at the start and it's immediate game over). I did manage to get through a few money mazes, rack up some credits and then be able to get a decent score though, so it is doable to be honest. So if you know the nationality of golfer Bernhard Langer, or which girl wanted to have fun, then this is the game for you.
Next up was Bubble Dizzy, one of the games in the whole Dizzy franchise which doesn't feel like it's a lazy port from the Spectrum version - far from it. This one has Dizzy using bubbles to jump up and out of the deep water, and it may seem simple but it's a good little game on the whole - with nice music, colourful graphics and plays pretty nicely, even if it can seem a little hard at times. I do like the fact the trusty egg is made to walk the plank and dive into the water at the start of the level and be in a race against time and a decreasing bonus to get up there. As I said, it's definitely one of the better games with Dizzy on the C64.
Finally was Super Stunt Man, in effect a game where you need to get to the end of each level with the stunt vehicle whilst shooting enemies, avoiding obstacles and making sure you have enough speed to get up the ramps. To be honest, it's more for the completist as the game does seem to be a little unfair in places and doesn't have the level design that thought out: it can be somewhat random at times. However, at least there's some effort made to make it not seem to be a Spectrum port over and the music by David Whittaker is okay too. Still, not one I'll be playing lots of.
I also decided to go back and play a couple of others that I've also acquired: so Thunderbolt was one of them, a nice early Gavin Raeburn shooter that sort of reminds me of Uridium with the way you have to find the landing pad at the end of the right scrolling level. However, it's noticeable also that you have one gauge of energy, when that runs out it's game over no matter how far you get, which to me seems somewhat unfair. I'd much rather have it that you either have a couple of lives with the same energy bar so you can at least get further each time, but I did get to level 9 which I can't complain about either.
Last of all was another Gavin Raeburn game, Pro Skateboard Simulator. And it's still pretty hard as nails. It does at least seem to feel easier than when I played it back in the day - get the flags on the first part of the level and get through the gates on the scrolling second part. There's seven levels in all although the later ones are utterly fiendish to say the least, with some precision required in order to collect the flags. That said, the music is pretty good (spot the Ultravox cover when you complete a level) and does really play hard but fair. Absolutely brilliant, as a certain Darling brother might say.
Wednesday 30th March - A Mixed Bag Of Tricks
It was off to the office today, so a reasonably early rise, check all is well, and then test. Thankfully at the moment I do still have some lateral flow tests, and so I'm using up the ones I have before setting off for the office to be absolutely sure that I will be able to make sure I don't have anything to pass on to anyone. For me, stopping the testing for free particularly with one variant pretty prevalent is just stupid - or at least make it so workplaces can get test kits (as happened in early 2021) so anyone can be tested before entering the main part of the office.
I spent a fair bit of time today helping our networks team diagnose an issue that I spotted - it seems that for some reason connectivity between the office and one of the data centres seemed to be slower than usual, and it definitely seemed like a latency issue. I know the ping response time when I normally contact some of the servers, and so with that being high, I tried as a test to effectively us the mobile phone as a hotspot, connect to that and then get onto our VPN. The response time was much quicker. Our Networks folks seemed to think it was an issue at our provider's end and was keeping an eye out.
I did stay a little later than planned tonight anyway as there was a webinar to attend at 6pm - but with good reason. The main reason for that was that effectively we could learn about the opportunity to take a bit of learning and development for one of our communications platforms, and in fact be able to take a course and examination for the grand total of zero, instead of around US $300, so that had to be worthy of consideration. I wasn't the only one thinking that was a sensible thing to do either!
I also helped out one of our Service Desk teams who wanted to install a piece of software that has an Excel add-on. Unfortunately the requirements weren't met because the user for some reason (and non-standard) had 32-bit Microsoft Office instead of 64-bit, and the software actually won't install on the 32-bit version. I put a check for requirements in MECM that you have to have 64-bit Office installed for that reason so it was no wonder that the advertised install would not work. Once that requirement was sorted, everything worked correctly as it should.
It was a decent day all round and had a lovely chat later with The Love In My Heart, who herself had had a busy day. Who didn't have such a busy day was Brian the cat, who was quite happy to snuggle up on the pouffle and have a rest, bless him. I think he was enjoying having his Mummy for company too much yesterday and so decided that today would be a lazy day. He is absolutely adorable when he does that! Of course it wouldn't be the same now without him, so Cool For Cats by Squeeze is tune of the day.
Tuesday 29th March - Come In 377, Your Time Is Up
A few months back I remember heading into the local pound shop and finding a massive set of batteries, Kodak ones for £1 which included a number of watch batteries, and that included the 377 ones that three of my watches take (all the same make so all take the same battery as it turns out.) So it was pretty good to swap them all out and give them a lease of life without having to pay a shed load of fees to someone to change it for you - the jewellers screwdriver set I have which includes the all important one for Commodore 64 tape deck head alignment includes a perfect one to get into the back of the watches too as it turned out.
I did notice that one or two of them were starting to lose some time and in effect this wasn't so good - I can of course wind them on to be right but that's a world of pain. So as I had a bit more time to get this sorted instead of having to make a visit to a local shop, I thought I'd see what was available to order online. And sure enough, there were plenty of sellers out there who were happening to sell proper Duracell batteries, the same number 377 I needed, and even a discount for buying more than one as well. So I purchased three, one for each watch, and that should be pretty decent to give them all a nice refresh. Winning.
In fact today I did spend a fair bit of time poring over some stats but also continuing my work in getting a number of driver packages updated in MECM, as Lenovo had released a swathe of new updated versions. In fact, it was good to get one of the main ones uploaded to all the DPs first, because as it turned out, a number of other models use some similar drivers, meaning only one copy needed in the content library but of course multiple packages referring to that - and it also means less time spent uploading also, so that has to be a definite big win in my eyes.
I also spent some time later sorting out some trains for a forthcoming planned visit. It was good to be able to get all of the information together and then work out a best route and best plan of action. It was noticeable that sometimes if you do act fast you can get some actual good bargains on advance fares overall. The only thing is though that you really do have to look at them pretty quickly on order to get the best deal, unless it is for a short journey, so definitely of course well worth getting a ticket alert on the go amongst other things.
I do have to say as well that I spent some time tonight watching the classic F1 races from 1986, complete with Murray Walker and James Hunt commentary, and best of all the Giorgio Moroder tune Ivory Tower (from the film The Neverending Story and thus tune of the day) as the grid was introduced by Murray, with inevitably the likes of Ayrton Senna, Nelson Piquet, Alain Prost or Nigel Mansell on pole position - with nods to the other Britons further down the grid, normally Martin Brundle and Jonathan Palmer at that!
Monday 28th March - Pottering in the Potteries
It was nice for us both to have a day off work together,and that meant we could have a lovely Monday doing the things we'd like to do. The Love In My Heart had said for a while that she wanted to visit the Emma Bridgewater Factory Shop in Stoke-on-Trent, not least to see if she could get some nice plates possibly cheaper, but also to see if they had anything you can't find elsewhere and we knew they had an on-site café so lunch could possibly be in the offing there also to keep us going. And with the weather looking nice, it'd be a good day out too. So we had some breakfast and got ready, and Brian the cat had his play out first, and all was well with the world.
The Love and I set off once she had topped up with petrol and it was off on the M56 and A556 down to the M6, and then came off the M6 at junction 16 for the A500. We followed this and noted the railway line (it's the main line to Stoke-on-Trent from Manchester too) and then turned left at the roundabout near Etruria for the A53, then followed the city centre ring road and turned right at a roundabout and downhill, and located the Emma Bridgewater factory car park. It was pretty busy which to me said a fair number of people were inside either shopping or doing the tour.
We crossed over and into the gift shop, this is where the everyday stuff goes on sale at the normal price. They were shutting early for a stock take so glad we got there in good time, and we did have a good look. However, the factory outlet was calling us and this is where their "seconds" live. The web site and the shop itself tells you this: "All pottery is inspected before it leaves the factory. When an item is classified as a second the fault or faults may be in the finish, the decoration or the shape. The faults are not structural (i.e. each piece still functions as intended and is useable). Faults are marked with a black line which will be visible when your product arrives but washes off with a damp cloth." Either way, didn't look anything wrong with anything we saw when we checked.
In fact, The Love liked the look of some of the side plates, which was more what she was after, and saw the Rowan Berries ones which looked good with their outer paint on showing berries and leaves. Best of all these were £6.95 each (which believe me is cheap for Emma Bridgewater) so she treated herself to four, and why not? We also then had lunch in the café which was very good value: The Love had a roast beef sandwich with salad and coleslaw, and I had the Staffordshire oatcake - like a pancake but with oats as the base, filled with cheese and sausage, and that was gorgeous. Those, a latte and a capuccino for a mere £15 the lot - can't say fairer than that really.
After having a nice walk around the little garden that joins the gift shop and with The Love satisfied with her purchases, we headed back along the A500 but this time turning off for the A34 and what used to be a Freeport Outlet Mall, but it's now called Affinity Staffordshire. It had a selection of outlet shops, it wasn't massive but seemed okay. We thought the H&M had closed, but actually the opposite when I checked later: it's opening there in a couple of weeks time. We also did note near the upstairs cafés that there was a little crazy golf course, six holes, for free! So of course we had to have a go, it'd be rude not to.
We did get some bits in Home Bargains later which was good, and then headed back along the more scenic A34 route past Little Moreton Hall through Congleton and then we stayed on close to Alderley Edge and headed to the Merlin pub for a nice well earned late afternoon drink. Because we could, and we were both enjoying the day off together to actually relax and chill out together. It had all gone by far too quickly and I felt sad as I left The Love later at Piccadilly train station to get the train home, but it was what we both needed for different reasons - and for me, so nice to see her happy. So La Ti Da by The Icicles is tune of the day as I kept thinking of happy warm days and having happy songs (as The Love states it) playing. Quite right too.
Sunday 27th March - A Mothering Walk
It was nice to be up and about reasonably early as it was Mother's Day for The Love In My Heart. Of course this is partially because she is the cool Nana to The Cute Little One, so their parents were coming round to see The Love later this morning, and then of course that means lots of smiles and giggles, hopefully. And so it proved. The Cute Little One did take a look over to Brian the cat but he was having none of it and promptly scootled off to the bedroom window to hide in his own safe territory. It was lovely of course that The Love got such nice presents - a really posh candle, some lovely body lotions and skincare products and so on too.
It was of course lovely to see The Cute Little One anyway and she was more than happy to scoff some little coconut rolls and also be able to play with a couple of toys - she loves this little tin with a bee on it that The Love has, and takes the lid off and claps both parts together to make a sound. Sometimes it's the simple things but it was so nice to see her being so adorably lovely. They were all heading off for lunch later (after all The Cute Little One's mum has to have her Mother's Day lunch too, right?) and The Love and I decided we'd spend some quality time together.
We ended up heading down the canal near The Love's place and walking all the way towards New Islington Basin and stopped off there to have a drink outside Flawd - they do some good wine which The Love had but they also had a good pale ale which I had a half of. It was lovely to watch the world go by and we really liked the rustic feel of outside, and plenty of dog owners with their dogs too. We did also have a peek in a nice chocolate shop in Ancoats and I thought it'd be nice for The Love and her friend to have afternoon tea in there as the cakes were lovely, and they had some vegan ones too.
We then walked over to Cutting Room Square and then to Seven Bro7ers Beerhouse where it was nice and quiet inside, and they had a bargain on - their Amber Lager for a mere £3! The Love had that and loved it and I went for one of the guest cask ales - the Hophurst's Porteresque which had a nice dark feel to it and contained some luscious salted caramel flavours as well as milk and chocolate. It was decidedly good and I have to say that I'll be looking out for more beers from them. Really velvety smooth too so that was all good and we both loved the music selection in there, especially me. We had REM's classic It's The End of the World As We Know It (And I Feel Fine) on, so tune of the day without question.
It was then over towards the Travis Street industrial park and to Cloudwater's tap room, where the vibe was very relaxed indeed and I had this rather fabulous nitro stout, not heavy at all at a mere 3% either, called Mess Is Just A Sign of Life, a co-op with Boundary Brewing of Belfast. The Love had the Cloudwater Helles and found that very drinkable indeed, so that was good. It seemed that they had a nice thing on downstairs where you painted with music playing to try and give you different vibes, which was an interesting idea. We ended up walking back down the canal and pretty much beat the tram back (because there wasn't one for 15 minutes when we passed the tram stop) so all in all, all lovely.
Saturday 26th March - Out And About
It was up early and out early too, as I had an early train from London Euston at 0735 to catch to head to Manchester Piccadilly. It's a reasonably cheap train (which helps) but also does mean I have to realistically be out of mine at around 0615, so I can get the train to St Pancras (as no trains to Victoria this weekend) and then walk from there to Euston in good time for the train. All worked out well and I was soon speeding off on the train out of Euston and even treated myself to a coffee on the train to keep me going as the countryside hurtled by at high speed with Insects by Danny Elfman being tune of the day.
After The Love In My Heart kindly collected me from Piccadilly, as there were no trams to her place today, it was nice to be back at hers and with Brian the cat being all cute and cuddly as ever. In fact he was playing outside a fair bit during the morning and was keeping an eye on the comings and goings too. Later on The Love met her two sisters and they headed back to her place, so we had coffee, cake and a catch up too which was pretty nice all round. It was also good to see that they had brought round some nice presents for The Love for her forthcoming birthday too (as well as for another relation for their birthday also) which looked good.
Later on it was off to my Mum's to see her in advance of Mother's Day tomorrow - I wasn't sure if any of the other brothers or sisters had planned anything, so thought it good to head round. We had coffee and some nice little cakes and had a good catch up chat there too. Mum was explaining that she had managed to book a really cheap holiday for her and her friend to the Isle of Wight and didn't realise it was an actual island that you need to take a ferry across to get over to. She seemed in good spirits and of course was really pleased with the current family news - and The Love showed Mum pictures of The Cute Little One too, so that showed how much she was totally adorable.
After that we headed over to The Didsbury pub for a nice late lunch / early tea for us both. We were surprised to get a table as it's normally busy, but I guess more had booked for Sunday. We went for two courses each in the end from the menu, as you didn't need to have all three unless you wanted to. I had the garlic mushrooms on sourdough crumpet to start whilst The Love had the paté which was rather good too - and for main, I had chicken leek and mushroom pie (gorgeous) and The Love had the signature hunter's chicken which looked fab also. And they had proper Black Sheep ale, so was winning there too. It was just nice where we were sat too - light and airy, and really had a nice time.
On the way back we stopped off at Tesco and The Love picked up a Netlix gift card to treat herself, effectively meaning a two month subscription at the cheapest rate (which was all she needed). Once we'd sorted that out and got the sign in linked to the Blu-ray player, it was on with the first episode of series 4 of Drive to Survive - which The Love likes a lot even if she's not massively into F1 because of the more human side of it. We liked the fact it bigged up some of the clashes of the titans with a behind the scenes look with Christian Horner of Red Bull, but of course the later episodes are going to be exciting - as was the qualifying for the Saudi Arabian Grand Prix also.
Friday 25th March - Driving the Antics
It certainly felt warmer today and was working from home, so nice to get the windows open and some fresh air in. The only negative is that there's still building work going on for the new block of apartments close by to me which effectively means the sound of pneumatic hammers and drills can be heard during the day too - so do you let in the fresh air and noise, or do you not bother and keep it all quiet but get warm? In any case, short sleeved shirt on for me today and to be able to get the best of first worlds.
I did have a check on Lenovo's site for the driver packages that we get to put them all nicely together into MECM, and it seems that they had finally made some 21H2 versions for the more recent models (and also means the display driver on one model is the same as one where a user needed to update to connect to a particular screen) so it'll be good to get those compiled and added, then it will mean that I can add these to the Windows 10 build and have something nicely more up to date. A lot of those were dated yesterday or Wednesday so looks like a good time to snag them all and get them done (which is periodically done anyway.)
I ventured out into the town centre at lunch time primarily to get a nice Mother's Day card for the weekend, and to be honest a lot of the selections were very twee and not ideal whatsoever - just a bit too soppy in parts too. Thankfully I found a nice one which was classy without being cheesy, so that was a sensible option to look at. I did have a quick peek in the local computer game shop to see if they had any old school games too but nothing was doing. Of course, I did have a delivery yesterday which meant I did have some games to play later on.
So it was two Codemasters games - one I had first time round, and the other I'd played but not an original. So first up was the game I didn't have first time, Kwik Snax. On the Commodore 64 this differs from all the other versions and just seems like they shoehorned the Dizzy character into an existing maze game that was being submitted rather than be similar to the other versions which has a nice plot of getting bombs blown at the right time and solving the puzzles. The C64 version is more like a sideways on version of the arcade game Flicky, so if you liked that you may like this.
Onwards to a game from 1991 which I loved then and still do now - CJ's Elephant Antics. It was the first game with CJ the Elephant in four long levels of platform action, which sort of remind me of New Zealand Story in parts. It has really nice graphics with the CJ sprite being cute, a nice intro as an initial load to set the plot, and also a little bonus stage of CJ riding a cycle over obstacles. I do love the cutesy feel and the lovely title theme from Ashley Hogg really sets the scene well, so tune of the day all day for me. I have to say even now it's still a good and challenging game.
Thursday 24th March - More Than A Feeling
I headed off to the office today and it was nice to spend time in the office to get some other work done after I had spent a ton of time yesterday working on and resolving an issue, mainly with no thanks to Lenovo. So, with a couple of their newer models, there's an option for a 5G capable modem to be added, which means the driver package we get has that support. All well and good for one of the types of hardware which is a Quectel adapter and in some cases for the staff in China, that's all good. However, the driver package appeared also to contain some Qualcomm 5G drivers too (as I think the Qualcomm card is also an option) - and having checked hardware inventories, none of ours have it.
However, even though the drivers themselves don't install as not present, one of the Qualcomm .inf files installs some executables and a service called SIMService. This is the bugbear. It hogs CPU resources constantly checking for presence of a SIM card, and then writes massive log files to the disk also - so that is then invoking the antivirus software to check, so the loop begins. What I'll now need to do (having cleaned the driver packages already yesterday) is for any new driver package zip file downloaded, check for the presence of these crap Qualcomm drivers (especially the SIMService one) and remove the folder before then creating the driver package in MECM, so it's not there.
It's also added by default on some Lenovo consumer models and the complaints are pretty plentiful. For those that already had it, a nice bit of Powershell to stop the service, disable it and remove the log files meant we got people back up and running nice and quickly, and I can provide that if you need it - more so if you have a ThinkPad X1 Carbon Gen 9 or the ThinkPad T14s Gen2 (Intel version) as those are the ones where the behaviour was observed. Rubbish, I know, but this is also why in an ideal scenario I get each of the pieces of hardware to test out beforehand so I could spot things like this earlier.
Anyway, back today. I did have a different desk and it was nice to be sat around plenty of people who were over here for a week full of team building with their European counterparts and to collaborate in person on some of the bigger projects. Most of the people on the round desk close to me were from either Boston or New York, and one who is based out of the Boston office mainly works from their home in Detroit - so a good and varied mix of people to get to know as well. That definitely made the day more interesting and meant that I was also able to try and work out and appreciate the work they do as well, so all good.
In fact, it was just a really positive day all round really (and more of the same is good let me tell you) - got a few software packages all nicely sorted and ready to go, did some more documentation and also provided some useful statistics and information for some other teams too. I did feel like I was on a roll and to be honest that is a good thing after having a difficult start to the week. I also had a lovely chat with The Love In My Heart too which made me feel positive and happy, and that's always bringing forward a smile on my face. Tune of the day is one of our little songs we love, Crazy by The Icicles - it just brings forward nice memories of sunny days and as The Love says, they're "happy songs" and we need more of that don't we?
Wednesday 23rd March - Car Booting At The Palace
I hadn't got so much sleep last night, however I did decide that I would take an early morning walk of sorts, and to do that it was off on the 157 bus from near me, and over to Crystal Palace Park. You see, at the Italian terrace part of the park on a Wednesday morning (used to be a Saturday too but not yet at the moment) there is a large car boot sale on, with plenty of opportunities to be able to get all sorts there. And of course it did mean I could have a nice walk around the park afterwards too and all before cracking on with work, so that was the theory.
I have to say the bus was relatively busy, primarily with people going to either part of the Harris Academy - the one close to the centre of South Norwood first of all and one not far from Crystal Palace itself - with plenty getting off at the stop close to the train station. As it was the bus climbed uphill towards the top of the park entrance, and I got off there and walked down to the Italian Terraces, paid the entrance fee and could see that plenty of cars and vans were parked along a very long line with a bit in the middle - so it was time to get browsing and have a mooch around.
I have to admit the size of it was pretty impressive: but what was also clear was that some of the van loads definitely appeared to be more traders than genuine car booters, with lots selling all sorts of used electrical equipment - so if you want an old video cassette recorder or even the likes of a DVD recorder with some inputs to feed kit into, you could find it. I even saw an old Amstrad midi hi-fi system complete with turntable, double tape deck, equalizer and tuner. Feel that Alan Sugar quality all over this product! Or perhaps not.
I didn't buy anything, which was a tad disappointing, but in truth for me it wasn't quite worth it - I would have had to be seriously tempted, and some of the LPs on sale were in boxes which looked battered and not well looked after, and any that looked decent were being sold by some clearly to try and fetch a collector's price. What I did notice was shed load of DVDs and also very common too, shed loads of periodical magazines, even some old Marshall Cavendish tat from the 1980s, there was one they did in a A5 size all about relationships and saw that too. Bizarre, I know.
Anyway I headed back through the park and got to part of the old racing circuit they used to have there, and cut through towards the station and back down the main road and all the way downhill to Anerley to get the Overground train back to West Croydon and homewards, all in good time. It had been an interesting early morning walk and visit out, and at least I know it's doable for future if I fancy going again, maybe though I'll try others that have less traders. In the meantime tune of the day is pretty apt considering what I watched last night: Identity by X-Ray Spex, which is the finest three minutes of Polly Styrene's career.
Tuesday 22nd March - Food For Thought
It was off to the office for me this morning, and definitely for me a welcome change of scenery too. It did feel a little busier on the train but I decided that a switcheroo at London Bridge and on to Charing Cross was the order of the day today, as I could then walk to the office and at least get some more exercise walking as well as the half mile or so from the flat to the train station. In fact it's mainly uphill from Charing Cross to the office as well so a good way to burn off some calories.
I finally got to the bottom of something that had been puzzling me somewhat - how to detect the presence of a file and its file size to ensure that for compliance reasons for an application and when we would deploy the new configuration file, how we'd be able to ensure detection would fail before the new file was written. In effect, using Powershell was a sensible option as the config file is written to the user profile so an environment variable in Powershell can be used as part of the path, and then a couple of checks from there: first if the file exists, and if it does, then check the file size. If both are right, return 0, or return null.
In the end that worked a treat all told and it meant that I knew I had something working which was good to try out and test fully - and all the tests worked. So if an older application version was there, it'd upgrade to new and write the new config file. If the new application was there, it'd just write the config file and be compliant. Overall it was a positive thing and I knew that the testing I was able to do when in the office meant that everything would work when deployed out there - which is what we want. I guess it's just a case of being able to use the time constructively.
I must admit though as I headed home tonight that I do feel a slight sense of what's happened to me work wise over the last few months hasn't been that constructive - not because of the work per se, but I think because of a few things that's happened. For me, it doesn't feel the same as it did and I can't put the finger on why exactly. I do know some of it is to do with one particular thing and I've been trying to have some worthwhile discussions with those I can rely on to see if it's just me - and it isn't. So maybe there's another approach I need to look at and think about - certainly food for thought there.
I definitely do know as well that I think that it's maybe time that I started to also put myself first a bit more. I do try and do that by making sure for example I spend quality time with The Love In My Heart and Brian the cat, both of whom I love dearly, but also maybe I need to take some time out for me to do other things too - whether that be maybe some more walks, or possibly also some solo trips away for the change of scenery, not sure. I do know that the solo trip to Cornwall on the night sleeper did feel rather good, so maybe something like that again as a little adventure for me. It's not being selfish - far from it: The Love would encourage me to do my own thing on occasion and make the time we spend much better because of it. We had had a lovely time last weekend and that meant a lot.
There's definitely some thought processes that need to come into fruition for sure, but one thing I'm acutely aware of is that I do need to try and get more sleep during the week: I've not been fully sleeping well for whatever reason and I definitely need to maybe try something different. I was even considering moving the bed somewhere else in the bedroom but having thought of some ideas, none of them really worked. Certainly I have Faithless' classic Isomnia in my head now (make that tune of the day) - I can't get no sleep...
Monday 21st March – Cool For Cats (Well Brian the Cat Anyway)
It was a work from home day today, albeit work from The Love In My Heart's place as I was still there, and that meant keeping Brian the cat company for the day. In fact that was all fine as Brian tends to normally sleep on the bed a fair bit as well as by the window, looking out for anything walking past and generally keeping the bed warm for The Love In My Heart for later. He did decide though that he needed to do his doings, which meant me cleaning up the litter tray for him so it was nice and tidy, he is a fussy cat at times!
Nonetheless though I was able to use some wizardry today to help keep some systems up to date. It transpired that one attribute doesn't always go to some of the AD accounts, but I knew that was in our HR systems, so easy to cross reference where any IDs were missing, then put them together into a neat bit of Powershell which then repopulates the attribute that we want. I've flagged this of course but at least for the time being there's some remedial action which can be taken, so that is at least something.
I headed out to the local Asda at lunch time primarily to get a couple of bits for The Love In My Heart but also meant I could have a quick mooch and get some extra food and some Dreamies for Brian as well – after all, he has to have his treats right? It wasn't that busy in Asda but even so it's a sign of the times that despite the increased rate of infection, I was the only one with a face covering on. Each to their own, but it was good to be in there, get what I needed and then get out of there as well.
I spent the afternoon working on some reports and Brian the cat had occasionally ventured in to look out of the window before deciding bed was the best option for him and retiring in there – he was being quite a chilled out cat really. I think though that when The Love In My Heart is at work of course Brian is just happy to be calm and peaceful with no one around, very much cool for cats (and said Squeeze classic is tune of the day) – and I knew that Brian the cat was being happy knowing I'd be feeding him his tea before Mummy gets home.
I definitely didn't want to be leaving to head back home later but at least for the next few weekends I'll be back up to see them both and I for one do know that'll give me some comfort as I get through the working week. I must admit being able to have the flexibility to work anywhere and be able to feel comfortable in those surroundings does help a lot to be honest, and this is where for me that I'm at least able to be productive without the need to feel to be in the office every day – although I do enjoy the days I am in.
Sunday 20th March – Double The Quarter Final Fun
Both myself and The Love In My Heart had a well deserved lie in after having a nice time out yesterday. Brian the cat of course wanted lots of attention and he kept tapping on the bed towards his Mummy to try and awaken us both, he's so adorable but sometimes you just want to tell him we need some sleep. Anyway, with us both up, The Love made us a very nice full breakfast and that would set me up perfectly for the day ahead, after I had an idea of something I could do.
So it was over to the Academy Stadium and in good time for today's game, a 12.30pm kick off as Manchester City's women's team faced Everton in the FA Cup quarter final – at the same time that the Everton men's side were at Crystal Palace in the FA Cup also. So having seen City last Sunday beat Tottenham, I thought "why not" and indeed with my City membership it was a mere £7 for the ticket, which included free hot and soft drinks as well from the stalls inside the ground. So I got a ticket, got through the turnstiles and got a nice free coffee and had my seat a couple of minutes before kick off.
City were in no mood to let up after beating Reading 2-0 in midweek in the WSL, and the good form continued here with Lauren Hemp hitting the post and a couple of crosses being frantically cleared from the Everton defence. Everton had two ex-City players in their side, Izzy Christiansen and Toni Duggan, both of which good receptions from the City fans – nice to see that. As the first half progressed it was a matter of time before we scored and sure enough Lauren Hemp got on the end of a good ball in and placed the ball home for the opener.
It was 1-0 at half time and I noted a few fans had gone round the curve behind the standing end (not being used) so I ventured there and found a food and drink stall, so with no queue, got my coffee for the second half (and why not?) – and got back to the seat well in time for the action. I was glad I did as a corner from Caroline Weir came over and a superb backheel volley from Lauren Hemp meant it was two for her and two for City – and it looked like we had one hand on a semi-final place in the FA Cup – just wish they could play Supra's ace version of Blue Moon before the teams came out (still love that version and therefore tune of the day.)
City continued to press well and Caroline Weir went on a run from the half way line. No one was stopping her and from twenty five yards out picked her spot wonderfully well to smash it into the top corner – well she doesn't score tap ins does she? 3-0 and game over really, and more so late on towards seven minutes of stoppage time (primarily due to a head injury for Izzy Christiansen – she did feel groggy afterwards after the ball hit her in the head at pace) when a cross came in from the left and Ellen White was there to prod home from close range. 4-0 to City, and Everton's men's side had also lost 4-0 at Crystal Palace too, so a mirror image in both cases.
I got back to The Love's place, and whilst she was watching the likes of the 2012 series of The Great British Bake Off, I settled in the spare room to watch Manchester City at Southampton in the FA Cup. The Saints had drawn twice against us in the league so knew it was going to be tricky, but all did seem to bode well around ten minutes in when some poor defending let in Gabriel Jesús and he passed it to Raheem Sterling and the ball was in the back of the net for 1-0. Southampton did press though and due to that pressing, a speculative shot from a tight angle was attempted to be cleared by Aymeric Laporte but instead hit it into his own net right on half time for the equaliser. 1-1, and I knew it was going to be tricky.
The second half had a fair few chances at either end and it was nervous stuff to watch before City finally made a breakthrough, as Gabriel Jesús was clumsily fouled in the box and Kevin de Bruyne stepped up to drive the penalty low and hard and just enough to evade Fraser Forster in their goal and make it 2-1. Phew. I was relieved. Phil Foden and Riyad Mahrez came on and the game felt better because of them – much more dynamic and City looked a much better side overall. In fact, Foden smashed a superb strike into the bottom left hand corner for the third goal and that was simply unstoppable – and the passes leading up to Mahrez's cool finish for his goal were also sublime.
So 4-1 to City then and in the draw later we'd get Liverpool or Nottingham Forest, with that game still to play. Liverpool won 1-0 in a tight game, and that means we'll play them twice in a week, once in the league and again in a FA Cup semi final. Mental. We watched the F1 later on and it was drama all the way especially with the ending – not going to spoil this one for you, but I can recommend watching the highlights if you get chance. I do miss The Chain as the theme tune though it has to be said!
Saturday 19th March – Hip Hop Don't Stop
It was an early rise for me this morning because I was heading on the train to Manchester to see The Love In My Heart for the weekend. It was a bit cheaper to have booked a train for a Saturday morning, even though, as it turned out, the train I had booked in January was not now running! Thankfully once I'd walked over from St Pancras over to Euston, I was able to board the 0735 train to Manchester Piccadilly instead of the non-existent 0800, and as a result it was nice and quiet in coach C, so had a coffee and relaxed with some tunes, then got the tram over to The Love's place later.
Of course, it was lovely to see The Love as you can well imagine, and Brian the cat was all stretched out on the bed after having had some play out time later. The sun was also looking like it was going to come out too, so that would bode well for the time to spend in the afternoon. In the meantime we had a nice late breakfast and some coffee, and then The Love got herself ready as The Cute Little One was coming over later with her Mum, and The Love's sister was also popping over for a visit.
The Love had inherited a high chair which was really nice, and we tried out The Cute Little One in it. She was adoring it to bits and was more than happy to eat some banana and have a drink of water too, all being playful and cute too, so that for me was definitely a lovely thing. I have to say that her little giggles cheer anyone up and I think once she was reading some of her books including the likes of Hey Duggee and Spot the dog, she was more than happy to look around and see what everyone was up to.
Later on The Love and I headed towards the city centre by walking down the canal towpath – it's a good walk we do occasionally and I have to say it's really nice with the sun out. A band was practicing their style of rock in one of the old mills overlooking the canal and so that was good to hear, and before too long we had been into Seven Bro7ers and got ourselves a nice beer to drink and sat outside on Cutting Room Square enjoying that – so much so that I also popped into the Co-Op nearby and got The Love a Camden Hells and me a Vocation ale, and we had that later too.
We did think about eating out and so checked to see if The Hip Hop Chip Shop had any tables for walk-ins, and they did, so that was us both sorted. We both went for the classic feastie boys selection, which was some lovely fish battered well with skin on chips and mushy peas, which were all gorgeous. The Love also went for the Magic Rock lager and for me as they had the classic Saucery session ale from the same brewery there (and some local Mancunian beers in cans and bottles also) it was a no-brainer.
The staff were lovely, as was the beer and the food. In fact one of my fellow Mancunian photographers on Flickr is also a DJ as well, so had taken pictures which were on display in the place, as well as lots of posters for gigs featuring hip hop artists. In fact, it probably just needed some MC Solaar on, namely A la Claire Fontaine (make that tune of the day) which was used in a famous Kronenbourg advert several years ago. We loved it, and can recommend it highly if you want something different with a great vibe in there too.
Later on we headed back to The Love's place and watched the qualifying from the F1 in Bahrain. We both noted that it seemed that the new cars looked very different and hopefully this would mean some closer racing, but I did worry that McLaren looked off the pace and other teams with the new regulations had been concentrating on that and doing well, see how the race does tomorrow I guess. Nonetheless we'd both had a very nice day together and it was just good to be out and chilling out also.
Friday 18th March - Merry March, Mr. Lawrence
It was another day of working at home, and actually a pretty productive sort of day really. One good thing that happened early on was that I had someone from the maintenance team for the flats round, as I had noted the other night that the cold feed tap to the washing machine was having a little leak, and had turned the tap off to be sure it was safe and sound. They were able to replace a few washers and also check and tighten up all the pipes to be sure, and gave it a run through test on a quick wash to make sure nothing was happening, and it was all good. Happy times then.
I also ventured out at lunch time and went over to WH Smith as I needed to get a couple of cards and also some wrapping paper for some presents I needed to wrap up. It was pretty quiet in there all told and so that did mean I was able to get what I needed, go through the quick check out, and job done. I did also see that the shopping centre generally wasn't too busy, but it was notable that there were more people around with face coverings on - maybe the increase of cases as of late has got people maybe feeling a little cautious. We shall see of course.
I did also spot that train tickets were on sale for one day that I needed to look at booking for The Love In My Heart, but for some reason all the tickets seemed to be just the off peak ones only for almost £70. That's not good, and I do start to wonder whether there's just an artificial uplift of pricing by Avanti West Coast deliberately to try and recoup some money here - but the other side of it is that people will just turn away from the railway and end up taking other modes of transport instead. And yet.. it only seems to be the London to Manchester route - so is that because it can make maximum profit?
It made me wonder. However, what I did of course decide to do tonight was to relax by listening to some rather more mellow versions of songs. One of which I did have to play was Ryuichi Sakamoto performing solo, on piano, his own film theme from Merry Christmas Mr. Lawrence (make that tune of the day) as it was just simply rather haunting and beautiful. There are times when less is most definitely more, and this is certainly one of them for me. Of course that made me want to go back and play some Yellow Magic Orchestra too of course, so the likes of Rydeen and Behind the Mask got played also.
It's going to also be an interesting few days ahead: I'll be with The Love In My Heart this weekend, and I'll be getting to see one of the youngest relations too (who is adorably cute as ever) and of course plenty of time with Brian the cat too. I've been looking forward to this all week so most definitely feel pleased that I'll be able to spend some quality time - even more so next weekend because we both have the Monday off work, so that'll be nice too. And so here's to the weekend!
Thursday 17th March - Documenting Day
It was a relatively good and busy day for me - working from home today. I did cancel a booking I had yesterday afternoon to go into the office today primarily because all of what I needed to do was done, so wanted to as soon as possible to free up a desk for someone else. It was only fair really. With that in mind, and after some breakfast, and a coffee, I'd been handed a new version of one of our applications by my colleague to go and package, so that worked out pretty nicely.
Last time I packaged this I ended up documenting the process. This was primarily because of the way you need to extract the MSI installers of the executable so you know what MSI product code you can detect against for application compliance which always gets installed - as all our machines our Windows 64-bit, so fairly easy to spot really. And because it was a Wix type bundled installer, using the Wix toolset's Dark utility is the besy way to extract it - and cleanly too I should add! That did mean I was able to get things moving nicely and be able to crack on.
I did have a chat too with our head of cyber security this afternoon which followed a meeting that our department as a whole had. It was to follow up on some points raised and was actually pretty productive overall, and this did give me some ideas into how we can potentially improve some of the processes somewhat, so will be drafting something tomorrow on that. I think sometimes it shows that a sensible conversation can also lead on to something greater provided you're willing to put the time in - and that's how it works.
I also did sort out some trains for the next few weeks primarily due to some football re-arranging - so I was able to get a half day off on a Wednesday afternoon and a Thursday morning so I'd be able to head up to The Love In My Heart's place for an overnight stay and to be able to watch Manchester City v Brighton when that is rescheduled. I also booked a couple of trains in May - one had to be via Doncaster primarily because of the fact that there didn't seem to be a direct train that weekend and I didn't want to take the risk and end up paying shed loads otherwise, so all good really.
I'm glad though that it's almost the end of the week and that I'll soon be seeing The Love In My Heart this weekend. I do miss her, and I do miss Brian the cat too - even though he might not feel the same. I'll see how his reaction is when I offer to play ball with him because he does love that to bits and bounces it back with his paw in a really clever way. I do think the week has somehow dragged somewhat but it'll be good to get to the end of it nonetheless, and The Cure's classic Friday I'm In Love has been in my head most of the day so that has to be tune of the day for that reason.
Wednesday 16th March - Off To The Office
It was off to the office today and it was nice to get there early and also to be able to get the desk I reserved and have pretty much no one sat around me - as the one booking that was close-ish went and cancelled anyway. That did at least mean I did feel a little safer all round and I was pretty pleased with myself that I'd managed to book the usual desk. In fact, this meant I had a solid wired connection and was able to get lots of testing done that I wanted to do today, including making sure the Windows 10 build changes all worked and that meant new versions of two of our core applications plus some tweaks for our Brazil office too.
That all done, I did also prepare some statistics for the weekly report, and that all worked well, and on the whole it looks like compliance wise we're the best we've been for several months on a number of criteria I tend to set myself - such as those machines getting the monthly Windows 10 cumulative update within a time frame (allowing of course for people off on leave or extended holidays etc) and also being able to see how deployments have been doing in terms of effectiveness, so some positives to take there as well.
I ventured outside at lunch and it was a little bit rainy, but all good in Tesco at least. These days of course the meal deal is still £3 - but only if you have a Clubcard, otherwise it's now £3.50. That alone may be a clever incentive for some people to get one if they go there often, but it sort of brings it in line with other meal deal increases that have been seen at Sainsburys, Boots and so on. Still, the honey and mustard chicken pasta is back as one of the mains and I do like that a fair bit, so it simply just had to be done really. Nice to enjoy that later and then crack on with the afternoon work tasks.
The rain was pretty incessant though and it certainly felt a lot heavier when heading home, that is for sure. I was glad to be back at the flat later and have a good chatter with The Love In My Heart. I must admit that I do miss her a lot when we're not together, and having our daily chats does keep the spirits up somewhat. I know she had been off today and that meant more cuddles with Brian the cat - although he decided to respond with a little play with Mummy too. Awww, he is so adorable at times, especially when you can hear him purring contentedly when lying on the sofa next to Mummy too.
I spent some time later on listening to the rather excellent album that is the eponymous debut from the band 2:54. This was my album of the year back in 2012, and ten years on, it's still a really good album that has stood the tes of time. The melodic and yet haunting Sugar is a superb example of the band at work with driving guitars and vocals that really do make it sound a little gothic and yet comfortable all at the same time, so tune of the day from me. If only all music was this good.
Tuesday 15th March - The Game Factory
It was a bit of a mixed bag of a day really. On the positive side (and plenty of positives to take forward to be perfectly honest) it was good to see that some reports and stats I had created were coming to fruition well and that it was helping some other teams with some useful info - so clearly the time spent there had been worth it. On the down side, I've really been a little bit bunged up for some reason - not massively, and to be honest, the weather over the last few days hasn't been ideal either, but nothing too much that a bit of decongestant thankfully isn't able to shift.
I also had a delivery of some games for the Commodore Plus/4 too that I had ordered last week from an eBay seller - not least because one of them usually fetches much higher prices and was able to get it cheap, and it also fills a collection gap of sorts. In fact, because of this, I now only need one Codemasters title to complete the four releases that they made for the C16 and Plus/4 series. This also gave me a chance to check out and test the two games I had purchased from Playnation Games on Saturday as well, so let's fire the machine up and well, let's go!
First up were the two Saturday purchases: both from Audiogenic and released not far time wise from each other. The Chip Factory was first, and it reminded me of Burger Time, but using microchips as the collapsibles you had to run over instead of burger parts, with the enemies being computer bugs (see what they did there?) - and overall it was pretty good, I have to admit. You can squirt the can of bug spray for temporarily invulnerability which comes in handy, and it definitely is spot on - the collision detection can be a little unforgiving at times but once you get used to it, all good. Some sellers on eBay are selling this for way over the odds compared to the mere £2 I paid for it!
The other game was Leapin' Louie, a nice little platformer all round and with some pretty decent music for the C16 and Plus/4 series too. I'm sure the tune is a cover of something from a musical, but I can't put my finger on it what it is - it's decent though, so tune of the day from me for sure. The platforms that you jump around are well constructed and you cal leap far too - but you need to collect the objects in the right order to get to the exit - once you get the hang of it you will get further with each go and it's again a solid title. Nice to see some maybe under-rated games getting an airing.
The three arrivals in the other package were a game I had (but doesn't always load every time, so for 99p it was worth getting a replacment) - Terra Cognita. One of the best C16 and Plus/4 shooters and really does push the hardware well actually. Nice to have a loading every time copy of course. Danger Zone was the other Codemasters game in the package, and once you get to around level three, the difficulty level ramps up due to the speed objects come at you as well as being able to try and shoot the other ships. If anything, it's maybe a little too fast for its own good!
Last of all was a game that had me really puzzled when I first had it back in 1986 and the closest you'll get to the iconic Spindizzy - Pin Point from Anco. There's ten levels to get your spinning top through, with a need to use the fire button to jump or accelerate up and down platforms as well as across difficult traverses. Not that I'd ever get so far, but the original game has a bug on level 8 which means it is impossible to finish (and thankfully now fixable) but the way that it's drawn and designed is pretty good - even if it crashes on a C16 when you get to level 2 - none of that for me as a Plus/4 owner!
Monday 14th March - Disappointed
It was a fairly quiet get on with things sort of day at work today, and working from home at that. I did however have some useful information from a colleague with regards to some of the temporary staff being taken on for a project at present, and as they had been issued kit, I was able to get a list together for the service desk team as to which assets I could see detected by the inventory system, meaning that later on when the project is over, they know what is where - so that works pretty well I think.
I was also able to get some documentation written and one final test on a Mac configuration profile we'd been road testing at the back of last week - which means we can ensure that both the root and intermediate certificates from our authority are placed on a Mac - so any internal application that needs them has them there ready to go. It was good to get some feedback from one of the US team on this and that showed it worked too - so good to be able to work together to get another simple, easy to implement, solution.
I ventured out at lunch time because I had a parcel I needed to send off for a birthday card and present - and the polythene mail bags I have weren't quite the right size. So it was a short walk over to Poundland in the town centre, and sure enough, there were the right sized bags in - and three for a pound too. So got home, put the package inside that bag without any issue, and knew I had two spare for future mailings if I needed to. That's the one advantage of having things reasonably close to the doorstep - it's not a far walk to head out and that does mean I can use my lunch break if needed to get things sorted.
In the evening, after I made my chorizo pasta bake (as I had all the ingredients in and made sure I used them well before the use by date) it was time to settle in to see if Manchester City could do the business at Crystal Palace tonight. I was a bit worried about this game particularly as Palace had turned us over 2-0 at the Etihad Stadium and Selhurst Park is a tough place to go and get a result. It was 0-0 at half time and despite us having a number of chances, none of them were taken - but the Palace fans were absolutely making it an atmosphere and really loud too.
The second half carried on in the same vein with City creating chances but not able to take them - one ball came in from Jack Grealish and Bernardo Silva just couldn't turn it in. The time went further down and with each minute I had resigned myself to the fact it was going to be a 0-0 draw and two points dropped. And so it proved. I was not glad all over, at all, and it's now advantage Liverpool in the title race in my view - they seem to have the momentum. Massively disappointing but I was sort of expecting it. Suffice to say Disappointed by Morrissey is tune of the day.
Sunday 13th March - A Hive of Women's Football
It was nice to be able to go and see some live football today, and as I was at home this weekend, and having checked the fixture lists, a chance to see the Manchester City women's team was there for me to enjoy. I've watched them both at the Academy Stadium and indeed the Regional Athletics Arena before that, but I thought doing an away game with the women's team would be good - and at the same time take in a new football ground - The Hive, home of Barnet FC (and also Tottenham Hotspur Women.) I actually passed what was Barnet's old ground Underhill when walking the London Loop a while back (which was actually in Barnet.)
So after some breakfast it was off on the Overground to Canada Water (again!) and this time changing for the Jubilee Line but this time for the westbound platform, heading via London Bridge and Waterloo before heading North to Baker Street and Finchley Road, where daylight is of course visible from here on in, doing all the little stops to Wembley Park and then arching off on its own and heading to Canons Park, the nearest station to the ground. In fact you can see The Hive from the window of the tube, so nice to see how it was all laid out and ready for the game later on. Using a TfL only route this way (Overground and tube) was £3.40, so not so expensive either.
I walked along the path to The Hive, and made my way to the side where the Legends Stand was, as this was the stand where the fans would be seated - you could sit where you liked, so picked a spot just above a group of the Man City fans already there. The wind and rain was coming down a bit, and under the stand was the Legends Bar which had various profiles of Barnet playing legends (including Edgar Davids - yes he did play for them!) and a well stocked bar of beers. The food and hot drinks was in a kiosk further along the stand, and had a strong coffee from there to keep me going as well as some chips later on.
The game kicked off and the weather conditions plus the pitch did make things a bit more difficult, the ball bobbled in front of the Tottenham keeper Becky Spencer a few times from low crosses. City did play pretty well but lacked a killer touch in front of goal - Georgia Stanway had a shot that was wide and occasional runs down the left from Lauren Hemp were good but the Tottenham defence held firm - despite having to make some changes due to injuries sustained. No one was chickening out of any tackle which was really good to see.
The weather started to relent a little in the second half, and the lively Georgia Stanway definitely made inroads, and was fouled for a free kick which Caroline Weir rattled against the post - the best chance so far. After a Tottenham attack, Ellie Roebuck threw the ball out to Lucy Bronze - who sprinted down the right, found Hayley Raso for a cross and the confusion in the defence meant that the ball ricoched back off Caroline Weir's thigh and into the net for 1-0 to City. Yes, it was a scrappy goal, but would I take that and a vital win for City? All day long let me tell you.
Tottenham did press and Ellie Roebuck bravely saved at the feet of Ashleigh Neville - but the collision meant that Ellie was down for a few minutes needing attention, before going off for what looked like concussion. I hope she'll be okay as the women's Euros are on this Summer and it'd be a shame if she missed out. The game was closed out, City women had won 1-0 and at the front of the ground was a nice bar that also sold Starbucks coffee too - so nipped in there to watch the post-match interviews on the televisions and indeed had a very wam and lovely latte to go with that - and why not?
It was great seeing the City women's team again and my first away game for them - and good to see another ground too. Barnet are in the National League at present, and should be there next season too. They may need more food kiosks to be perfectly honest (as the one that was open did have sizeable queues) but certainly the extra income a match day like this brings is good - and the tickets for today were a mere £6.50 if bought online in advance, which is excellent value all told. Can't argue with that really, and I had the Match of the Day theme tune (make that tune of the day) in my head as I headed back on a different route via West Hampstead, Overground to Clapham Junction and train to East Croydon - no zone 1 so £3.10 in total. Double win.
Saturday 12th March - Lea Valley Walk Complete
I got up this morning, changed the bedding so had nice fresh bedding to sleep in tonight which would be good, and also washed the other duvet cover and pillowcases, and ironed them before having them dry off during the day. This way at least I wouldn't need to do so later, and had some breakfast too before being ready to head off to West Croydon and for the Overground train. This was so I could avoid zone 1 by going to Canada Water, Jubilee line to Stratford and then from there the train to Tottenham Hale to start the walk. The main reason is this: it costs a mere £1.90. If I went from East Croydon to Victoria, then the Victoria line to Tottenham Hale, it would be £5.40. See the difference?
Once at Tottenham Hale, I braved the windy conditions on the bridge above the station and then headed down to Tottenham Lock, and started section 3 of the Lea Valley Walk, down to Lea Bridge. In fact I had done sections 4 and 5 when in lockdown in March last year (as you couldn't travel too far) so it was doing this and then the spur of section 6 to complete it all. So once past a couple of railway bridges, it was the very nice sight of Markfield Park complete with its café and the beam engine museum - this houses an original Victorian beam engine and a classic bit of engineering history. It is only open on Sundays though, so no visit for me today.
It was then a further walk down the towpath, past the Lea Rowing Club and then further along with Springfield Park on the right hand side, and a familiar green sign at that - yes, this is where section 13 of the Capital Ring joins the Lea Valley Walk. In fact, I last walked this part back in January 2017, so good to revisit it. It was nice to have Walthamstow Marshes on the left hand side with the trains heading over the bridges over, and some nice new public artwork before crossing the Kings Head Bridge near the end of the section, and on to Lea Bridge itself at the far end of Lea Bridge Road. The route to Clapton station is also shown for those who wanted to start/end their walks at a station too.
However, I had worked out a suitable route. If I walked up the road to Lea Bridge roundabout, I could then get the 488 bus to Bromley-by-Bow Tesco, which is right next to Three Mills, and where section 5 starts (with 6 veering off very soon after.) The bus journey was fine enough, passing Homerton Hospital and along to Hackney Wick before then diverting around to Roman Road Market in Bow, past Bow Church and then turning right off the dual carriageway and on to the Tesco. It was lunch time too, so perfect to nip in and get a meal deal for lunch before then taking the next section on.
I crossed the river to Three Mills and walked along towards the Bow Lock Bridge (where section 5 takes the Limehouse Cut to the basin) but just before the lock bridge you can head off up a very steep ramp (most likely why the official section 6 start is Bromley-by-Bow tube station) on to Twelvetrees Crescent, passing the gas works and following through an Industrial park towards Star Lane DLR. It was then down Stephenson Street, and I have to say, this section was the most bleak run down stretch of road I've walked on any of the Walk London walks - it was horrible. In fact I wouldn't feel safe here in the evening, that's for definite. Glad to leave that behind and walk under the A13 towards Bow Creek Ecology Park.
It was over the blue bridge just before the park itself and following the mouth of the River Lea as it headed towards Leamouth, and once down the slip road, it was then at familiar territory past the Thames Ironworks (West Ham fans will know about that!) and along East India Dock Basin, going the reverse direction of the end of the Thames Path North Bank along the river bank for a few minutes before turning right and then to East India station itself, so that was the end - Lea Valley Walk done. To be honest, section 6 doesn't need to exist in my view - if they just took the Limehouse Cut to Limehouse Basin and section 5 as the official end, I'd have been fine with that!
Once climbing up the masses of stairs at East India DLR station (as the platform is massively elevated) I had timed it perfectly to head on a train back to Shadwell, doing the changeover there for the Overground - which the entrance and exit is now one way. It was a straight run back to West Croydon and a walk back home via a quick visit into Playnation Games to see what old school games that they had. It was nice to have completed the walk and it's nice to be able to reflect on a walk well done.
Later on after having some tea, I settled in to watch Top of the Pops: the story of 1991 on BBC Two. Expertly narrated as ever by Mel Giedroyc, it's always good to see the behind the scenes interviews with some of the acts at the time, including Mr C from the Shamen, Rozalla (remember Everybody's Free?) along with Oceanic, with singer Jolande Williams explaining it all, including the key change. And indeed, the TOTP move to Elstree during 1991 which made for a better experience, and all being played live. Nice though to hear Tim Booth give the inside story on Sit Down, and even have the original 1989 Rough Trade release being played too (and that's tune of the day) before it got re-released and being massive.
Friday 11th March - Friday Beer Feeling
It was good to be in the office today and the Friday is normally a lot quieter than other days. This does allow me to get plenty done and in less time - because the whole network is there and quick too. In fact, this was handy when I did some testing earlier and put some new versions of our core applications into the test task sequence so I could test out whether it all worked - so a new version of the Slack deployment tool, and a new version of Firefox to boot as well. All seemed good and that at least meant it was all ready to go.
One main thing I did achieve today was to be able to improve on a current script I wrote a while ago - primarily due to the use of the Get-Random function in Powershell. It only allows for a maximum of 16 characters to be randomised, but of course if you want longer than that you can of course string handle it to say that you randomise one set, store in a variable, do the same with the second, and concatenate the two together so you can get as long as you need. It worked well for what I needed and actually meant I could also improve on the documentation too so that was a big win.
I also had a positive bit of feedback from one of my colleagues on some documentation that I had written, and in addition to that I was able to then check over a number of machines and rebuild two of them, primarily as a network test to make sure all was well (which it was) as well as test out a new Windows 10 WIM with the March updates included too. Lots done, and I do feel like it was a great end to the week in general - and so thought that treating myself was only the right thing to do.
So on the way home it was a stop off at Wandsworth Common station and over to Belleville Brewing's taproom there. I was able to get a seat inside (as it had been raining most of the day) and so was able to have a rather nice Southie stout, which was gorgeous, and thought it worth me having a rather nice selection of their beers to take home with me too, so some Southie came home along with a couple of the Sunlight as well as one of the Abbeville Whit(e) too which was rather different and nice when I tried that later on.
In fact, I was on a bit of a roll anyway because I needed to get some bits of food shopping later, so after tea it was off to the big Tesco, and 8-9pm on a Friday seems really quiet, so a perfect time to get it done. I had to smile to myself as the store was playing Luther Vandross' classic Never Too Much (make it tune of the day) and the store asisstant was having a little singalong at the same time. I'm sure The Love In My Heart would approve of that!
Thursday 10th March - Dining In New Style
I had been thinking over the last couple of weeks that now would be a good time to look at getting a new dinner service set for meal times. I'd had my black and white set for several years now, in fact it came with me when I moved down, and is looking a bit long in the tooth now, with a couple of the bowls having some minor chips in them. I felt I needed a new set which would look contemporary but also last well, with an emphasis on whatever I would get being both microwave and dishwasher safe (the latter especially as the dishwasher here has been something I do look after and use a fair bit.)
I had looked up various sets online which we all 12 pieces (four plates, four side plates and four bowls) and for me that's more than enough to be honest. I had narrowed it down to a few that I liked and I consulted my style guru (The Love In My Heart) for advice. She liked a couple most of all, one of which unsurprisingly was one with a nice bee motif on (after all we are Mancunians) but the one that she and I liked the best was one that reminded us both of the afternoon tea at Marco Pierre-White's New York Italian the other week, it had that same look.
So, because I had some balance on a voucher I had from work a while ago, I could exchange some of the balance on that for an e-Gift card for Argos, where the dinner set was, and it meant I could literally do click and collect. I did consider about delivery but as the local Argos isn't that far from me and because it would be £5 for delivery, I thought it'd be much easier to just collect it. Payment done, sorted, and in the lunch break at work I headed off there, and it was a straightforward in and out collect job. I got home, and it all looked rather delightful and spot on - and checked it all to make sure there were no breakages (and there weren't, woohoo!)
I settled in for the evening after work and had some rather nice gammon steak with some chips for tea, and served it for the first time on one of the new plates. It was rather lovely to have something nice and new to dine with, and maybe it was because of that, that it all felt better to enjoy. I think it was long overdue to be honest and there may be an opportunity to get a replacment toaster at some point too because I've had that many years (and it was one my brother bought whilst he and his partner were minding my place when on hols because the other one blew up) so that might come to good use too now I know the process works.
I did some final testing also today for SQL Server Management Studio. Install worked as intended, but for uninstall, I had to call a similar command line to the install but instead use the uninstall switch - and still needed the start "" /w (for wait) to run properly, so like the install, let MECM call a command line batch file to run it - if you put that start command in for the install or uninstall command line, it will fail (something worth noting out there for you administrators) but doing the command line route is perfectly fine. And it was spot on. So that'll make my colleague in Sao Paulo happy!
As for tune of the day for today, I've been listening a lot recently to the CMU album Space Cabaret, which features no less than the late Richard Joseph, who would later be a computer game musician of some note (Cauldron II, Barbarian, Stifflip and Co, Cannon Fodder, James Pond, Magic Pockets, SWOS etc) - and before all that he was a talented musician, who pretty much wrote most of side one of the album above. For me, the opener of side 2, where he and Larraine Odell perform vocally against a backdrop of almost doom laden mellotron organ and funky guitar with a lengthy almost ten minute workout on Dream, is superb. Fifteen years since he left us and still this record shows how good he was even before the gaming industry.
Wednesday 9th March - One 4 All and All For One
It was time to head out this morning and get a birthday card and gift for my brother, who had told me he was quite happy with an One 4 All card as he could use that in plenty of places without any hassle, and also meant it was much easier to post as well. Back in the day, you only used to be able to get them in the post office, but other supermarkets have now made it available in there - Tesco definitely. As I wanted a nice card I headed off to my local Sainsburys near to the flat, and, joy! They too now have the very same gift cards in their selection, so was easy enough to go to the till with a member of staff on (you can't do it on the quick tills) and then they'd add the credit in, all sorted. Easy!
It was a busy day for me today, primarily packaging and completing some new requests - primarily for an incoming piece of migration work to come in. So the likes of Git for Windows and Node.js were taken care of (these were relatively easy to be perfectly honest) and then the large one: SQL Server Management Studio. In fact, Microsoft have improved the installer somewhat as of late, but the silent install command is pretty laughable, using the old start /wait command to ensure that the executable doesn't exit before finishing its work installing. Still needs a bit of a tweak that but will be road testing tomorrow to see if it can be deployed well.
One thing I was also asked about was the Windows Subsystem for Linux (WSL) as some developers use it. As it transpires, these days you can easily sort that with an admin Powershell command to add it in without too much hassle. The main thing is to ensure that the distribution you want it installed when you do so, so by default it's the current version of Ubuntu, but if you want the LTS version you can do that, and if you want say another version such as OpenSUSE or SLES (takes me back to the Novell days of that system!) then you can specify on the command line and be good to go.
I must admit it's a nice thing to have a command line version of say Ubuntu to hand if you want to do any script based testing on a shell command line and see if it works of course without having to have a full distro installed elsewhere. However, it's also handy for developers because they can do it all on one machine and save time and effort. Some of the developer stacks such as the (now licenced, no longer free) Docker use WSL, so handy to know how to get it on there in the first place.
I also spent the lunch break watching some more classic Formula 1 from the 1982 season, including the Detroit Grand Prix where John Watson did the winning from the back of the grid number to overhaul three drivers in one lap - Niki Lauda (his team mate), Eddie Cheever and Didier Pironi, before later passing Keke Rosberg and taking a well deserved win. Of course having Murray Walker and James Hunt in commentary worked wonders, as did of course The Chain by Fleetwood Mac as its theme tune, so that has to be tune of the day for me.
Tuesday 8th March - Hot Cross Coffee
It was off to the office today, as I'd managed to get a desk booked by one of our facilities administrators, due to a lack of reservable space and some group bookings which were larger than anticipated. This did mean a good early start to the day, and joyously, the fast red train was back in operation to Victoria. Both that and the 38 bus to the office seemed quieter than normal, although by around 0930 the office was a hive of activity and definitely a case of everyone really putting themselves together to get some things going. It did feel lively and it was good to be able to catch up with one of our HR folks (despite the fact I found out she was a Man U fan, oops!)
Anyway, I spent a fair bit of time today going over some final checks for the new VPN client version to be deployed tomorrow, so was all good there to go once I'd been able to verify a few things. I also added it to the MECM task sequence for Windows 10 builds too so that was good to get that in - and the new antivirus updated installer at the same time too. The good thing is having a modular approach means you can easily make amendments and keep the basic core working really well, and definitely allows for that flexibility as things change over time. A good thing in my view of course.
I also was able to do some research with a couple of colleagues with regards to a project that is being undertaken, and for me it was interesting to note some of the design thoughts and decisions behind it - and whether indeed a sensible use of lift and shift would make sense in terms of some of the services provided. Of course, one thing may also be that if we're looking at any redesigns of any Active Directory structure, things that hang off that will be affected too, which is why sensibly the first thing they're looking at getting in a new place is an AD controller first - absolutely get that right!
I did have to use my final free coffee from Costa Coffee before the end of this week as it was a limited time once they convered the points to beans on their app, and probably to ensure no one is carrying loads over. As there were some new recipes to try, I plumped for the hot cross bun latte (after all, it's any hot drink of any size as your freebir) and so took that back to the office for me for the afternoon. I have to say it did taste pretty good, and certainly the bits on top had that nice smell as if a hot cross bun had actually been baked for me, so that has to be something good, right?
When I got home after a nice train journey where the train from Victoria was packed after Clapham Junction (understatement) it was good to be able to take some time out to play some old Commodore 64 games as part of some research. In fact, I ended up having a good blast of a few games to make sure that they were as good as I remembered them (short answer: they were) and also enjoying the soundtracks too in a fair number of cases. As for tune of the day I really liked the title theme of one of the games, which was a reworking of a demo theme, so Cry by Steve Barrett is the tune of choice here - it's very nicely structured.
Monday 7th March - Re-Arrangment
Well I started the day working from The Love In My Heart's place thinking that I would have three or four meetings today, and one at 9am at that. Gradually during the day these appeared to be re-arranged somewhat so it ended up being just one short meeting around 4.30pm, which does sort of frustrate me a bit. I've tried to allocate time to attend meetings and having them chopped and changed around doesn't really do anyone any favours - I wonder if that would happen if we were all in the office for example? It seems to be a worrying norm and it does make me wonder how seriously some of the organisers on occasion take things.
Anyway, with that schedule somewhat cleared, that did allow me to delve somewhat a little deeper into some additional testing for one of our applications, which did appear to install but only if the user was an admin, and not for the system user correctly for some odd reason. I might have to get one of my colleagues to raise this with the vendor concerned and see if there's an easy way that things might work correctly, as in the past this appeared to at least do what it was supposed to do.
I also spent some time working on a few bits of documentation but also reading up on some course content - one of the things that I noted was that if we're doing a planned project this year and maybe doing some of the server hosting elsewhere, I needed to know about what that might entail in terms of the provider, so have made inroads into some of that. I must admit though, I find watching online videos of that sort of material somewhat dull, it doesn't quite have the same experience as an in person class where you're actually getting your hands dirty and trying it out yourself.
I did feed Brian the cat his tea and he was more than happy with his tuna and Dreamies, and despite being on a late shift at work The Love In My Heart did manage to get through the traffic pretty quickly and so managed to get home in pretty quick time. So as not to upset Brian I left, and met The Love in her car park and she drove me to Piccadilly station so I could get the train home - that way when she did get back, Brian would just think she was home from work and so run to the front door for lots of cuddles and a fuss over, so not breaking routine either.
The trains were all good heading home and on the trusty iPod I played plenty as I looked out of the window as the train sped towards Euston. In fact, tune of the day is Yellow Magic Orchestra's original version of Behind the Mask (not the one later ruined by Eric Clapton) as it has some lovely synth lines and the chorus with the vocoder really does sound of its time too. Of course, I had a mask on when on the train just to be cautious and safe, so had a double meaning really for me.
Sunday 6th March – Derby Day Delight
Today was the Manchester derby, a game I'm always nervous about to a degree but also a game where I really wanted to see Manchester City win and keep the bragging rights in Manchester after a nice away win at Old Trafford earlier in the season. However, our recent record at the Etihad against United wasn't good – often in both derbies the away team has tended to come out on top. I just hoped today would be a change in that fortune, and after Liverpool's win against West Ham yesterday, a game that we needed to win to keep a manageable gap at the top of the table.
I headed off to meet my friend at the ground, and we both had arrived early to be on the safe side with traffic and all that. We had time to venture into the City shop where my friend bought himself a cream t-shirt that he liked the look of. We also had to buy one of the City clear duffel bags to put it in because they were the only ones allowed in the ground if you bought things from the shop, an extra £1 at that to be honest. I guess it was for security reasons and you didn't get a season ticket holder discount on already reduced items in the sale either.
We got into the ground, had our pre-match brew and I also had a chicken Balti pie to keep me going until The Love In My Heart and I would have tea later, and all was well. The atmosphere built up nicely and before kick off both teams arranged themselves in the centre circle with one blue, one red, all the way round, so that they showed solidarity for Ukraine and stood together – particularly poignant of course for us as Oleksandr Zinchenko is a Ukraine international player and one whose interview on Football Focus yesterday was a tough watch, but glad he did so and was able to speak the truth too.
The game was underway and City went for it, and an opening move down the left with Jack Grealish and Bernardo Silva meant a cross came in perfectly for Kevin de Bruyne so slam it home from six yards out and 1-0. A lovely start after five minutes, but I knew it wasn't going to be an easy game. This was proven as a ball down the left found Jadon Sancho and using Bruno Fernandes as a decoy runner, he came into the box and slotted a low drive from eighteen yards past Ederson for the equaliser and 1-1. To be fair, at that point, they did deserve that.
City went again though and another move down the left saw a Phil Foden improvised header hit the crossbar. But shortly after an interception down the left saw the ball go to Foden, who looped it past the United defence and hit a shot which David de Gea saved well, but after an attempt from Bernardo Silva, the ball went to Kevin de Bruyne and he slotted home for 2-1 with the United defence all over the place. It was great for us and of course a wonderful fillip to go into the half time break 2-1 ahead and with Benjani on the pitch at half time talking about his goal in our derby day win in 2008 at Old Trafford – happy memories of that I think!
The second half started well for City and I could tell whatever was said in the half time team talk was having an effect. City went close a few times with Phil Foden closing down well and making the United defence make errors. A corner came over and nothing was done about some free players in space, which set the precedent for what would happen a little later. Kevin de Bruyne floated a corner to the far end of the 18 yard box, where Riyad Mahrez hit it on the volley and into the bottom corner – clearly rehearsed well at the training ground. Get in! 3-1 and some breathing space and well deserved.
The last twenty five minutes would have expected United to come back, right? But no, they gave up. City passed the ball around with "Olé!" every time they got the next touch, and so many of the United players jogged around as if it had already been lost, Bruno Fernandes especially. I get why Roy Keane on Sky Sports was so cheesed off, he would not have settled for that back in the day to be fair to him. Sure enough the ball went through to Riyad Mahrez and he struck it past de Gea, but was disallowed for offside. But VAR came into play, and after a lengthy check, it was proven that actually Mahrez was just onside, and the referee overturned it and gave the goal, for 4-1. City had 92% possession in the last twenty minutes or so, and that showed how much United gave up.
Needless to day my friend and I were ecstatic with City's win, and I have to say that as the Joy Division classic was belting our over the PA system (make it tune of the day) and with us all belting out to the chorus City, tearing Cockneys apart again, that definitely made it so worth it. Manchester is, quite rightly, blue, and I felt proud to be there, share with my friend and have a wonderful time enjoying that display. One tricky match over with in the title run in and one where I'm going to enjoy all the United fan channel meltdowns over the next day or two. Get in!
Saturday 5th March – Wine, Wallop and Winning
The Love In My Heart and myself had a well deserved lie in – although Brian the cat was doing his best to be able to tap his paws in Mummy's direction to wake her up. I did of course head up and see that the Winter Paralympics had started with the British mixed curling team taking on Norway in a very close encounter – the British did lose that one but it was a great opening match to watch and good to see it getting television coverage. I'm not sure if Channel 4 have limited coverage during the day (when it'd be evening in Beijing) as more highlights in the morning might be nice.
The Love In My Heart met with one of her sisters later and headed back homewards, where the three of us had a coffee and a good natter as well. She did tell us both of the fact that one of her work colleagues had had a property viewing, and the person who was viewing, once described, actually was one of their family relations. Small world and all that but it did make us both chuckle to say the least. I do think it was nice that they appreciated the support I'd given to The Love's niece this week for bus route info to avoid the tube during the strikes so she could get to work without any issues.
We later decided to head to Levenshulme Market and have a good mooch around, and that was nice to be able to do that. I have to admit that I do miss being not far from there and there were plenty of nice stalls selling hand crafted arts and crafts as well as food. I was a bit gutted about no record stall there as it would have been nice to browse and possibly buy some albums and singles, but you can't have it all. We then thought a leisurely late afternoon drink was in order, so it was over to Wine and Wallop in West Didsbury, one of our favourite haunts.
In fact, it was busy and so we got a nice table upstairs overlooking the downstairs part a little and also some nice comfy chairs. I went downstairs to order some beers and noted they had the Wallop Ale, maybe done locally, so had that (and it was very good) with The Love having the Camden Hells too. We noted some quality 80s tunes playing in the background and setting a nice vibe including some classics from Siouxsie and the Banshees and The Jesus and Mary Chain, and as one of those was Just Like Honey from the JAMC, and the closer from the film Lost in Translation, it has to be tune of the day for me no question.
Later on back at The Love's place we had a very nice meal of a butternut squash soup to start with some lovely steak and chips for main, and I also saw the Manchester City women play Chelsea in the Continental Cup final. As the rain thrashed it down at AFC Wimbledon's ground in the second half, City really upped the game and two goals from Caroline Weir and one from Ellen White meant a 3-1 win for City and an end to Chelsea's domination of that tournament. This pleased me immensely!
Friday 4th March – Northern Delays
It was off to the office today and it was surprising that on the train from East Croydon to Victoria I was actually able to get a seat, and they had reintroduced the fast red trains (basically Gatwick Express stock) which meant no stopping at Clapham Junction along the way, so was an easy decision to get that, then get the bus from Victoria to the office. After the tube strikes over the last few days not taking tube was definitely key here, and it really did work out well for me, so can't complain to be honest.
My manager was in the office today, having come down for a few days and had also been at a staff event last night for the staff awards – which wasn't that easy for me to get to with tube strikes and so had decided to be safe and be at home instead. It was good to see him face to face and be able to discuss some future plans and also be able to work things out together. I do miss the face to face interaction and today proved it, more so when we decided to head to Pizza Hut at lunch time and do some buffet lunch together, and just chat about normal stuff.
I did also a little experiment today with a test machine – to see if the Windows 11 in-place upgrade task sequence would work. I had a machine with TPM 2.0 enabled and what would meet the minimum specifications, and then made sure that a recent ISO of Windows 11 21H2 with February's updates was extracted. It was then a case of road testing a task sequence to do the job, and on the whole, it seemed to work well. I deliberately had put in a check for client version knowing I had an older client on this machine, and yes, it had stopped it because of that. So once client was done, then I did upgrade test, and it worked. Which was nice. Of course that does at least mean that one criteria is passed, but of course will need to see how others do including (potentially) a build process for the WIM itself.
After a nice post-work drink it was off towards London Euston and so walked towards Oxford Street for the 390 or 73 buses to Euston. I did note though that my planned 1920 train, the one I had booked for, had been cancelled, which meant I'd have to board the next one at 1940 instead, with no seat reservation. However, due to knowledge of previous departures etc I knew which platform the 1940 would depart from, and got on the train early, in coach C, and therefore in a seat, in fact my old favourite seat of C26 as well.
The journey was fine and I had the iPod on blasting on some tunes including the classic Jilted John eponymous single (make that tune of the day) and it definitely was good to zone out from all the distractions going on – the train was pretty busy as you can imagine and it was just nice to be able to look out of the window and be able to relax as much as I could before then meeting up with The Love In My Heart at Manchester Piccadilly and have plenty of love and cuddles with her and Brian the cat. Awwww.
Thursday 3rd March – The Magic of the FA Cup, Part Three
It was another night of FA Cup action tonight, with National League side Boreham Wood away to Everton at Goodison Park. In theory, you would think it would be a routine Everton win especially with them being at home, but it's worth noting that in the last round Boreham Wood went to Bournemouth (from the Championship) and won deservedly there, so there's a distinct no fear factor about them in this cup run. I was tuning in primarily to see if they could pull off another cup shock, but also before this was the sixth round draw which of course Manchester City were involved in.
Seema Jaswal conducted the draw proceedings with England manager Gareth Southgate drawing the balls out of the pot. I was half thinking that City would get Liverpool or Chelsea in the next round, but the way the balls came out, all of the top three sides were drawn away from home: City got a tough draw at Southampton, who had drawn with us twice in the league already and St Mary's is a tough place to go: Liverpool get the winners of Huddersfield v Nottingham Forest, and Chelsea head to Middlesbrough, who knocked out Tottenham this round. The winners of tonight's game would be at Crystal Palace, again a tricky away day.
As it transpired, Everton did huff and puff a fair bit, and of course Boreham Wood did have some chances too, but it turned out to be that Salomon Rondon was the Everton hero, scoring two goals (the second of which was down to the goal line technology and the referee's watch buzzing) but it wasn't convincing from them. You would fancy Palace to beat them in the next round, but still, it showed that you can't underestimate any opposition and the money gained for Boreham Wood will see them well going into a possible promotion push into League Two, we shall see.
I had also been spending some time today finalising the new MECM distribution point for Dublin as well as one for our office in Boston, and it was a case of the content finally getting there in terms of Boston (Dublin's connection is much quicker) and once content there enabling PXE boot and also making sure with our networks team that the IP helper was set to make sure it would look to there for PXE. I must admit it's great that the folks around us really know their stuff and are able to get things done, makes it a lot easier for me when being able to get everything sorted.
I also spent some time today getting everything ready for the weekend, as I'm heading to the office tomorrow before taking the train to Manchester – mainly for the Manchester derby on Sunday but also to spend some quality time with The Love In My Heart and Brian the cat. It was good to get it all sorted and had the iPod loaded with some quality tunes, some of which I played tonight after the football in preparation including the excellent Seventeen by Penfriend, make that one tune of the day.
Wednesday 2nd March - The Magic of the FA Cup, Part Two
It was off to the office today and thankfully because I can take a route towards the office which mainly involves trains, although I suspected some of them would be a lot busier, at least there's no tube involved, and due to that pretty much not starting until after 0730 due to recovering from the strikes the previous day, everyone was on diversionary routes. Not surprised at all to see many more doing the switcheroo from London Bridge over to Waterloo East just to get closer to Waterloo (although they may find it's quicker than switching to the Jubilee Line anyway to be honest, we shall see.)
It was a good day in the office generally as I was able to speak to a few people, get a fair bit of work done, look at setting up two new MECM distribution points - one to replace a current one where the OS is damaged, and another to reinstate at a site now that people are back and there is a genuine need for one to be there anyway, so was good to be able to get that going too. I also ventured out for a little walk at lunch time and I have to say it still felt pretty busy, and as the office is close to one of the theatres, we could hear the hubbub of people heading out from an afternoon matinee.
When I got home, it was on with BBC One and on with Luton Town against Chelsea in the FA Cup. I was hoping for a shock from Luton and it didn't take them that long to get in front either, with a well taken header from a corner by Reece Burke. Excellent atmosphere at Kenilworth Road too, a ground I've been to when Luton used to be in the top division - I saw a 2-2 draw there with Man City many years ago. Chelsea did equalise through a well taken finish from Saúl, and that for me was possibly a sign Chelsea would go on to win, especially as Luton had to change their goalkeeper due to a bad injury.
But no, Luton had other ideas. What the Chelsea defender Sarr was doing I had no idea, he just put Harry Cornick onside, and well, it had to be him didn't it? He slotted the ball past Kepa in the Chelsea goal and 2-1 at half time. Alan Shearer and Micah Richards were rightly buzzing and were hoping, like a lot of us were, for an upset. However, Chelsea had other ideas. They went forward and got an equaliser half way through the second half from Timo Werner and that was looking only way from there, unfortunately, as Luton appeared to tire a bit. Sure enough, Romelu Lukaku made it 3-2 ten minutes later and despite a late Luton charge, that was it.
I was a bit gutted really as an upset it always good to one, and we did have one last night. Southampton had a really good game against West Ham with a superb opening goal from Romain Perraud, thundered in from thirty yards into the top corner - goal of the round so far that for me. West Ham did equalise but a penalty for Southampton was (of course) scored by James Ward-Prowse, and an excellent save from Saints keeper (and former Man City keeper) Willy Caballero late on kept the score the same - and a third goal scored by Armando Broja late on. Southampton away sixth round is a draw no one would like, let me tell you. Tune of the day in the meantime is the excellent I Don't Want To Go To Chelsea by Elvis Costello, and considering the current owner and what's going on, quite apt.
Tuesday 1st March - The Magic of the FA Cup, Part One
It is the FA Cup Fifth Round this week, and all the games are, for whatever reason, being played midweek. I'm not a fan of that to be honest, as a proper football purist I like for the games to be played at the weekend and have a proper cup tie feel to them all. The Love In My Heart also wasn't too happy because both BBC1 and ITV1 had a game each, meaning hardly any soaps to watch and even the telly on other channels wasn't exactly so promising either, so definitely no good for her. We did have a good natter anyway, mainly at half time in between the main game I was watching tonight.
I had been working from home today anyway, as even if I had booked a space in the office I would have cancelled the booking due to the fact that the tube was on strike. And not just one line either - all of the tube. This of course meant long waits at certain railway stations for buses to try and get to places, and also much more traffic meaning that it was rammed out no matter what. I really didn't fancy any of that to be honest and as I had plenty of documentation to write, it made more sense to do it in the comfort of home and indeed with a nice coffee or three during the day.
I did have a nice package arrive - and a complete surprise from one of my fellow Commodore 64 owning folks. They had appreciated recently some useful advice on the games and stuff to play for the Commodore 16 and Plus/4 series, and by way of a thank you had sent me the one game missing from the complete Firebird and Silverbird run for that system - the conversion of Thrust, no less. This now means I've got both Mastertronic and Firebird in complete collection form - here's the Firebird one!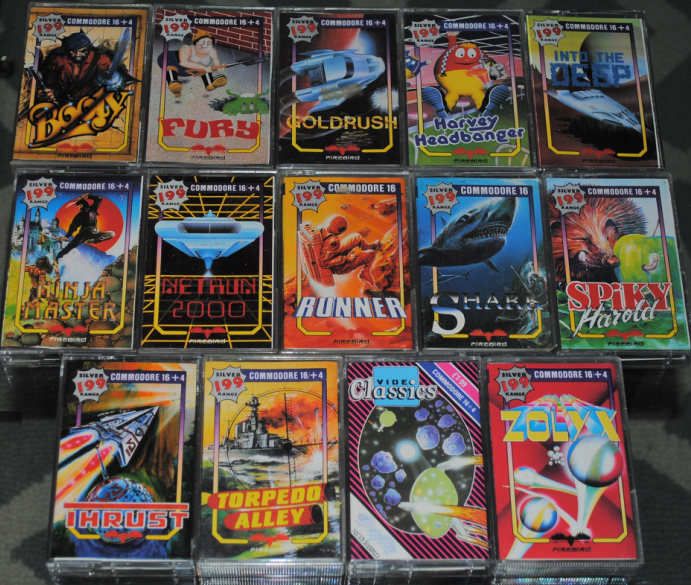 Nice, isn't it? It was good to get that done, and as there's only four Codemasters games for the system and I own two of them, potentially that next. Anyway, it was on with ITV1 later as they were showing Peterborough United against Manchester City. Naturally it was quite poignant as the whole City team, with Fernandinho as club captain, asking Oleksandr Zinchenko to be captain for tonight's game - a really nice gesture as both teams came out with the Ukranian flag, and the City fans massively got behind their man, as you'd expect. I for one was pleased to see that, and I also have to say that for me, it was not a surprise - once a Blue, you're always a Blue, no matter what.
In the end, Peterborough United played well first half and did create some decent chances at the start of the second half, but it did mean that they left their defence exposed. City did just that and a run inside from the right and shot from Riyad Mahrez was really good to get the opener, followed a few minutes later by an absolute peach of a ball from Phil Foden to Jack Grealish, and he made it 2-0 and the game relatively safe. It was harder than I thought and full credit to the Posh for making it a proper cup tie, but pleased to be through. Due to the staggered kick offs, it also meant I could turn over to see Middlesbrough v Tottenham and how that did.
And well, 0-0 after 90 minutes and so into extra time. To be fair to both sides, they went for it, in a big way. There were chances with excellent saves and plenty of goalmouth action, but at the start of the second half of extra time, Middlesbrough broke clear down the right and what followed was an absolutely superb finish from Josh Coburn to get the winner. I loved he way Guy Mowbray referred to the classic Barry Davies commentary of "Look at his face! Just look at his face!" because of Coburn's happiness when he scored. In fact, the proper Match of the Day theme, 80s style onwards, has to be tune of the day as it reminds me of the peak Barry Davies and John Motson era.