Dear Diary... January 2022
Monday 31st January - Filibuster and Fibbing of the Lying Kind
It was good to be able to work from home today as the wind and rain had lashed around overnight, and in no way did I want to face that horrible weather (and for those of you that did, you're much better than I am) - and it felt good to be able to have the heating on, be nice and cosy in the flat, and get a few things in hand done today that I needed to get done work wise. I saw it as a good opportunity to have some positive discussions around some management side (not people management I should add) and so that was at least something.
Of course, one other worthy thing of note today was the publication of the initial findings (sadly not the full report) of the Sue Gray investigations into parties at 10 Downing Street. Even those initial findings are pretty scathing when you read them (which you can do here) citing numerous examples of failed leadership, and twelve out of the sixteen events noted have gone to the police for further investigation and of possible criminal charges. Yes, you read that correct: criminal charges. And indeed a failure of the standards expected of the entire British population at the time.
It angers me. Immensely. Everyone I know made massive sacrifies during the first few months of the pandemic (which by the way we are still in, important to note) and if that meant not seeing loved ones, remaining at home and staying as safe as possible, then you did it, and as Keir Starmer noted in his speech, as a patriotic duty, and what could be more so than doing your bit. Not having the same level of compliance is, as the report also notes in its findings, there was too little thought given to what was happening across the country in considering the appropriateness of some of these gatherings, the risks they presented to public health and how they might appear to the public.
For me personally I know I didn't see people in person for months on end, and I remember on a November day i 2020 when Manchester was in the tier system, meeting my Mum in the park local to her, two metres apart at all times, no hugs or anything, when it was close to her birthday. We did it because we wanted to keep each other safe and realistically we knew that's all we could do within the guidance at the time. But, we followed the rules because it was the right thing to do. For others in power to abuse that power and for us to feel like complete fools is something that doesn't sit very well with me at all.
So, I stand with Ian Blackford. I stand with Caroline Lucas. I stand with Afzal Khan, and many others who quite rightly called into question why the Prime Minister was allowed to filibuster and lie at the despatch box, when it was clear that he saw the report as a ticking off, laughing at other MPs, and generally thinking he had got away with it. Well, news for you Prime Minister. Your day will come when that doesn't happen. Sadly for those of us who believe in honesty and integrity, it won't even be by the public voting in elections. It'll be by the sword of the 1922 committee which must be sharpening some of its blades as we speak. Tune of the day is Go Now by The Moody Blues, for its obvious chorus statement. Yes Prime Minister. Go. NOW.
Sunday 30th January - Strolling Sunday
I decided that today would be a good day to go and visit a car boot sale: see what LPs and singles I could possibly get, or any other items that took my interest. I'd not been to one for a while and thought that it'd be good to take a stroll out. In fact, when I checked, one that looked good and was open was on the site of the Pimlico Academy school and near Pimlico tube: of course, the difficulty was no trains were running between East Croydon and Victoria, so had to find an alternative route, and soon managed to get that sorted. So I left the flat and headed for West Croydon, going via Canada Water for Jubilee line to Green Park, then Victoria line to Pimlico.
Once out of Pimlico station, it was a straight walk along Lupus Street and then down a side street close to a very nice posh tree lined square and for the car boot entrance. It was £1 to get in after 11.30am and you had til 2.30pm in there, so plenty of time for mooching around. Plenty of stalls selling all sorts of stuff including lots of clothes, and part of that was in an indoor part of the academy which made more sense if it was raining - and some of the table tennis tables outside were being well used to put some of the wares on for some of the sellers. I even saw a nice 12" copy of Beat Dis by Bomb the Bass too (I have it, but nice to see) - had the tune in my head most of the day after so had to be tune of the day.
I realised of course I was near the Tate Britain so thought I'd walk over and have a mooch. Granted some of the exhibits do cost a fair bit and some of the staff were attempting to lure you to the ticket office. Not me, I knew their café was nice on the lower ground floor, so had a nice latte with a good piece of carrot cake, and it felt very civilised and relaxed as I had it. In fact, I also had a good mooch in the bookshop and noted plenty of Miffy items for the children (I approve of course) and also lots of good art and literature books all round - a really good place to go actually and even had a bit of a sale on.
I thought it was time to head home later on, but realised that the number 3 bus stops close by close to Lambeth Bridge, and I could walk that. So thought became reality and on I got, passed through Brixton and Herne Hill (where I noted a taproom by the railway arches, must check that) and onwards to Gipsy Hill, where (of course) I'd be paying the Gipsy Hill brewery taproom a visit. It was very relaxed indeed, and the Masher bitter that I had was more like a traditional bitter, and tasted properly nice. In fact, lots of good selections for everyone including two 0.5% ones for anyone still doing Dry January, and the vibe was really good and relaxed - a good way to wind down the afternoon all round.
I headed back to Gipsy Hill station (no sign of Fanny the station cat though, shame that as I would have been nice to say hello and give her some cuddles) and took the train to Norwood Junction, and as that train was waiting there for 15 minutes, I swapped platforms and got straight on a train to East Croydon and home, so that was definitely a good move. I also had noted the Australian Open final result, and what a brilliant win for Rafael Nadal it was too - a come back from two sets down with so much drive and passion (and five hours plus of play as well, ending 1am local time!) which really did show how good he is. Vamos!
Saturday 29th January - Into The (Lea) Valley
I got up and had some breakfast, and then knew that I would be able to set off for North East London and beyond to take on a walk I'd planned to do for some time - the first section (and possibly two) of the Lea Valley Walk. As it is on the TfL website, it starts not far from Waltham Abbey and then heads all the way down the valley and River Lea Navigation all the way to Limehouse Cut and basin. I did actually walk sections four and five last year when you couldn't go too far for exercise (which also meant I paused the London Loop walks for four months or so) so it was good to get back and get some of this done.
I headed off to West Croydon station and took the cheaper route to Waltham Cross station, which was effectively West Croydon to Canada Water (Overground), Canada Water to Stratford (Jubilee Line) and then from there the train to Tottenham Hale and change there for the train to Waltham Cross. Not bad for £2.80 all in really, and I then had a fair bit of distance to walk from Waltham Cross station (and in Zone 7, too, so really venturing outside the TfL boundaries a bit) along the main road towards Waltham Abbey and the start of the walk itself - which did look very pretty as I approached.
The first thing I noted was that I was outside the M25 to begin with, which not even the London Loop dares venture outside, albeit for the first few hundred metres before it then goes under the road bridge on the approach to Rammey Marsh. The lock there even has a café to the side too, but I was still full from breakfast and so carried on towards Enfield Lock, where I'd been before during the London Loop walk. However, this time it was carrying on down the River Lee Navigation (the Loop turns left towards Sewardstone not long after) so that was all good, passing in fact a power station and a number of factories and industrial units.
It was definitely a contrast with resevoirs behind grass banks to the left and those units on the right,and arrived at Ponders End Lock and all in good time. In fact, I was feeling pretty good so decided to take on the next section as well, another four miles or so, all the way down to Tottenham Hale. This was pretty straight all the way but I did pass the Enfield brewery for Camden Town and their beers, with a massive sign for their Hells beer outside and visible. Pickett's Lock was also a really nice feature along with its bungalow for the lock keeper's cottage as well.
As I headed further towards Tottenham Hale I did note the rather lovely Stonebridge Lock with its moorings which looked nice, and the waterside café too. It was a very nice place to be, and it was noticeable that the path between here and Tottenham Hale itself was busy with walkers. When I did get there, I diverted almost back along the path but along a road that ran alongside, and to an industrial unit. I knew that Beavertown's tap room was closed, but Pressure Drop still had theirs open, so had to have a rather nice drink there, which was the Pale Fire. It was very nice indeed it has to be said.
Later it was back the way I came but from Tottenham Hale which meant a mere £1.70 cost going back (nice!) so can't complain there either. It had been a good day of walking even if I did feel a little tired afterwards. I also did watch the Formula E race on Channel 4 later and that would have been set up for a grandstand finish, but the race had to finish behing the safety car due to them clearing a crashed car off track. At least all of that was under the rules, unlike the Abu Dhabi Formula 1 shambles a few months back. I must admit I don't mind Formula E at all to be honest, and Jack Nicholls with Dario Franchitti are a great commentary pairing, and the theme tune is tune of the day too.
Friday 28th January - Absolutely Brilliant!
I had had a nice game delivery yesterday for the Commodore 64 - that of Star League Baseball by Activision in its clam shell original case. It was a good swap I had done with someone where they got in return duplicate originals I had of both One Man and His Droid and Prospector Pete for the Commodore 16 and Plus/4 by Mastertronic, so that worked out nicely. If I ever do a swap with anyone I know, I generally always road test the games to be sure that they work before they leave here - and that way no one is disappointed and there's been some form of quality control.
A packaged therefore arrived early afternoon and had an alert from the concierge in the apartment block and off eBay themselves to say my order had been delivered. It was a set of five games released by Codemasters for the Commodore 64, and I paid a total of £10.50 plus postage. Not bad when you consider that the bundle includes, by release number, the very first and the very last game released by them for the C64, but also two other not so easy to find titles and one which was a re-release of a game originally released in Spain, no less. So here they are.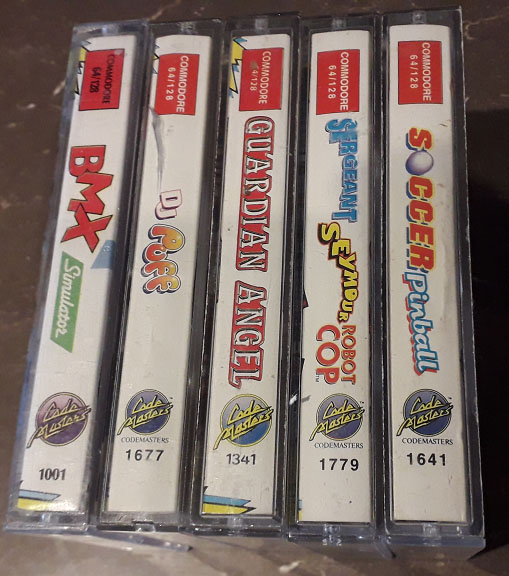 As Codemasters would say in their advertising blurb, absolutely brilliant! Note the four digit catalogue numbers on the side spine. I've managed to work out that for four digit numbers, the first digit is the format number (so 1 = Commodore 64, 2 = Spectrum 3 = Amstrad etc) and the last three are the release number, in numerical order, hence BMX Simulator as 1001 is the first ever Codemasters release. For other formats that used five digits, two is the format number, last three again the release number (for example 13 = Commodore 64 disk, 31 = BBC/Electron.)
So what of the games? Well, I have BMX Simulator on disk already, so I know how much of a bona fide classic that is - seven tracks complete with action replay and even slow motion too, especially handy when you beat a friend at the game in two player mode. Guardian Angel is a bit meh because that's effectively what was Freddy Hardest 2 - all the quality of a Dinamic game (cue sarcasm here) but it was mainly the other four I was going for, and nice to get a decent copy of the game at any rate.
Next up was DJ Puff, or to give it the full name, DJ Puff's Volcanic Capers. In a game that is very reminiscent of the likes of CJ's Elephant Antics (no bad thing) DJ the dinasour has to work the way through levels of platforms, and shoot anything else in its way - the special weapons can either be breathing fire, or the bomb, depending on the pick ups you get, and throwing bananas otherwise. It's got a really good in-game tune as well that bounces you along nicely (make that one tune of the day in fact), and definitely one of the better later Codemasters releases.
Sergeant Seymour:Robotcop is another in a series of games featuring the Seymour character, and is in fact the last ever single cassette standalone release on all 8-bit formats from Codemasters, having been in a compilation first then released as a standalone after. Because of this, it's not so easy to find (in fact a copy went for £36 tonight on eBay, showing my purchase to be a rather good bargain!) Effectively, it's quite a nice single screen maze game where you can use a retractable arm to help you defeat the baddies, and it plays decent enough. Not sure I'd want to spend thirty quid on it though.
Last of all was another more obscure title from 1992: Soccer Pinball. Yes, take a pinball table themed on football, and because Football Pinball might be a bit rhyming, use the American word instead. It plays okay, but the flippers tend to get a bit sticky when the ball gets close to it. You have to hit the defenders, then the goalie vanishes and you can score goals in the centre target - or if you unlock the cup target you can hit that to complete the level. Normally, three goals scored will get you to the next round, and I did manage to get to round four, so didn't do too badly. All in all, nice to play some different games!
Thursday 27th January - Something Fishy
It was another work from home day for me today, despite the fact that apparently Plan B is supposedly over, and that woo, you don't always have to wear a face covering everywhere. Not quite sure, to be honest, if this is a little too soon, but we shall see over time. What inevitably this may mean though is that transport in general might prove to be a little busier, so I've at the moment gone back to one day in the office a week, possibly two in some cases, and I do feel a little less stressed being at home and doing all the work that I need to do.
In fact, I spent a chunk of today road testing the new version of VPN client we use for work on a Mac as well as a Windows machine to make sure that the consistency of reliable connections is maintained. One of the things I've been consistently pushing for is to have simultaneous release of any updated software, if it exists on both systems, for both Windows and Mac, so as a support baseline, the current supported version is say version 4, for example. This does at least mean that if anyone in future is below that, the first thing we can at least do is get them to that. Granted, it'll be automatically deployed over time, but always good to formulate a plan methinks.
Plenty of planning too came to fruition today for me too as the final leg of getting content back on one of our distribution points for MECM was all done, so all content now where it should be - and for our Mac side because our JAMF hosting provider has their own content delivery network, we don't need any internal points anymore, and spent a chunk of time removing pretty much all of that where possible. It did mean we're reducing a good amount of footprint of course, so that has to be a positive for both electricity use and amount of infra needed internally, so double win.
I did watch The Apprentice tonight as both The Love In My Heart and I would be recognising various parts of Cornwall as the episode proceeded. Granted, you had to go and get some fish, make one of them catch of the day, and make sure whatever you then buy at the fish markets (and I somehow knew it was going to be Newlyn, and a fair way from Newquay where they were fishing also!) was good enough to be able to prep and serve to a restaurant owner. One owner knew straight away to look to the bottom of the delivery to see the less well prepped stuff being hidden away, he wasn't daft!
Certainly not as daft as one team who clearly didn't listen whatsoever - they forgot to mention catch of the day to the fish restaurant, and faffed around with a complex recipe that took ages to prepare and meant they were late into the Truro farmers market - whereas the other team with their fish tacos absolutely nailed it, they looked really appetising and no wonder they did well with their sales. I would have actually fired two of them last night, as one looks a bit mouthy and a bit of a nonce - why that person stayed I have no idea. But there you go. In the meantime, tune of the day is the excellent 3 Daft Monkeys song Social Vertigo, certainly as the contestants were heading around Cornwall it made me think of the band!
Wednesday 26th January - Home and Helping
It was a nice working day from home today, and I did have to head out at lunch time to go across to the local N Next clearance store, where I'd placed an order at the back end of last week for some nice jeans (and a mere £12 they were too, bargain) and so was able to collect those without too much fuss either. I also had a good look in WH Smith and their clearance section for a few bits, and so proved to be quite an effective lunch break and a change of scenery from working from home during the day.
I had spent a fair bit of time this morning assisting a colleague who reported to me that a Windows 10 build they'd been doing had failed. Upon further investigation, it seemed one of the applications needed to be installed (and an optional one at that) still seemed to have a requirement placed within - and when I'd upgraded MECM to version 2107 a few months back, that did also cause some issues and it was easy to amend or remove said app requirements which fixed it all nicely. Sure enough, amended that, got my colleague to go again and everything worked first go.
This also proved to be the case for one of the staff in one of our US offices, but in addition they'd needed me to create a driver package for the model of laptop they had to get due to a user needing a particular requirement. Thankfully it did have the likes of TPM 2.0 etc included, so we knew it was going to work fine, but we also knew that because it wasn't a core model as such, we didn't need the hotkey drivers adding anymore. So I amended the necessary query to include everything by manufacturer as long as it wasn't that model, and that worked without any issues. Happy times.
I did also then get to see the last part of the African Cup of Nations last 16 tie between Egypt and Cote d'Ivoire (Ivory Coast for the uninitiated). As I thought, it would go to 0-0 after extra time after some decent goalkeeping and also some good play from both sides. As I also thought, Wilfried Zaha was being his usual dickish self for Cote d'Ivoire, almost getting himself sent off late in extra time for flailing arms around. As it was in the penalty shootout, only one penalty was missed, which allowed Mo Salah to score the final pen for Egypt and win through. Morocco up next, who must have been well pleased to see the match go that far in!
I also noted that there was a new Skunk Anansie single out today - and wow, what a stormer that single is too. Piggy is definitely tune of the day for me as it really does hammer home the modern day message about greed backed with some dirty synths and some powerful rocking guitar to boot. It should be played loud - in fact very loud indeed, and Skin's vocals haven't lost any of her barb and bite since the days of Paranoid and Sunburnt too. An essential listen!
Tuesday 25th January - In-Office Upgrade
It was off to the office today, and the first time in a good few weeks (and since a Government guidance change) that we saw a significant number of people come back in, as the work from home guidance had been relaxed slightly. I have to say though that I was glad that I had booked a desk on the side of the office we're still keeping as a socially distanced and therefore safer side, primarily so I could crack on with a number of tasks in the offing and be able to make sure that all the bits I wanted to do when here were all doable.
The main task today was getting the latest Microsoft Endpoint Configuration Manager (MECM) upgrade done, to version 2111. The good thing was that I'd already got SQL Server upgraded to version 2017 on the server so the back end was all going to satisfy the pre-requisites, and at the same time I'd also got all the servers that act as DPs upgraded with their version of .NET Framework on version 4.8, so that meant much less hassle all round for me - hurrah to that I think.
The upgrade went very well indeed and I was able to see the log files show all the parts upgrading well, the SQL database nicely upgraded and then the back end files and components installed with them all showing up and active pretty quickly. In fact, the distribution points all upgraded well, but I did note one of them wasn't responding - and found out it had been downed for some odd reason. Anyway, another team were able to get it back up but it was missing the drive where the DP files and content were, so drive set back up, I populated the MOF file and then the DP did its install as the upgrade (and so all files back present) and then a case of doing a redistribution to that DP. Phew.
I also tested out a nice new feature that 2111 brings - and that is that you can add your company logo to the toast notifications that Software Centre sends out and places by the taskbar. You need a maximum 100 pixels square image, but if you have that readied (as I did!) you can put that into the client settings, and before long, when doing any updates or installs, it shows nicely. I'd already branded Software Centre's main window etc anyway so it's much nicer to be able to get everything else nicely consistent now. It's simple, effective and it works well. Which is what we like.
The train home was the usual standard of Southern Rail though (ie: poor) as for some reason it decided to sit just outside Selhurst for almost ten minutes before dropping everyone off at East Croydon, and made my way home for some well earned tea, a nice chatter with The Love In My Heart and also time to kick back and watch some telly. It'd been a good day, and late in the afternoon all we could hear in the office was somewhere outside playing Roxy Music's Oh Yeah pretty loudly, and not a bad tune all told of course, so that has to be tune of the day for me for sure.
Monday 24th January - Forward Thoughts
It did feel quite sad this morning saying goodbye to The Love In My Heart as she headed off to work and I was working from her place, as I wouldn't see her tonight before I'd be going home. I must admit though it was really nice to be able to spend a nice long weekend together and it's always good to be up and with Brian the cat wanting fussing and plenty of cuddles along the way. He is so adorable after all, which is a positive. I headed over to Asda to get some lunch but also nipped into McDonald's on the way back and got us both some breakfast, because why not?
In fact, the day was relatively good all round for me working from home today. It's always nice that Brian sits in the box in the front room and occasionally wants to play ball, which I of course indulge him with. It's also good that during my lunch break he'll sit up and know that he can have an occasional fuss over and cuddle whilst I take a well earned break too, and when it gets to his tea time (or tuna time as inevitably it's a tuna cat food) he always looks at you with those loving eyes to feed him. Awww.
I managed to look at planning a few things for this week going forward, and did a final pre-requisite check of MECM 2111 before upgrade to ensure all was well. Thankfully, a number of the additional pre-requisites had been met already due to us upgrading the SQL instance to a newer version (win) and also that for the DP servers, they'd all been upgraded to .NET Framework 4.8 in addition (another easy win) so that did mean that all of that passes with flying colours and keeps us in support too. Hurrah for that.
I did also spend some time today looking into a few bits of asset management and liaising with the relevant teams accordingly: plus at the same time being proactive and looking into what might have happened in some cases. Evidence is always key: arm everyone with as much as you can give, and they'll be better informed. However, at the same time I can only provide what is needed, and it needs to be a decision from others, but if I'm giving then as much as I can, my bit is done.
In fact, looking forward, I've also thought about how the likes of this year will progress for my walking plans. I've done a fair number of the London walks already, and could (I guess) do the remainder of the South Bank of the Thames Path (even though I've technically done most of section 2, all of sections 3 and 4d too.) Maybe though I could look at completing the Lea Valley Walk and then move onwards to doing the Capital Ring in reverse direction, as it's been five years since I did most of that. We shall see. In the meantime tune of the day is the fab Walking in Memphis by Marc Cohn, which always seems to hit the right mood.
Sunday 23rd January - Trigger Points
The Love In My Heart and I had a well earned sleep for a while, with Brian the cat all snuggly but also tapping his Mummy gently with his paw to drop hints at us getting up, bless him. When we did get up he decided it'd be a good time to snuggle up into his box in the front room and curl up and purr contentedly. What is he like? We had thought about a few things today as to where to head out to, but I know The Love had recommended a few places for Sunday lunch for one of her relations and wanted to not be at the same place to give them some space – pretty considerate that.
So we elected to take the walk along the Ashton Canal nearby and walk into the city centre or a while. This is a walk we both enjoy as it gets us some fresh air and exercise, we can chatter as we walk and also feels a really nice relaxing way to spend time. In fact, it was dry all day so it wasn't going to be slippy on the canal towpaths either (some of the locks have cobbled paving you see) and so it was good to head along and see what the state of play was. In fact, quite a number were walking along in both directions.
Once we got near to New Islington tram stop, we then headed towards the basin there and followed that towards Ancoats, which is always good. We did note Cask was back open form some nice beer shenanigans but we followed the roads past the likes of the Halle St Peter's and Seven Bro7ers, and onwards then towards the Northern Quarter, passing a venue on Oldham Street that we'll be at in a few weeks time too, so definitely well worth a good mooch around whilst we were there.
We decided to get some Sunday roast for lunch and so it was off to the Abel Heywood, which is somewhere that we've had lunch before and it's always decent. Indeed, the Lowry ale was on form as were the roasts too – The Love had the pork belly and it was melt in the mouth time, and I had the turkey which was well cooked and moist – you got plenty of vegetables and a massive Yorkshire pudding plus tons of proper nice gravy, so definitely a win win for us both methinks.
Later on back at The Love's place we settled in for an evening of telly: I watched Ski Sunday and saw Dave Ryding get a deserved win at Kitzbuhel in the slalom, and the theme tune of that is still fab and so is tune of the day. Notable they also had a section on the use of helmets in Winter sports and refreshing to see Ed Leigh state that once he found one that was safe and comfortable, it was a no-brainer every time to wear on, backed up by the likes of Chemmy Alcott and Jenny Jones too, so well done to them for that.
After that we both settled in for the first episode of the new series Trigger Point, with Vicky McClure and Adrian Lester starring as two bomb disposal experts called in as needed by the police. The first episode certainly had some suspense and excitement, and I'm not going to spoil it for you if you've not seen it yet. All I will say is that it certainly lived up to expectations and was really well shot, lots of suspense as you'd expect but certainly for me nice to have some backstory too which underpinned the whole thing well. Definitely one to tune into for sure!
Saturday 22nd January - Springhead Surprises
After a nice breakfast and a well earned lie in for both myself and The Love In My Heart, we got ourselves ready and were being picked up by The Love's sister, as we were heading off to their niece's house in Springhead, as it was The Love's elder sister's birthday today. It's quite a nice little trip out really and did at least mean that we'd also be able to see the littlest relation of The Love's family, who was also going to be there and no doubt be so wonderfully cute and adorable.
And that proved to be the case too – and the little one was also crawling a lot more now so was intrigued by all the sights and sounds around, including the pet fish that The Love's niece has – that fascinated a lot and really was a case of wondering what it all was. The Love had been busy making scones in the morning but to a different recipe which also included some buttermilk cream and some other nicer ingredients – not the cheapest to make but that along with some lovely cream with raspberries whipped in made for a particularly tasty treat.
In fact, I had been into the city centre earlier today once I had got up, and went into Fopp in Manchester so I could spend the HMV gift card that I had got for Christmas. It proved to be well worth it too as I picked up the recent releases from both Elbow and Garbage, both reduced, as well as one of the older Chvrches albums to fill a back catalogue gap nicely. In fact, I had The Creeps by Garbage in my head as I headed around the city centre in quick time, it's a superb tune and well worth tune of the day for me.
The little one continued to be adorable and cute (and wanted the scones too, definitely was eyeing those up somewhat!) and also in another room was crawling to both myself and The Love and wanting some hugs, which was nice. I do think it's been good that I've been able to spend some time being supportive to The Love and with the little one too – I know The Love is immensely proud of the almost one year old now and for me it's nice to see that all the skills she has in her job really do come to the fore here for being so lovely and nice as she always is.
Later on when we got back we decided it'd be a good idea to head over to Wine and Wallop for a late afternoon drink (well why not) and the pint was very nice I had – and on Burton Road we also went into the Epicurean and I got myself some Titanic Plum Porter, the Landlord Dark (which I'd never seen before, and was gorgeous!) and also some Augustiner Helles for The Love, as she likes that. It certainly made for a nice evening with some really good chicken for tea and with Brian the cat all snuggled up next to Mummy on the couch.
In fact, we watched the Ant and Dec's Limitless Win thing on ITV, and that proved to be quite entertaining, seeing the lives being blown by being way below an answer, and one pair deciding to walk as their guesses for the number of people in a Mini proved to be way below – and would have meant all their lives lost in the process. Sometimes you need to know when to take the money and run, and they did that to be fair. Still, be interesting to see if anyone does get a massive amount of say over £1 million what will happen then!
Friday 21st January - Northern Return
It was a fairly productive day working from home it has to be said. I did manage to work out a good plan of action for next week and also to be sure that I was all ready to go and had staff on board as needed to undertake some tasks which would need to be done – backups for one but also making sure that I had kept everyone in the loop who needed to be as well. Communication in these matters is absolutely key – if you don't have that, everything falls by the wayside as a result. Sometimes it's good to back that up with a regular check in as needed with managers and so on.
As I was getting a later train to Manchester tonight this meant I didn't need to work in the office and instead could take the train after work to central London. I decided to set off earlier and get something to eat on the way to Euston, which actually turned out to be a good move. The main reason this proved to be the case is that later on there were delays between Norwood Junction and London Bridge which I may have been caught up in, and that would not have been good to go through.
I got to St Pancras and headed to a pub close by which did mean some nice fish and chips for me as well as nice pint of the Portobello Market Porter, a solid drink to say the least and one that was very drinkable as well as not too overpowering as some porters can be. It went down nicely and meant I had good time to walk over to Euston and then be ready to head for the 2000 train up to Manchester Piccadilly, although the train was busier than I thought it would be so was glad to get my seat and be relaxed before setting off.
The Love In My Heart came to meet me at Manchester Piccadilly later on, and it was lovely to see her as ever. Brian the cat was actually being very friendly and allowing lots of strokes and cuddles, so he was all good. The three of us settled in later and watched the Graham Norton show which included Vicky McClure bigging up the new series Trigger Point, and rightfully so, as well as the rather lovely Rosa Matafeo talking about her new series and also herself and Vicky having to explain the concept or Greggs to Rachel Zegler, the main lead from the new version of West Side Story.
Notably Rachel had a couple of years back sang Shallow from the more recent version of A Star Is Born (the one with Lady Gaga in it) and that upon watching proved how good a voice she has too, so definitely tune of the day for me there. It was also good to see Emeli Sande back singing too on Graham Norton, and she came across very well indeed. It was a nice end to the working week for us both and Brian the cat was of course getting his prime bed position prior to us all getting some well earned sleep for the weekend, and why not?
Thursday 20th January - Peachy
It was a busy and productive day today for me. I spent a fair amount of time this morning checking over the Windows 10 21H2 update rollout - and as most of them were basically the enablement switcher update (which was tiny) this did mean that it would be a minimal effort to download and install. Already from what I could see the figures were pretty positive and that it meant that I could see a good takeup both of update and of restart, and with the cycle being annual from here on in, it made sense to be able to get things switched over now.
I also had another couple of productive meetings this afternoon too: one of which was to do with evaluating a new product, and that proved to be useful: it was definitely good to get hold of the documentation and reading upon it, it was pretty clear how to be able to get things done in terms of packaging and deployment for the product too - and it made a lot of sense. The good thing was that they also had leading deployment products featured and that for me was pretty nice too.
The other meeting was with our networks team and we managed to look at a plan forward for one of the network client software that is used: I've got a new version ready for packaging and some testing, and so that will definitely keep me busy for the next week or so. In addition, it was pretty good that we were able to get a heads up on some activity next week too in terms of a site being potentially removed. Definitely for me the key was to plan ahead and be ready.
I headed over to Wimbledon Park later and off to the barbers to get my hair cut. It was good to catch up with the football chat and we did mention the New Years' Day game as one of them is an Arsenal fan - and he agreed that effectively the two yellows for Gabriel and the red card changed the game in our favour, even if admittedly we were lucky to win. In effect, we both agreed that one of the signs of any side that does win a league title is that you get through games not playing well and find a way to win.
After a lovely chat with The Love In My Heart, I settled in to watch The Apprentice on BBC One, with the theme tune being tune of the day. They had to make some non-alcoholic drinks, and having had plenty of zero percent and low alcohol drinks that actually taste decent, especially some of the beers, it was interesting to see what they came up with - something that tried to be like vodka,lime and soda but was salty, and a supposedly spiced beer that ended up being like a peach beer which I've had before. Hmm...
Wednesday 19th January - Positives
So it was a positive day all round today for me at work. In fact, more positive than most. I spent a fair bit of time this morning at the start of an eight week course of learning, and was thankfully sharing the journey along with several colleagues and team members along the way, which was a good thing. I think for me the one thing I did get out of it well was the fact that some of what I do seems to be practiced in some of the online learning sections, which meant to me that well, I must be doing something right.
In the afternoon, I was also on hand to help out with an incident report and thankfully my input was valued as I went on one of my Gene Hunt inspired hunches (remember folks: always trust your hunches!) and what I proposed forward as a possible cause for an issue was in fact the right cause, and the resolution to that would be something that would be the right fix for that issue. A couple of my colleagues were on the case and managed to get things sorted well, and the good thing was that the team working shown was another positive of us all coming together well despite the dispersed working that we're all doing. In fact, being in the office meant I could be a point of contact for checking and liaison too, so all good.
I also stayed behind a bit to catch up with some work I needed to do following what had happened earlier, and ended up working on creating, from scratch, a driver package for a new piece of hardware. The main reason was that a particular model had been purchased for someone who needed particular requirements, and so non-standard as such. I was able to work some magic in getting the necessary drivers together and organise them in a proper structure so that it would at least be sensible when the driver package was created it'd all work nicely - and managed to get that on its way before I left.
I had made myself a chorizo pasta bake last night and had the first half of that yesterday, which at least meant it was a case of putting the other half in the oven to set myself up nicely for a warming evening meal when I got home. The good thing is that I can make the most of all the ingredients and not waste any food - and this time round I'd used Lidl's own brand pasta sauce with mushrooms. I have to say, it won't be the last time I use that either: it was spot on and tasted really wholesome and quite a thick texture too, so did the job well and made things even nicer for me.
Having seen the madness of the political stuff over the last few days, and admiring the Line of Duty cast for putting their voices together for a sketch which is very close to the bone but Jed Mercurio approved no less, it was then up for Cassetteboy to step up to the plate and remake Rage Against the Machine's classic Killing in the Name but with all the speech actually things said by the Prime Minister. It's brilliant, and definitely for me tune of the day especially as I love RATM's original also.
Tuesday 18th January - Arthur Noid
After a busy day working from home and managing to plan out some future things for the next few weeks at the same time (so was multitasking effectively to be honest) I checked downstairs and noted that a parcel had arrived for me. I knew what this was and effectively it was a set of five games for the Commodore 16 and Plus/4, some of which I did already own but there were two which I didn't - and one of which was the main reason for putting a decent bid in and winning the auction for the items too. So I thought tonight after work would be a perfect time for testing things out and also playing some other games too.
First up, Video Classics by Silverbird - the only ever Silverbird label release by Firebird for the C16, and due to its late release date, not the easiest to find either. Effectively, it was a reworking of those old Pong console games where you'd have those football and tennis variations, and this even included the likes of Asterbliperoids, which was basically those type of games mixed with a bit of Asteroids. It got released across various home systems including the Atari 8-bit series and the BBC Micro as well as the usual suspects, but... it's not the best, shall we say. Still, one for the completists methinks.
Next up was Twin Kingdom Valley, an adventure game from Bug Byte that pretty much got a release across all the main home systems of the time. Obviously, with a mere 16K to play with, you're going to not get much in terms of graphics and it's pretty much text only, and with a slightly reduced parser - but it's all there. Albeit of coruse complete with a plain blue screen loader which to be blunt takes absolutely ages to do its thing, so definitely one to leave loading and do something else in the meantime, that is for sure.
Also in the package were two games I already had: Prospector Pete and One Man and His Droid, both from Mastertronic. The former is the better game of the two, it's the closest you get to the old Atari and C64 game O'Riley's Mine, and well programmed by Doug Turner, who wrote the awesome Icicle Works which is Plus/4 only (or C16 with RAM expansion) and I managed to get to level six when playing it. I've got a taker for those two duplicates, so that'll work out well in terms of any swap deal that might happen there as well.
Lastly, I went back to playing one of the games which I didn't have first time round, but have owned for some time - Arthur Noid, a 1988 release from Alternative Software and programmed by the legendary Shaun Southern (aka SOUT). As you may have guessed from the title, it's effectively a clone of Arkanoid and Breakout, but in the absence of an official conversion, this is the next best thing. There are thirty two levels, nine of which are bonus stages, and all different layouts complete with all the power ups that you would expect to see from any game which replicates the arcade versions somewhat.
The nice thing is that to fit all this in 16K is a good achievement, but to make it really playable is attention to detail. The title tune's quite a funky little piece too so that's tune of the day too - and while the in-game pieces can get annoying after a while, pressing Shift Lock turns them off, so you can play with just the sound effects. It's just so much fun and really really spot on for playability, and managed to get the furthest I'd been in the game and score a decent score along the way too, so really pleased with myself for that. And all hail Shaun Southern, in my eyes the most under-rated programmer of the time and a deserved legend!
Monday 17th January - Switcheroo
It was working from The Love In My Heart's place today, and that works out well for a number of reasons for me: first of all, no trapising home on a Sunday evening especially with lots of engineering works meaning a much longer journey to Euston - and second, more time we can spend together, plus third, trains home on a Monday evening are much cheaper than a Sunday also, so it's a good sensible adjustment to be able to do that and for us both to work with that too. I headed over to Asda to get myself some lunch for later, but also managed to find one of the Sheba tuna in gravy packs Brian the cat likes, so of course it was time to treat the boss too!
I was switching over our Windows 10 main build task sequence today so that it would be 21H2 instead of 20H2, so had all the task sequence ready - it was just a case of disabling the other ones so they could not be deployed, and then creating a deployment for the new ones, and all good. In fact, I had further tested some packages out for the new version of Adobe Reader, and did that on Friday, so could include the new version and be sure any new machines would be pretty secure out of the box also, which is well worthy of consideration of course.
I also was assisting one of my colleagues over in Shanghai, as they'd been asked by one of their finance teams to be able to check over some assets. In fact the information they had been provided didn't fully match so was able to do some checking and find a few where the incorrect serial number had been added, and got those fixed, but also be able to cross-reference and find some more info too, so that was a good road check to be sure all was spot on. It's a good feeling when you can help people out and that you get value in what you do, so that's a plus point.
Later on The Love In My Heart arrived back from work and we fed Brian the tuna for tea - and needless to say he was a very happy cat and scoffed the lot, plus some Dreamies for good measure. It's really good to see him back up and running as he normally is, and he was sat on the chair as myself and The Love had this really nice chicken with mushrooms in a sauce with some nice potatoes as well as some carrots too. That set me up nicely and for the train journey ahead later - and I did feel very sad having to kiss The Love goodbye at Manchester Piccadilly station.
Thankfully, the train journey back was relatively quiet. I was able to relax with the iPod and put on some tunes including The Art of Noise's classic Beatbox (Diversion 10) which is tune of the day and even have a coffee delivered to my seat as they had a member of train crew come on at Stoke on Trent which meant deliveries were back on. That was nice to keep me going, and a fast walk from Euston to St Pancras meant I got a slightly earlier train back to East Croydon and home so that worked out pretty well!
Sunday 16th January - Ashes Masters Victory
So overnight the England cricket team had another disastrous batting collapse, and were panned by Australia in the final test match, meaning a 4-0 series defeat with only the weather and time running out with one England wicket left preventing a 5-0 whitewash. It really has been shockingly bad cricket all round, with no direction, no ideas and above all else, no execution. It was painful to see how bad it was but at the same time all the County Cricket boards should have been watching it to show just how much their committees have to take some form of responsibility for that shower of shambles. Words fail me.
Anyway, another Ashes like contest was forthcoming in the Masters snooker final at Alexandra Palace as Neil Robertson from Australia took on Barry Hawkins from England in the final. Hawkins had beaten Judd Trump 6-5 and Robertson had come back from two snookers needed in the final frame against Mark Williams to win an absolute epic match 6-5, on the final black no less. In a way, Stephen Hendry had said that getting through a match like that would make Robertson more dangerous, with nothing to lose and everything to gain. The Love is a Neil Robertson fan but wouldn't have minded either way as we both respect Hawkins as a player also, so we will see.
The Ally Pally crowd were well up for it, and although both players were a little nervy coming into proceedings after yesterday's effort, Neil Robertson soon got a break of 105 and that settled things down a bit, and two more tense frames meant it was all square 2-2 at the mid session interval. We had booked a nice Sunday Roast lunch so we headed off for a while, had some gorgeous roast beef and ham at the Elizabethan in Heaton Moor, then stopped off at the Track tap room on the way back home for some rather nice helles lager and some cask ale along the way too, which was nice and chilled with some 60s tunes playing including God Only Knows by The Beach Boys, so make that tune of the day.
We had noted it was 5-3 to Neil Robertson after the remaining frames, and one frame turned on Barry Hawkins leaning over the table to play a shot, and feathering the green with his clothes, excellently spotted by Desislava Bozhilova, who was refereeing her first triple crown final (and I have to say, did an excellent job.) I was expecting more of the same fare tonight and we settled in for the evening session later with the atmosphere being cranked up a notch - and presenter Jason Mohammad having already joked about Australians making centuries earlier (he's Welsh of course, so bound to get in a dig about the cricket!)
Anyway, Neil Robertson appeared to be the one holding his game together well and when the frames were tight, managed to make the telling safety and the break big enough to win a frame. The mid session interval came and he had won three of the first four to go 8-4 ahead. I could only see one winner to be honest and Ken Doherty interviewed Neil's wife Mille at the interval who was with their daughter Penelope also. Sure enough a century in the next frame and then getting over the line in the next one meant a 10-4 win (and five of the six frames tonight won) and he was a deserved winner all round.
It had been a great tournament to watch all week to be honest, and it was good to see crowds back (no crowds last year due to lockdown and the event moved to Milton Keynes' Marshall Arena) and no doubt with some cracking matches all week, plenty for everyone to savour. For me at least, it did make me think about going again next year, with demand for tickets meaning all the early bird tickets (Mon to Wed at half price) having already sold out, which was amazing to note too. Snooker definitely still on the up these days!
Saturday 15th January - City, Tearing Cockneys Apart, Again
It was a relatively early rise for me and The Love In My Heart as Brian the cat wanted lots of fussing (as ever) but also of course it was an early kick off for me at the Etihad Stadium as Manchester City were facing Chelsea. A win here would see us a massive thirteen points clear of Chelsea, and a draw wouldn't even be that bad really. Out of the last five league games, City had won all five, whereas Chelsea won one and drew four, which was an eight point swing alone - shows you just how important getting those wins over the Christmas period was really.
I headed towards the ground and met up with my friend - and we were off towards our usual spot in the ground. As we'd arrived a little later than normal, it took us a few minutes to get in but we still had a fair bit of time to get ourselves a brew and be ready at our seats well befroe kick off. I must admit the team selection was interesting with no Ruben Dias, but John Stones and Aymeric Laporte were more than capable. The key was having Rodri in the middle to ensure a battle with N'Golo Kante in the middle would negate some of the Chelsea possession, and pace up front to try and press hard to stop Chelsea having the ball.
The game kicked off and straight away you could tell that Romelu Lukaku wasn't at the races. He could have passed to Marcos Alonso on the left side for him to shoot, or even shoot himself, but instead he went to Hakim Ziyech on the right, who was offside. D'oh. City were pressing forward themselves and I have to say that the chance Jack Grealish had was just asking for it to be dinked over the keeper Kepa, but instead the keeper made a decent save and it stayed at 0-0 as the clock ticked towards half time. I did wonder if we were going to get just one chance to do the business.
Chelsea did have their main chance at the start of the second half: Lukaku burst forward but was met with a superb save from Ederson, and the ball came out to Ziyech who skied it over pretty badly. City almost countered with a goal but the ball was just too far ahead of Raheem Sterling, and another chance went just wide as City kept on pressing and putting the pressure on. I knew one goal was going to be the difference, and so when Kevin de Bruyne burst forward and shot from twenty five yards, and a beautiful curler into the bottom corner, I couldn't help but admire such a cracking strike. Get in!
That's how the game ended up, a massively important win for us in the title race and indeed one where the gap increased at the top. At the end City's tannoy played the Joy Division classic Love Will Tear Us Apart (tune of the day of course) and on the chorus parts, City chanted what we do when we beat London teams: City, tearing Cockneys apart, again. City, tearing Cockneys apart, again. Oh yes, that was mightily enjoyable to see, without question. I can't see Liverpool dropping points tomorrow and they will go second, but nice to get this game won today. Take it, Damon Albarn. Take it, David Baddiel. Take it, Suggs. Take it, take it, take it!
Friday 14th January - End Of The Week
I must admit it does feel nice to get to the end of the week and know that a trip up to Manchester and to be with The Love In My Heart also is on the cards. I do miss her and Brian the cat lots when I'm not up there, but at the same time, it does make the heart grow fonder and makes me appreciate the time that we do spend together too. It was all about getting plenty of things in place for today and so with me being in the office, I was able to actually get quite a lot done that I wanted to do.
First things first was to use my MDT task sequence to create a fresh Windows 10 21H2 WIM image with the updates from January 2021 baked into them. Now, this worked fine and I was able to also get that distributed no problem ready for a switch over on Monday as well. However, I did note that some users had reported that the January cumulative updates had added some code which in some cases broke VPN connectivity, but it looked like it was mainly with the Microsoft inbuilt client and not necessarily for the software provided by commercial providers. However, I thought it best to check it over.
As I knew the same issue would potentially surface on both 20H2 and 21H2 because they're the same core base, I built a machine with 21H2 and using the WIM with the January updates included, and also updated a 20H2 machine with the January update, both of which had been built using the standard task sequence so I knew they would be a standard machine. Then I tested the VPN client we use. Success all round in both cases, the client was able to connect without any problems and I could see all the work resources too. I even had the laptop connected to my phone as a wifi hotspot (so definitely external!) and that worked also, so that was a positive.
To be sure, I've asked those who get the updates early when they go to our test group next week to let me know if the VPN client works perfectly fine after the update has been installed. That way I can also further substantiate things nicely and be sure that what we want to get out there works well - and I've kept our head of Cyber Security and our Networks team informed also so they are aware. I'd rather us be securely patched but it was more of a heads up for them just in case they see anything reported and we'll be aware in advance instead of any surprises.
I headed off towards Euston after work and as my train was at 1920, that gave me the chance to stop off at the Crown and Anchor pub nearby and have a pint of Stay Puft before then getting the train. It was actually a nice journey up as sat opposite me were a Charlton fan and a Chelsea fan, who were both going in the away end of the City v Chelsea game tomorrow - both sound blokes and we were testing our trivia knowledge on various Premier League stats. It was a good way to pass the time and it was nice that the journey passed much quicker because of it, so much appreciated.
The Love In My Heart met me close to Piccadilly Station as she had to divert due to road works, and we were soon back at her place with Brian the cat wanting a fuss and a love, which of course he got. We settled in with a bit of the telly, namely Graham Norton and the guests on there. I have to admit it was nice to see Cate Blanchett on and the forthcoming film she is in looked good, but also a nice surprise was to have Elvis Costello and his band The Imposters on perform a song from their new album, the song being Paint The Red Rose Blue,which is tune of the day as it sounded really nice.
Thursday 13th January - End Of Year Review
So it was my work end of year review meeting with my manager today, which we agreed to put back to mid to late afternoon as a number of things had cropped up during the morning which meant a bit more preparation time for us both. In a way, that was a good thing as it meant I was able to check all the feedback I'd had via our HR system and also remind myself what I had written last month as part of the self-evaluation bit of the process. I did think I'd had a pretty good year all told despite all the other goings on, so was interested to see if my thoughts matched those of my manager.
And, thankfully, they pretty much did. It was a constructive hour or so of looking at what had gone well, what had gone not so well and getting to the point where we'll need to spend some more time on getting a number of things on JAMF on the Mac the way we'd want them to - albeit some outside factors were preventing some of that from working the way we'd want them to. One positive though that we did take was the fact we were able to get out some of the software that was needed and in relatively quick time too.
I also today spent a fair bit of time in another meeting working on some documentation and some information for our service team leads, and they were appreciative of the input that I was able to provide them in a call this morning. The good thing is that we've got some of the processes nailed down nicely and in fact we can call out certain things for not exactly happening the way we'd always want - so on the whole, constructive and positive too. I like those sort of things when it happens. I also liked the fact I could then relax over lunch with some music on in the background - and played Body Count's Carnivore album. Bum-Rush from that album is tune of the day - it cracks along at pace!
It was good later to see how much that the clothes recycling clearout had meant more wardrobe space but also would keep things neat and tidy, and I think for me I'll need to get into a thought process that for any new item I may buy, I'll be thinking along the lines of "can I recycle something first?" to keep it to a point of being neat and tidy from there on in. It's my own review of sorts to see what I can do that way. In fact, it's a shame more clothes shops don't take stuff in (provided it's clean of course) to be recycled - some do, but it shouldn't be seen as a bad thing!
Anyway, spent some time tonight with the Masters Snooker and two of the class of 1992 (Mark Williams and John Higgins) up against each other - and playing some good stuff. I must admit I was quite pleased to see this afternoon that Neil Robertson had won 6-4 over Ronnie O'Sullivan - it's good to see Neil back on form and I know they'd hyped it up as Snooker's Ashes, particularly of course as Neil had been backing his native Aussies after all (not to mention his now home town of Cambridge in the FA Cup) so all good there too.
Wednesday 12th January - Recycling And Planning
It was another pretty busy day of working, but good to keep myself busy and motivated. I had a really productive session this morning sorting out a spreadsheet for a migration that's happening, where I needed to get the machine information for a subset of users. In fact, I knew that a couple of them would be categorised differently in our HR systems, so did a bit of a cross check with a colleague and was able to get the information produced not just well on time, but also high on quality with all comments explained so that they both knew what was what. Made me feel happy that I got good feedback too.
On the other hand, I've also been preparing well for the move to Windows 10 21H2 - so the main Windows 10 task sequences are ready to go for next week, and the in-place upgrades had already been tested, but in effect with the majority on a version which will just need the enablement package update (therefore tiny and much smaller than even a monthly cumulative) I can see numbers of take up being pretty good early on. The other positive I can see is that over time we'll only need to do this once a year anyway (as 22H2 is next scheduled, or a go to Windows 11 is decided.)
I did also decide during the day that I was going to have a recycling of some clothes that I don't wear anymore, or for some reason they've shrunk and not quite fitting as they should - so most of the lunch break was spent sorting out the piles what I knew that I wouldn't wear anymore, and just sounded really daft to keep them after so much time. Not only does this free up wardrobe space of course, but also less clutter. I had one black bin bag reasonably full once done, so that was all ready for later.
I knew that the Sainsburys not far away had the Oxfam clothes recycling bins, and so it was easy enough to head on the bus which takes me to opposite there, then once there I was able to walk over to the end of the car park, just about fit the bag full into the massive bin (which looked pretty full it has to be said) and as luck would have it, the bus back wasn't far off an was able to get home reasonably quickly - and the hopper fare also counted too so that meant it wasn't that expensive to get there and recycle. Tune of the day is Oh! You Pretty Things by David Bowie, as I had that in my head for most of the day and indeed as I looked back at the stuff I wore before recycling it.
After a lovely chat with The Love In My Heart, I settled down to watch the Masters Snooker on BBC Red Button, with a titanic match between Kyren Wilson and Stuart Bingham. Wilson went 3-0 up and was 4-1 up when correctly calling a foul on himself - and Bingham won that and the next two including a 139 break to make it level at 4-4. Both the next two frames were shared and it was a shredsville final frame. Bingham will have nightmares about the missed pink to the middle as from there Wilson eventually cleared up the colours to the pink to win 6-5, the same scoreline as Judd Trump had got past Mark Allen earlier. If you had a day ticket, the maximum 22 frames for your value for money!
Tuesday 11th January - Southern Fail Shocker
It was back to the office for me today, and it would be interesting to see how Southern Fail's new "shuttle" service between East Croydon and London Victoria, stopping at Streatham Common and Clapham Junction, would fare. In effect, they've had to introduce this as pretty much all other trains are all going to London Bridge, which makes no sense: if you have the staff to man a train, you surely have the staff to man the same train to its original destination instead, right? The only thing I could think of was a lack of route knowledge but surely drivers and crew would have been trained on both. Unsurprisingly, Southern weren't giving much away as to why with their usual crass excuses.
Anyway, as I predicted, everyone piling off at East Croydon to get another train meant Platform 2 was rammed, and waited a couple of minutes to be able to board safely. The train was busy but got a seat and it headed towards London Victoria with its stops. I was able to then get the 38 bus over to the office, and it was pretty quiet in there today although people were in, and that definitely seemed to give me a little confidence booster as I planned the day ahead and knew what the goals were to achieve.
So myself and a colleague worked on my planned change, which was to upgrade the SQL Server version on the main MECM server to version 2017. This was needed as SQL Server 2012 was going to be out of support in a few months, and wanted to pre-empt things prior to the MECM 2111 upgrade. In fact, we followed some recommended guidance and that worked well: upgrade SQL Server Reporting Services first (as that is now a separate install) and configure that so it talks to the correct new instance, then upgrade SQL Server itself to version 2017.
One thing we did note and had to do afterwards was to effectively remove then re-add the SQL Server Reporting Services role so it'd then be configured to talk to the new instance, and once that was done, the reports could be run happily without any issues and I could see data being written correctly and information on machines populated in the database too. The good thing appeared to be that the upgrade was smooth and it took less time than we both thought, so mega pleased with that.
What I wasn't pleased with was the constant hum and buzzing noise that I could hear in the office. After a check with Facilities, it appeared to be fire alarm related and they'd have to get the building landlord out to fix it - and so after a check with my manager, I headed home early and then worked the rest of the day and early evenng from home instead - which worked out nicely really. I could concentrate and get on with everything and then settle in for the evening with a bit of Kasabian's Club Foot as Mark Selby came out to play Stephen Maguire, so that's tune of the day.
Monday 10th January - Masters Snooker Day
I had last year back in January booked an early bird ticket for the 2022 Masters Snooker at Alexandra Palace, thinking (maybe naively) that we'd be back to some sort of normality by now. On the plus side, the event was still at least on and indeed still having fans attending, primarily to snooker taking the lead in terms of getting indoor events done correctly and as safe as possible, so was pretty happy that it was still on. I had the day off work, tickets saved to the phone as well as all the other requirements, so it was off to head up to North London for a day of centuries and cracking matches.
I took the train from East Croydon to Finsbury Park, so no tube (bonus) and this was a simple change from platforms 7 to 8, on the same island, to get the connecting train to Alexandra Palace. You have to head to the station building to exit, then turn back on yourself to cross over the railway and towards the road to take you uphill towards the palace itself. This I should add is a pretty steep hill, so definitely make sure you've got plenty of energy to walk up to it during the day - of course coming back later you can at least walk downhill. You can also get the W3 bus outside the train station if you want to save your legs, top tip of the day there.
Once at the Palace and over to the far end West Hall where all the action takes place, everything was spot on. All ticket holders had been sent a list of requirements, and one was the COVID Pass, so had it ready on the phone, all good. Everyone was checked by security for that, and tickets scanned, and inside I was. I noted the usual snooker fun and games with sanitisers everywhere before you took on the blue ball challenge over a 24ft long mini table, and the shuffle snooker which was like shuffleboard but hitting a snooker ball, that was good fun also. I got a coffee and a nice steak pasty for some light lunch and enjoyed those and the general ambience of the venue as per usual.
Inside, the same layout as when I was last here in 2020. The posh sofas with excellent views to my left, and behind the table at the top were also the really posh century club enclosures with a one way glass window to view the action with your own private bar. Both of those options were not cheap to say the least but if you really wanted to treat yourself, then those would definitely be really nice to do. A lot of the sofas weren't taken up in both sessions I saw today, which to me said the price tag was putting people off. All the seats weren't taken either but this may well be due to people not attending if they had an infection, or didn't want to use a COVID Pass for whatever reason. In fact I had three free seats to the left of me (and none to the right as was near one of the entrances) all day!
On the arena floor Seema Jaswal was getting herself ready to host the BBC coverage today alongside Steve Davis and Stephen Hendry, and the irrepressible Rob Walker was getting us all warmed up ready for the action,and indeed he introduced this afternoon's players, Zhao Xintong (who had just won the UK Championship) and John Higgins. Experience, I felt, would tell here, but the first two frames went by quickly with both players scoring centuries - impressive stuff. It was 3-1 to Higgins at the mid session and certainly on balance of play very well deserved. He came back for the rest of the match, made another century, and althoguh Zhao did pull one back John Higgins won 6-2, and played very well against a quality opponent, who maybe showed some nerves and went for too many shots?
This time around with time to spare I followed a path that took me to an avenue, and followed this round its bend and ended up right in the centre of Muswell Hill, so that worked out well. I could have taken a path through the park too, but as darkness was falling I felt the road was the safer option to walk along. In fact a nice pub was close by so I headed in there, had some nice fish and chips for tea and had a pint of the Truman's Firestarter ale, not named after the Prodigy single (although I then had that in my head for the rest of the day, so tune of the day) and it had a nice tangerine taste to it as well, rather luscious!
I walked back to Alexandra Palace and in for the evening session, showing all the documents again (as I had of course left the arena and come back in) and it was Barry Hawkins against Shaun Murphy. This was a definitely more cagey affair in the opening exchanges, with decent breaks being the difference in each of the first four frames. Hawkins did well to pull it back to level at 2-2 going into the mid session interval and I did think what time this might finish tonight if it was going to go all the way to 6-5. I nipped to the loo at the mid session but also used the Pheonix pub (there's a door to it from the venue and you can get a drink to take into the arena provided you have a wristband) so a nice Five Points Pale was mine for the taking.
The match hinged on the fifth frame: Murphy did well to get ahead and was on a decent break but missed a pink in the middle as it rattled the jaws. Hawkins then cleaned up from there to snatch the frame on the pink, and from there he never looked back, making a quality century break and eventually coming out a much more comfortable winner at 6-2. Definitely for me that missed pink was the turning point - a frame pinch by Hawkins must have hurt, and he seemed much more happy after that, despite someone in the audience repeatedly calling out "don't worry, Barry" every few minutes.
I left around 9.45pm and knew if I got a move on I could get a train from Alexandra Palace just after 10pm. As it turned out and checking trains, it worked out superbly. My connecting train at Finsbury Park was running late but that meant I was able to get off the first train, wait at the same platform, and pretty much get on the next one two minutes later (or else I'd have been waiting 25 minutes!) - so that was an epic win all round, and as a result got home all safe and sound around 11pm, and having had a pretty good day all round.
Sunday 9th January - Thames Path, North Bank, Completed
The weather looked a lot nicer than yesterday to say the least, and although it may not be that warm, the Winter sun was at least out and it was dry, so a good opportunity to take a walk. I thought it'd make sense to do the final section of the North Bank of the Thames Path - section four, from Island Gardens to East India Dock. It's an extension to the original trail made possible by so many riverside paths and walks and also gives you some spectacular views, as I was about to find out later.
It was off to West Croydon Overground station and I took the Overground to Shadwell, changing there for the DLR over to Island Gardens. Once out of the station, it was a nice straightforward walk to the park (the Greenwich Foot Tunnel was visible in the distance) and alongside the River Thames. It was nice that the riverside paths had been made available, and a quick turn at the Newcastle Dock had me back on the path, curving Northbound. I was able to see a pier which was closed off to residents only and looked like it had nice benches and plants so a nice day overlooking the Thames would be welcome I guess!
I followed the path onwards, past the Dudgeon's Wharf memorial to firefighters and construction workers who lost their lives in the late 60s when an oil explosion hit the local area (and it also meant that the hazardous chemical labelling of vehicles came into being not long after) - and then around to the Blue Bridge, so called because it's all painted blue. You can look down the South Dock towards Canary Wharf on one side of the bridge and the O2 on the other side, and with the sun out, this was rather gorgeous it has to be said.
I then followed the roads and paths round and spotted the ventilation air shafts for the Blackwall Tunnel as I headed onwards towards East India DLR station - deserted today as no trains between Poplar and Beckton. It was then off on the road down to the riverside again for the East India waterfront, which is rather lovely, and I entered the East India Basin park and crossed the bridge over the basin and admired that and the Millennium Beacon which was still there from 2000, so nice to see one preserved all round.
It was then a final crossing past the old Thames Ironworks building and I did note the new developments here - and followed this off to Trinity Buoy lighthouse and waterfront - if it looks familiar, that's because it was used for the filming location of Series 7 of the Great British Sewing Bee (so the theme tune is tune of the day) which did look rather nice all round. I went back across the London City Island and past the English National Ballet to get the tube from Canning Town to Canada Water and from there the Overground home. It was a very enjoyable walk and nice to complete another series!
Saturday 8th January -The Magic Of The Cup, Part 2
It was time to take another walk along the North Bank of the Thames Path today, to continue my attempt to complete all the sections of that walk. In fact, today would be section three, after the four parts to section one and then section two through central London. This walk would mainly be through the likes of Wapping and Canary Wharf before the Isle of Dogs, and so in theory be quieter on a weekend too. As it turned out, there was a slight drizzle outside but I was going to hope that it stopped and that would mean I'd be able to then get on with the rest of the day.
I headed up to London Bridge station and took the exit out down Tooley Street towards Tower Bridge Road and crossed Tower Bridge, remembering the steps at the far end take you under the road and then to the Tower Hotel, where I'd start the walk. It was in fact nice to see the sculpture of the girl with the dolphin (pretty iconic there actually) and then head around the side of St Katherine's Dock and onwards towards Wapping, mainly either on the riverside itself or on the roads with cobbled parts and some nice converted wharf buildings.
Once at Wapping, it was then following Wapping Wall and towards a rather nice corner with a view over the curve of the Thames towards Canary Wharf, before heading over the Bascule Bridge over at Shadwell Basin. It then took me through a park which also houses the ventilation shaft at the north end of the Rotherhithe Tunnel too, before then following along the river again and towards the waterfront restaurants close to Canary Wharf, with the tall building looking imposing in the distance.
The rain was coming down a bit now and after passing the Isle of Dogs and the former launch side for the SS Great Britain, which was really interesting to see, the river soon curved around I could see the Cutty Sark on the other side, meaning that I was close to the Greenwich Foot Tunnel and Island Garderns, and sure enough, there they were (I did note that the former café here has been bricked up now.) It was then a walk through the foot tunnel and on to Greenwich where I decided some lunch was in order before the train home.
I got home just in good time for the start of the second half between Millwall and Crystal Palace, with the latter side coming back from 1-0 down and scoring almost straight away at the start and then getting a winner later on - unfortunately Millwall fans decided to show just how pathetic some of them are once again by singing some homophobic chants. Later on I then kept an eye on Final Score, and wow, the magic of the cup or what? Kidderminster coming back from 1-0 down to beat Reading 2-1, Borehamwood turning over AFC Wimbledon 2-0, and perhaps best of all, Cambridge United winning 1-0 at Newcastle United, with a goalkeeping performance of some note too.
I was hoping some more of that magic would continue as Hull City took on Everton on BBC One later, with the stadium blasting out New Order's Age of Consent at one point (superb choice, so tune of the day) and indeed within the first minute Hull City had taken the lead, and would have had a second if not for a save from Begovic in the Everton goal. Everton did equalise through Demarai Gray and then later on a well taken goal from André Gomes made it 2-1, with a header from a superb cross. Hull City brought on some subs second half and indeed it was a superb curling shot from Ryan Longman which made it 2-2, and so force extra time, where Andros Townsend blasted home an Everton winner for 3-2.
I have to say though that with so many good results all round, including Barrow battling back from 2-0 down with ten men at Barnsley to equalise to 2-2, then come back twice to go 3-3 and then 4-4 to force extra time before losing 5-4 in an absolute thriller, and another solid performance from Hartlepool as they knocked out Blackpool 2-1, plus Huddersfield also coming back from a goal down to beat Burnley 2-1 at Turf Moor (so not Jordan North's happy place then!) the magic of the FA Cup was there in abundance today, and long may that continue in my view!
Friday 7th January - The Magic Of The Cup, Part 1
It was nice to be able to kick back and relax this evening after finishing work, especially as I knew that I was going to be off work on Monday for snooker related reasons (off to the Masters at Alexandra Palace) so in preparation for the weekend and for being able to enjoy the football, I headed off to Lidl this lunch time which isn't that far away from me. I was able to get some nice snacks but also a couple of beers as well as some lunches for next week and a few other things too - and that made sensible use of the lunch hour too, so that's good.
It was a tricky away tie for Manchester City at Swindon Town tonight, and with a packed house inside their stadium, I knew that it would need to be a professional performance from the boys in blue. Some of the City players were laid low with Covid, so there were to be some changes to the team. To be fair though, it was still a pretty impressive side, with the likes of Ruben Dias, Nathan Aké, Ilkay Gundogan and Gabriel Jesús as well as Cole Palmer getting a deserved go tonight as well. I have to say it looked a positively good side and shows we do respect the tournament too.
As the game commenced, I did note that Swindon were able to play from the back a little bit, but that was dangerous with City's closing down. The ball was moved down the right and Cole Palmer did ever so well to get to the byline and put a cross in for Bernardo Silva to ghost in and make it 1-0. Then, Swindon attempted to clear their lines but instead they gave the ball away to Gabriel Jesús and the one two with Kevin de Bruyne meant that the Brazilian had an easy finish into the bottom left corner for 2-0.
All was good as the game caried on in the second half, and Swindon did seem to be playing a bit better too, and had a couple of chances. City got a free kick and the gap to the right of the wall was spotted by Gundogan, who curved it around the wall and into the bottom corner for 3-0, an impressive strike to say the least. Swindon though kept going, and a really nice move after City lost possession from them on the right hand side ended up with a really good finish from Harry McKirdy into the bottom corner to get it to 3-1. They deserved that for trying to play football the right way.
City were having no signs of a comeback this time around though, and the ball went forward nicely towards Cole Palmer, and although the pass to Bernardo Silva resulted in the shot being charged down, the ball came back to Palmer and he was able to then bury it in the top right corner and make it 4-1. In the end, a nice victory for Manchester City and it was good to settle back and watch that tonight, and for me the FA Cup weekend has started nicely - let's see how the other teams do. In the meantime tune of the day is the excellent Tom Hark by The Piranhas, the source of many a football chant!
Thursday 6th January - Holiday Hesitation
It was definitely interesting this afternoon to attend a web based seminar which outlined the priorities for the workplace for this year, as well as being able to work out what went well last year. In fact, it was nice that everyone was thanked for their hard work that had been done during the year, and when it was laid out how much had happened, it did make me think that actually a lot had been done! A fair few questions came up afterwards and a lot of them were down to the fact that there were unknowns about the current state of play with the pandemic for example.
One thing I did know was that potentially, one of our main offices in central London could be moving. In essence, the lift and shift to somewhere new, if it happened, would be a lot less than previous because there's not a mass of stuff on site, and also it would mean somewhere a little bit more purpose built if need be. I did chat about this later with The Love In My Heart, and although potentially you could base it in other parts of London (for example, Stratford or Canary Wharf) doing that would alienate some who commute from other bits of London too - so something to note. Or maybe go even braver and say move to Manchester, I think I'd be well in favour of that!
The Love and I also discussed some thoughts about going on holiday later this year. In truth, we're both thinking that going abroad isn't necessarily going to be an option, and so looking at different parts of the UK that we haven't been to before and to have a change of scenery. We did have some options to look at, and ruled out some of the ones I looked at because of either the location or a lack of parking space (say for example if The Love was driving there) so at least we have an idea. The same place we had last year was much more expensive this year, as much as we loved it.
I think generally I know what we'd both like - somewhere different to be based and go exploring, as well as being close to the sea if at all possible and having plenty of nice warm days to spend doing nice things. I do think though as well I don't want it all to be a long slog, and whether it's worth us actually getting there of our own steam or if the train could even be a better option in part (if it is an option) so that's something of note too. I know we'll end up making a good decision but I guess not going abroad is a definite, and then concentrating on somewhere nice.
I've been watching the UK Seniors snooker championship this week on the BBC Red Button and tonight proved to be two excellent quarter finals overall. Jimmy White was up first tonight and he was able to give a pretty commanding performance against Wayne Cooper, almost getting a whitewash but for some excellent potting by Cooper at the end of the fourth frame - however White would win 4-1. Ken Doherty against Stephen Hendry was the one everyone wanted to see though, and that proved not to be disappointing - not one bit. Just wish we could have some Drag Racer by the Doug Wood Band (the proper snooker theme and thus tune of the day) to accompany things before each match!
Wednesday 5th January - Disconnect Myself Right Now
It was another work from home day today, and it was also good to be able to have breakfast and a coffee before starting the day, so I could start that right. It was also good that I had a weekly report to prepare along with some stats, which did mean that I could work with one of the folks from our Cyber Security team on one sheet in particular - giving us both some food for thought with regards to some of the potential options for getting the final batch of machines upgraded as needed. It's getting there though and overall it was a nice positive mood to start the year with.
I was also pleased to see that the updates released yesterday were all applying nicely to machines with the minimum of fuss, and indeed a significant percentage already all good after the first day. I think definitely for us the starting percentage increase we've had over the last year is a cause for not only stability but also efficiency of process, which is definitely what we need to do. I know too that some potential plans that we may have had for this year could well be put on hold, but we shall see what happens methinks.
I did note too that unfortunately Henry Rollins has had to cancel his forthcoming spoken word tour to the UK. It would have been good to see him and was even planning somewhere different such as Bexhill on Sea to go for instead of London or Manchester, but I guess the situation wasn't safe enough to travel. Shame that, but I know once things eventually start moving onwards, there may be a possibility of going again. We shall see. No doubt when that does happen, the three hours of excellence will be mine, oh yes. As a consolation I blasted out Disconnect by Rollins Band (make that tune of the day) and that helped!
I did have a think too that working from home is all good, but definitely when you live on your own you do feel somewhat disconnected from the world. This time last year in another lockdown at least I had Brian the cat during the day to keep me company and to play ball with, and then being with The Love In My Heart in the evening was something always to treasure. No lockdown now, so at least I can head up and see her safely anyway, but it does somewhat feel a little bit of a less pleasurable experience, which is why for mental health reasons I'll be heading to the office occasionally once the train situation sorts itself out - and doesn't feel as bad.
I did however note too that the lack of travelling did help a bit today as I could just shut things down at the end of the working day, kick back with a coffee and watch some more old World's Strongest Man - this time from 1998 when Magnus Samuelsson won. I'm pretty sure The Love did say that back in the day he was one of the favourites when she used to watch it before she met me. That year was in Morocco, and John Inverdale presenting instead (although I know some people don't like him for some reason) and Paul Dickenson still superb on commentary - shame he couldn't do so now really!
Tuesday 4th January - Back To Work
It was the first working day of 2022, and as such, I originally had planned to be in the office to get some things done in there. However, over the festive period, it was pretty clear that to keep myself a tad safer, it would probably be best if I avoided central London and any crowds, although it should also be noted that the fact Southern Fail were not running any trains to or from London Victoria kind of also made the mind up for me too - other routes inevitably would be a lot busier, and it'd also mean that I'd feel less safe travelling. So it was a case of firing up the laptop, connecting to the office network, and all good to go.
I could tell it was the start of a new working year anyway - already been invited to a couple of web based meetings later in the week, one of which is to effectively look at the whole strategy for the year, and indeed I was able to also work out a plan of action that I'd made at the back end of last year and see if that was affected in any way, and thankfully, it wasn't, which was good news all round really. I did find out though that two colleagues had positive tested on the 23rd December, so was Christmas with the household only and isolation too - not ideal to say the least. I count myself even more lucky to have had some festive fun now.
So I was checking over a number of things and noted that in a positive way, I was able to effectively get the planned December updates out today, as per plan. I knew too that this was only the one cumulative update so should be relatively small, and also meant that for me it would be monitoring that and checking all was well. Since the option has been to download updates for clients directly from Microsoft's servers rather than any internal DPs, the load taken off has been sizeable to say the least, we're talking something in the region of 600GB per month at least. And that is pretty decent.
Later on after work I decided that I'd go a tad retro after seeing the current World's Strongest Man final over Christmas, and go back to a time when the competition was on BBC, the excellent Paul Dickenson was commentating and the mid 1990s was a time of change in that world, with Magnús Ver Magnússon getting his third title in a row in 1996 (his fourth in all) and the Beeb having Philppa Forrester doing presenting and voice over duties as well as some interviews for the 1997 final. That final indeed saw the arrival of Jouko Ahola who won the first of two titles in three years, and an epic performance shifting the Husafell Stone from him, Fleming Rasmussen and Magnus Samuelsson too.
What fascinated me about the 1997 final was the fact that the USA had their own qualifying group: effectively the top two for America's Strongest Man went through to the WSM final, instead of going through the WSM group stage. Mark Philippi gave a decent performance and won the squat lift and came second to Ahola in the dead lift, so not too shabby there. The log lift for reps did look a little on the light side compared to now, and the mid-event rollercoaster ride with Philippa and Raimonds Bergmanis was mighty entertaining. Tune of the day has to be the funky theme tune used by the BBC for the 1997 heats and final - it's ace!
Monday 3rd January - Heading Home In First Class
It was a relatively earlyish start for me this morning compared to the last few days, but with good reason. I was on the 0855 train to London Euston to head back home, and thought it was sensible to go earlier today to be home and prepared in time for work tomorrow. Not just that but the trains might be quieter too, so that might give me a better chance of potentially getting a first class upgrade on the train. When I booked my standard ticket, first class was £116 or so, whereas standard was £30. No brainer to be honest. However.. I had a plan.
And that plan came to fruition too! I knew that I could do the upgrades via Seatfrog, and so was checking the train periodically on the app to see if any bids had gone in for first class. None were forthcoming, so as The Love very kindly dropped me into Manchester Piccadilly, I put a cheeky last minute bid in - and won! So that meant I was able to be nice and comfortable with all my belongings in first class instead, and just thought it'd be a good little treat. Now, the Seatfrog upgrade on Avanti was £35, so effectively £65 for first class instead of the £116 when I originally was looking at it. Now that's what I call an epic win.
It got better too. As the train left Piccadilly, I was the only person in first class in Coach J with a couple of people in K - which to me says charging too much is putting people off giving themselves a nice bit of luxury from time to time. The staff were all lovely on board - I had the ticket and upgrade checked, all good, and I was soon having coffee from a proper mug and sparkling water from a proper glass. Even better for today - the full English breakfast was on the morning menu, so of course I was going to go for that - it was easily the best option available.
And when it arrived, it was very tasty indeed. Two very nice rashers of bacon, a sausage, flat mushroom, black pudding, a fried egg with a thin potato cake (found this perfect to dip in the yolk too) and a grilled tomato, all very well presented and looking very appealing. Needless to say that breakfast was spot on and got me well set up for the day, and kicked back with the iPod on playing some nice relaxing tunes for the morning including Swing Out Sister's Butterfly (so make that tune of the day) and that really did make me feel content as the train made its final stop at Nuneaton before getting to London Euston.
All was well when I walked across to St Pancras and headed on the Thameslink train to East Croydon and home (remember folks: no Southern trains from Victoria this week!) and so that was relatively easy all round, and got home at a pretty good time considering. All was good in the flat too as I'd cleaned up everywhere before I set off, and relaxed with a cuppa as I looked back on a rather wonderful week and a half with The Love In My Heart over Christmas and New Year which was really special to appreciate. Back to work tomorrow it is!
Sunday 2nd January – Excellence In Elnecot
It was nice for myself and The Love In My Heart to have a little lie in, and Brian the cat was being all good and adorable, looking longingly for a fuss and cuddles which he got of course. We then got ourselves ready later and I ended up watching most of World's Strongest Man again whilst The Love was getting changed and sorted to head out. The Love looked gorgeous in the new bee jumper I got her for Christmas, and she had on the new bee bracelet as well, so definitely in full Mancunian bee mode as we headed for the tram to take us to New Islington stop.
We walked from there past New Islington Marina and the likes of Cask before then arriving at the Seven Bro7ers Beerhouse to meet our friends. I tried a tropical pale from the Mobberley Brewery which was one of the cask ales and that was delicious, and we caught up and chatted about all sorts in the very relaxed atmosphere. We had booked Sunday roast at Elnecot down the road and so after having a well earned pint together, it was then time to head into Elnecot, where if you hadn't booked a table, you were looking for a long wait to get in.
It's always been nice in Elnecot for the Sunday roast – in fact during one lockdown we ordered it to take out and have at The Love's place, which was gorgeous! We were able to have a rather nice meal together – The Love and one of our friends had the tomato soup starter, which was quite spicy but wholesome and some nice bread on the side. The main roasts we all had were all lovely. The Love had the roast pork which was succulent and gorgeous, our friends had the nut roast the half roast chicken, both of which also looked massive, and I had the beef which was on the pink side but moist and really lovely. All of them came with roasties, vegetables and a massive Yorkshire pudding, which was gorgeous. We all loved them.
Later on with some nice beers flowing and conversation all good, it was time for dessert. I had the sticky toffee pudding which was massive and really nice with the vanilla custard, and one of our friends had the cheese board, which did look good but we did wonder whether it was worth the asking price for it. I also had a lovely coffee which was dark and full of aroma from the Blossom Coffee company, and that set it all off well with the dessert. We weren't rushed whatsoever, the staff were really friendly and helpful, and it was just a superb meal all round. I can highly recommend going there if you're in Manchester for a Sunday roast – but please do book in advance!
We headed back to the Seven Bro7ers Beerhouse and it was nice to enjoy some more lovely beers. I had the chocolate honeycomb stout and it wasn't too sweet, just the right amount of honeycomb aftertaste and it really felt luscious to enjoy. There was some good music in the background including the likes of Kaiser Chiefs' Never Miss A Beat (make that tune of the day for the immortal line – what do you want for tea, I want crisps) and we all enjoyed plenty of conversation together. I even tried the apricot lager later on and that was a massively nice drink actually – not too sweet, just the right hints of the apricot in there to make it a different taste and thoroughly nice.
Time had gone by far too quickly and it was 7pm by the time we decided to head homeward and say our goodbyes, and we agreed it had been a lovely day. Our friends had also got us a lovely Christmas present – a lunch for two with prosecco at a nice London hotel, which we'll definitely do at some point this year and to treat ourselves too. We walked back along New Islington Marina to the tram stop to head home, and we had a wondeful time together. We do need more of those times together and we do treasure them at the moment as we don't know what other restrictions may take place – so living for the now did seem like a good thing to do.
Saturday 1st January – New Year Visiting
As we saw the New Year in, we noted that the fireworks in London were mainly being set off on a boat opposite the Royal Naval College in Greenwich, complete with laser show being set off from the front of the courtyard there by the River Thames. We recognised that immediately and it made sense for things not to be in central London where crowds may have gathered. It was a reflective mood too with a choir singing inside the Globe Theatre and a poem being recited on the Millennium Bridge which definitely summed up the mood of the last year that had gone.
We did watch the rest of the Hootenanny, and on the whole the highlight for us both was Gregory Porter, and he did well, the best track he did on the night was Mister Holland, so that had to be tune of the day. We also noted the archive performances from the likes of Supergrass, Madness and Primal Scream interspersed to fill the time, along with Ed Sheeran teaming up with Joy Crookes for a nice cover version too. Before we knew it, it was gone 1am and time for us both to get some sleep and Brian the cat was more than happy to be snuggled up to his Mummy and wanting some cuddles.
It was nice to have a relaxing rest on the morning of New Year's Day, with a lie in and a nice snuggle with Brian who was all wanting us both to get up and have a fuss over. It was good to be able to have a nice breakfast too and then be able to plan our day a little bit. We were going to head over to see some of The Love's relations and that included the youngest member of the family, so was good to nip over and indeed it was nice that the little one was being super cute, playing with the three in one activity walker and making all the lights shine with the cogs being turned. Adorable.
In fact they had on the Arsenal v Manchester City game, so it was nice to be able to watch that and see how City would battle back from a goal down. In fact, a foul on Bernardo Silva was eventually given as a penalty by VAR, and in the aftermath the Arsenal defender Gabriel was booked for arguing with the referee. He was then sent off a few minutes later for a foul on Gabriel Jesús, so City could battle against ten men. Indeed, in stoppage time, Rodri poked home after a defensive error, and both me and The Love's relatives were celebrating another hard earned win and an eleventh league win on the trot for City.
Later on it was over to see my Mum, and as a nice surprise both my brother and his girlfriend as well as my Mum's friend was also there, so it was good to chat to them and catch up with what they had all been doing over Christmas and New Year. In fact, it was really nice to be able to also have some coffee and a piece of carrot cake too which was good to enjoy. We also went over to the Elizabethan pub in Heaton Moor later on and a pint of the Plum Pudding ale was mine for the having – oh yes, it was rather nice to say the least (understatement) and we were able to relax together in a comfy seat.
We got back and then watched the final of World's Strongest Man, which was pretty intense. Tom Stoltman won the Giants Medley event (super yoke and then frame carry) and did superbly there, and also then won the next event where a train on a turntable was being pushed around 180 degrees – a brutal strength test to say the least. The keg toss for height saw several world records and Brian Shaw ended up winning, extending his own record to a massive 7.75 metres – that's more than a double decker bus and a half in height which was very impressive. Tom Stoltman failed that height but finished in the top three so kept his lead pretty well.
The next two events though was where Brian Shaw caught up – not massively on the log lift, where Luke Stoltman won the event and Tom Stoltman failed at an early height. However, the deadlift for reps saw Tom Stoltman get 8, but Brian Shaw got 9, and a three way tie for 10 including Adam Bishop. That meant Shaw was only one point behind Tom Stoltman going into the atlas stones, with two points between third and seventh. Maxime Boudreaut smashed that with a superb time, and that meant he overtook Trey Mitchell and Luke Stoltman, the latter having a mare on the stones with the tacky. However, Tom Stoltman powered through the stones and won the event, and won the World's Strongest Man, with Shaw getting enough points to finish second – the first Briton since Eddie Hall in 2017 to win it, and the first from Scotland!