Dear Diary... April 2022
Saturday 30th April - South Coast and Susie Dent
I had a busy day today, mainly to be exploring the South Coast and culminating with seeing Susie Dent do The Secret Lives of Words at the Connaught Theatre in Worthing. If an advance ticket had been available to/from Worthing then that would have possibly meant just a trip to there, but get this: an offpeak return was almost £10 more expensive than getting the Southern Day Save ticket which was unlimited off peak travel for the day, so absolute no brainer to get that a few days in advance and ready for today. None of those offers for the Rail Sale because it's not within the sale dates either.
First of all though today it was off to the barbers to get my hair cut. It needed doing badly and thought that it'd be sensible to get an appointment first thing and to get that done without any issues. All looked much better afterwards and I'd alotted some extra time to get there and back because the District Line was having engineering works, so got the 156 from Wimbledon to the barbers and back. All that done, it was on the tram and stayed on to East Croydon, so decided that the first train to the coast, whatever that was, would be my choice.
In the end it worked out to be the 1042 to Eastbourne, and a massive 12 carriage train at that for whatever reason. I did have a comfortable journey all told, and nice to look out of the window as the train directed off at Wivelsfield towards Lewes, then down via Polegate to Eastbourne itself. The new shopping centre there looked good and some work has gone on into pedestrianising some of the streets too. I did make my way towards the pier and there did seem to be a little market on the promenade which was excellent.
Having walked along the pier to the end, and admiring the feel of the end of the pier with the gentle breeze, I headed along towards the East Beach on the promenade, past the Pavilion and onwards to the Treasure Island crazy golf, more of an adventure golf course, but well worth the £6 in my view. It had been well maintained, 18 really good holes with fair challenges, and a variety of obstacles. The par score was 45, I got 44, so pretty pleased and because it was well maintained it was also fair, which is all you can ask for. In fact the little kiosk sold drinks and snacks after play too which was nice.
I had noted though a nice place to have food around the corner, and overlooking the East Beach, close by. It was The Beach Deck and looked busy, always a good sign. I managed to get a table close to the beach with a great view, and the staff were lovely. I had the Long Man Blonde which was a very nice local beer and had the fish and chips to eat, which was gorgeous. And what a view to have all that with, it was just splendid. I can highly recommend it as a great way to unwind and relax and enjoy some good food at a fair price too, well done to the staff here.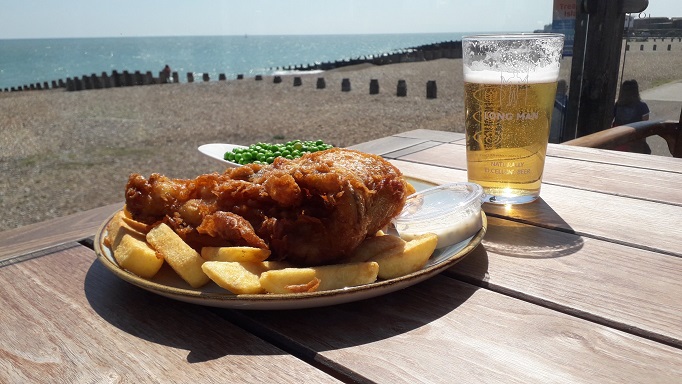 With lunch consumed, it was a leisurely walk back down the promenade to the pier, and I had a good look in a couple of shops that had plenty of LPs as well for me to check over, and some CD singles. Nothing massively jumped out at me but definitely will have to go there again at some point and have a much longer mooch. I did then take the rest of the walk back to the train station and in good time for the train to Brighton - and once there I changed over from platform 7 to platform 1 and managed to get on the stopper train to West Worthing so saved me some time!
I arrived at Worthing station and already knew it wasn't that close to the sea, so followed the signs, passed the theatre I'd be going to later, and headed through the town centre and indeed a nice Victorian shopping arcade and to the seafront, where the pier was in view. The end of the pier now has a nice bar but the outside has kept its art deco feel, which was rather nice I have to say. I also liked the fact they had various glass windows along the middle with local art within them, really made it more of a community feel.
I did walk down the East promenade and ended up at Splash Point Mini Golf, which was 18 holes for £5. Not too bad value, but the holes are all slightly raised which means you sometimes have to hit it harder. And the pins were all with massive flags in so if you hit the flag, you had a number of bounce outs. Maybe have an option to take those out, and the score I got on this wasn't so good (57) - even though I got a 2 on the tough volcano type hole. Still with that done I walked down the promenade and ended up at Level 1, which was a nice little place of mixed eateries and nice views from its position. I had a nice pint of a local beer there too.
It was then off to get some food for tea an then to the Connaught Theatre. It's a small theatre that also doubles as a cinema, but has really comfortable seating and is well maintained, even having modern things such as unisex toilets and a good bar and coffee stand too, again selling local beers and not expensive coffee (my latte was £2.20, can't argue with that.) It felt like a genuine local concern looked after by local people and felt pretty nice to be there all round. I located my seat and had a good view of what was going to happen shortly, and with the snooker ending with a dramatic finish and Man City winning 4-0 at Leeds, all was well. And some nice background tunes including The Human League's classic Don't You Want Me, so tune of the day (cue me singing Nathan Ake, baby.. after his goal earlier!)
Susie Dent, in short, was wonderful. She is always really humble when she talks about her work and that came across well. For two hours we had lots of stories of the origins of words, why pronunciation changes over time, and the Americanised spellings of words that aren't necessarily of American origin, which I found pretty fascinating all round to be honest. She also explained about the etymology of some words as well as the fact that she was always fascinated by language even as a child and reminisced of her holidays in Worthing, complete with being sat in the car with a book looking out to the beach. Awww.
The show was over far too quickly which shows that the time went past nicely - so walked over to Worthing station - not too far from the venue, and then waited for the 2204 train back to East Croydon. I noted quite a few were heading back on the train to Brighton via Hove, and so got off at Hove for the little shuttle to Brighton, and I stayed on as it curved up via Haywards Heath and Gatwick Airport, and got home a very tired but very happy bunny, having indulged in beach walks, crazy golf, some nice beer and a live show. I only wish The Love In My Heart was here to share that with me.
Friday 29th April - Final Friday
It was the final Friday of the working month and did have some good news to report this morning - it looks like the energy rebate (via the council tax discount) has gone into the bank account. Most councils had done the same - so if you pay your Council Tax via direct debit and in bands A through to D, you should then be getting that money off. At least this one is a genuine payment towards the bills (unlike the forced loan of £200 which you pay back £50 per year for four years from October onwards) so that's something. The Love confirmed she got hers too, so all good.
I spent some time today packaging up the new version of the VPN client we use - it seemed nice and stable on Windows when I road tested the package I'd done, and indeed it connected and was working happily too. That can then be the same hopefully for the Mac next week, and then I can look at a planned roll out sooner rather than later to get it done. It was also good to be able to see that I could watch the deployment happen and actually kindly kill any open processes during the install too, so a definite win from me there.
I also today took a nice little walk during lunch time, primarily as I needed some cash for the weekend (yes, cash, as my barbers now prefers that due to rising card fees) and had a good look in a few shops as well as send some things in the post, including a birthday card for my auntie. I did have a nice surprise when I got home - a package containing the Commodore 64 cassette of Creations, which was the Codemasters reissue of the Darling Brothers' own Games Creator released back in the day. The copy I got off eBay also had the full instruction booklet.
That of course means if I wanted to I could make a game as bad as Bionic Granny, but in the main there were three example games on side B of the cassette which you could load in, so you could then see how it all worked. In essence it's a useful example to do because you can disassemble how it all works and tweak as you need to see what it does. I can imagine for the time it was pretty innovative, and showed later on when Shoot Em Up Construction Kit (SEUCK) came out just what an influence that might have had.
Still though, the snooker tonight. What a come back from Mark Williams, coming out to Delilah by Tom Jones (make that tune of the day) and after Judd Trump had taken the first frame to go 12-5 up, Mark then won the next five with some superb breaks to go 12-10. After a possible option of missing a red three times, Mark had to play a different shot, and Judd made a century for 13-10, but Mark took the final frame to win the session 6-2 and claw it back to 13-11. Going to be drama tomorrow!
Thursday 28th April - Further Testing
It was a case of some additional testing today, primarily useful because one of our Cyber Security team (who used to be in the team I work with now) was in the office sat opposite me, so we could collaborate in person and be able to work out some further tests on a product we've been evaluating. We did notice that there was some higher than expected CPU usage on MacOS but we both noted that there was also a drain on power too. In fact, my colleague deliberately left his Mac running on battery only (and this is a pretty new one with M1 chip) and the battery drained pretty quickly, over 35% in a couple of hours, and when checking,we could see said product was the most memory intensive.
I had a Mac in the office I could also use for some extra testing, so spent some time doing that in the afternoon. In fact, it worked out to be useful as I could grab some more screen shots and demonstrate that even with a newer Mac in this case (a 13 inch 2019 Macbook Pro) the same issues with CPU usage and power were in fact existant. Of course naturally I was able to carry out further tests as well just to be absolutely sure, but all backed up the same theory. Hmm. In any case that's been added to the support thread on that so the product techical team can look at it.
I have a feeling (just a feeling at this point) that maybe they don't use some of the same software combinations together as we do. One test for example I can also do is to remove the anti-virus solution and see if that makes any difference, just in case there's some clashing there. It's a bit frustrating too though because the Windows version of the same software actually doesn't take up hardly any CPU, memory or power whatsoever and just does its thing silently in the background which is pretty nice. So definitely one of two halves.
I headed home later and it seemed that in the snooker, Judd Trump had rocketed to a 7-1 lead over Mark Williams, so a pretty dominant session all round. It was much closer tonight with Ronnie O'Sullivan and John Higgins going head to head, and they ended up 4-4 after some tense stuff. The atmosphere in the Crucible was superb though and it shows how much the venue comes into its own when there's one table too - completely different in a good way to the two table one.
It was a productive day overall and sometimes I wish more days were like that - but I do sometimes feel as if it's been a real sense of achievement just getting through the last two years or so to be honest. I did note too that I appear to have had a slight pay increase at work which is a positive thing to note. It won't be enough for the rising living costs everyone is facing, but it's better than nothing which a lot of people appear to be getting, so can't complain too much really can I? Tune of the day incidentally is New Europeans by Ultravox, and there's a reason for this which will be revealed over the next few weeks..
Wednesday 27th April - Absolutely Briliant, Part 6
I had had a couple of deliveries in the post over the last couple of days, some of which were more Commodore 64 games and indeed some of them were from Codemasters. So it was more, as they would say, absolutely brilliant games to play. That and a bona fide Shaun Southern classic on the Mastertronic MAD label which I had first time round and simply had to have again, but that's for another day as it's a big game and takes time to map. I'd had a busy day at work analysing some new software and reporting on the CPU usage and how much that would take up - which maybe wasn't so positive. But anyway..
First of the Codemasters games tonight was Little Puff in Dragonland, the fifth and final title in their short-lived Cartoon Time series. Little Puff is a dragon and you need to solve a number of puzzles in order to get him back to Dragonland, by finding the four pieces of a ticket and also managing to get across various hazards. Notably one hint in the instruction manual is very useful: be sure to carry the life belt and the footpump together so you're able to get across the water - and that gets you to new sections. It didn't seem too bad but the music by Dave Kelly is terrible, it has to be said.
It was then on to Armourdillo, which was a Commodore 64 only title and programmed by Guilio Zicchi. Effectively you're a tank that has to shoot the forcefield on the left, collect a pod with survivors in from the planet, and then send them to the right, and do it so many times to complete the level. He actually utilised Rob Hubbard's music routine for the music, obviously not as well, but it's not the worst game ever. The reviews of this were harsh because in essence there isn't that much to the game and can get repetitive, but it's not that bad is it?
It was then on to Super Robin Hood (another Codemasters trait of adding Super to plenty of their game titles). It effectively is a platformer with keys to collect and ways forward to go, but unlike the original Spectrum and Amstrad versions, it suffers in the playability stakes, for example the jumping is awful with the mechanics, and it's often too easy to get shot repeatedly without having the chance to duck or shoot your arrow back in return. I mean it's not terrible, but certainly it's one of those where you do need a fair amount of patience to work the right way forward.
BMX Freestyle was the last offering of the day before being glued to the snooker, and it does seem to again use Matt Gray's Pro BMX Simulator music (the title track to be fair of that is excellent and tune of the day) - but the challenges on offer seem a little limited in scope, such as doing a wheelie for ages and then having to get the movement right with the pedalling to be able to jump the right amount of distance in the second event. You can at least play two player split screen though which is something.
Tuesday 26th April - Off To The Office
It was good to be heading to the office today, primarily because that does at least mean I won't be using electricity during the day and ramping up more on the energy bill side (which is something I've noted creeping up more when working from home). I did last year claim the tax rebate that was available due to increased working from home, but that of course was too popular so was stopped. However, I did note that at present the £150 refund off bills for people on council tax bands A-D hasn't been processed by the local council yet - I'll need to check with The Love In My Heart if she had hers.
Anyway, the office was pretty busy, so good job I reserved a desk and was able to crack on with some testing. This included a road test of the Windows 10 build with a new version of Chrome and Adobe Reader, and that was good, and I also made sure the old versions of Java were included so I could do some further testing of the Oracle site we need to access in Internet Explorer (IE) mode in Edge. The Group Policy settings I trialled out worked fine, but a word of note: don't remove Internet Explorer 11 in Windows Features. If you do, the back end MSHTML engine is also removed, and IE mode won't work in Edge (so you can't use Enterprise site lists or send Intranet sites that way go to in IE mode.)
Thankfully the Microsoft documentation does mention that, but it's easy to be caught out thinking it won't be a feature anymore in Windows 10. I will though be doing a Windows 11 in place upgrade later this week on a working machine and doing the same test once again to be absolutely sure, and see what happens. That way at least I can see what happens where there's a version with no IE to launch but maybe still has the engine back end for that mode. Interesting times ahead, that is for sure.
I definitely felt positive later on in the day after having a chat with a couple of people: they asked my advice about a potential purchase of a device with ChromeOS, and what the issues would be. Effectively, if you wanted to manage that you would need to have an enterprise admin management in place (similar to say Intune or JAMF) which would manage those devices with policies and configuration, as well as limiting any adding of apps of configurations. I suspect that those looking at didn't realise that and we both agreed that being suitable for corporate use would involve some jumping of hoops to be done.
With that all told, I headed home later and had a lovely chat with The Love In My Heart. She had had a busy couple of days herself and was able to get plenty done too, but we both had some good discussions about the snooker, the noise from the Etihad Stadium as Manchester City were beating Real Madrid 4-3 in the first leg of a classic Champions League semi final (cue theme tune as tune of the day) and all sorts. I did miss speaking to her last night when out, but I do think that we always find the time to chat with each other and feel a lot closer - complete with Brian the cat doing some happy cat snoring!
Monday 25th April - Behind The Fringe
After a day at work, working from home, it was off to Guildford tonight, a place that I had never been before, but with a very good reason. One of my favourite people from the telly, Claudia Winkleman, was performing her first spoken word show, which would be partly funny, partly involving live hair cuts and also involving some words of wisdom, some relating to the book Quite which she had out a year or so ago. Needless to say, as someone who's admired her for some time, I was able to get a ticket when they went on sale, and plan a route to Guildford.
In essence, it was the cheapest option for me to take the tram from mine to Wimbledon, then pick up the train from there to Guildford. South Western Railway do an Evening Out return for £10, which means I can get any train from Wimbledon after 1200 (Clapham Junction and Waterloo are subject to peak restrictions leaving there) so e-ticket bought, and sure enough when I got the tram, I dashed over between platforms 10 and 8 and managed to get the train to Guildford fine, which went via Epsom, Leatherhead and the rather wonderfully named Effingham Junction before then getting off at London Road (Guildford) - not to be confused with London Road (Brighton) - as this was nearer the venue.
In fact, I walked past the venue, G Live, and headed down for a walk into the centre of Guildford. I did like the high street with its cobbles and all the little cobbled streets off to one side. I had no time to locate the castle (but that might have been nice to see) but did manage to locate somewhere to have some food pre-show, and a nice pint too, so was a good way to wind down nicely. I did consider the pre-theatre dining in the venue itself but found this a little too expensive for just one of me.
Food consumed, I got to G Live and had a coffee in the ground floor café so I could relax before the doors opened. I was in door 3 in the stalls and that meant I would have a decent view as I was in Row D (four from the front) and in the middle, so picked well really. I noted that the front few rows felt like added seating - maybe when there's other shows on it's used for additional stage space? Alan Dedicoat, the voice of the balls on the National Lottery and who introduces the couples of Strictly Come Dancing, did the introduction, and out came Claudia - in black shirt, black leggings and black ankle boots, with that iconic fringe. She looked good!
The first half was very much good fun, she had a good giggle with some latecomers and also explained some of her pet likes (and dislikes). She then asked the audience to stand up and if those who remained stood up depending on the answers to what she asked had a chance to be her soulmate for the evening and ask the questions in the Q&A part. In the end, it was down to a few (not me!) and a very lovely woman called Nicolette went to ask the questions on a comfy sofa. Included in the questions from the audience (in a bowl and picked at random) were: "Will you miss Oti (Mabuse) as she has left Strictly?" and "Do you really use Head and Shoulders?" (which, truthfully, she does!)
The first half ended with those who had volunteered to come on stage and during the interval had their fringe haircut done by a well established local hairdressers. It worked out well and all the people looked very lovely with their cuts, so that was definitely a plus. We also had some dilemmas answered with the help of Claudia as audience members who had submitted a question got to chat with her on the chairs as they worked out a plan of what to do - including one who had a dream of her husband cheating on her with a neighnbour.
There was then a series of what Claudia called mini lectures, which ranged from why holidays are awful (clue: suitcases and those in the same hotel as you who are irritating feature) to why small naps at certain times of the day are important, and also a lovely letter she wrote to her eldest son when he left to head off to University, which was heartfelt. The show ended with a bit of a singalong as Claudia asked everyone to join in Wonderwall by Oasis (make it tune of the day - I'm not a massive fan of it, but she is) and the crowd sang along to end the evening somewhat uplifted.
I have to say - I was pleasantly surprised. It was funnier than I thought it'd be and she was just the same herself that you see on the telly, self-deprecating in humour but also not averse to the occasional naughty word. It was very much a female dominated audience, I'd say something like 95% to 5% with husbands and partners making the most of that (and me of course). I got back to London Road Guildford in time for the train to Wimbledon, took the tram home and thought how nice an evening it was and how much I really enjoyed myself, my first theatre like show in absolutely ages too. I am so tempted to go to Brighton next Sunday...
Sunday 24th April - Sunday Soujourn
We had a nice relaxing Sunday morning together, did The Love In My Heart and I. The Love had a lie in and I sorted out a few bits of washing and drying as well as get the dishwasher on to make sure we had some clean dishes for breakfast. I sorted out the breakfast for us and did a full one too - so some nice bacon, sausages, mushrooms, scrambled egg and also for The Love some plum tomatoes, as well as some toast too. It was nice to enjoy that together and be able to relax as well.
I did have the World Snooker Championship on and there were some early exchanges in the second round matches commencing this morning: as Stuart Bingham took an early lead against Kyren Wilson and John Higgins did the same as he was giving a lesson in taking chances to Noppon Saengkham early on too. It was good to see and we later got ourselves changed and ready to head out for a nice lunch together before The Love would be heading home: on a slightly different route via Wolverhampton, as it was a lot cheaper!
We took the train from East Croydon to Victoria, which was packed (primarily because Thameslink were only running to London Bridge) but here's a thing: if the train is packed and people standing, and you're taking up a seat with a bag, why not move it to the overhead rack and allow someone to sit down? Prime example of what I've started calling trainwankers: people who travel on trains without any consideration or due care for others. In any case, the Victoria line was also pretty busy but we had moved down the platform and so got on easier, and also off easier at Warren Street also.
We then headed from there over the road and onwards to The Crown and Anchor, our traditional venue for having a nice Sunday lunch together. We had a nice table by the window and I also had the very nice beer from Two Tribes called Dream Factory - very drinkable and very nice. The Love had the Camden Hells, and we then decided what lunch to have. I had the fish and chips with minted peas which was lovely, and The Love had the roast chicken with a massive Yorkshire pudding, which was superb.
We had another drink outside just as the sun decided to head in for the day behind the clouds: I had the Big Drop ale which was a nice 0.5% as I didn't fancy anything too heavy - but it was good watching the world go by and being able to chatter away together. The time was going by far too quickly and we were back at Euston later having a hug and a kiss goodbye before The Love headed on her trains home. It was a lovely day (so cue Bill Withers classic being tune of the day) and we definitely made the weekend all lovely.
Saturday 23rd April - Putney Pleasures
The Love In My Heart and I had a long lie in and then had some nice breakfast, mainly some sausages on toast and set us up for the day. We didn't need a massive breakfast because we were meeting The Love's niece for lunch. She had just moved to a flat in Putney with her boyfriend, which works out better for both of their jobs, and cheaper for travel too instead of where they were based. We said we'd pop over and see the flat and also do lunch together which would be nice to do.
We took the train from East Croydon to Clapham Junction which was busy, and then swapped over to Platform 5 for the train to Putney. It was busier too because Harlequins Rugby were playing at the Twickenham Stoop, so naturally people were on the same train for that reason. We got off at Putney and walked the rest of the way to the niece's flat, and it all looked really nice - a good sized front room complete with galley kitchen and unitsall round, and then a good sized bathroom and a pretty large bedroom, with shed loads of wardrobe space and a door to a communal back garden which looked very well looked after. They had managed to find somewhere really nice and was pleased to see that.
We headed down Putney High Street and The Love's niece had suggested a pub that we go in, as she had noticed it was busy most nights. I also had eyed that up online too, so we headed into The Spotted Horse, which was also a Young's pub and would also mean decent beer too. And so it proved: the Young's Special was on form. I got the three of us lunch: the niece had the fish and chips which looked awesome, The Love had a chicken club sandwich with fries, and I had this superb dish: haddock with champ mash, a really nice garlic butter sauce and all topped with an egg. It was gorgeous!
I did get us drinks later as drinks and conversation flowed well: The Love's niece talked about the dog that one of the colleagues has and how that dog has become a bit of an icon in the school she teaches at, with lots of "awww" factor everywhere which was nice. I did make sure I used my Young's voucher in my On Tap app so I got a free pint of Brooklyn Pilsner for myself when I got Camden Hells for the others, so no complaints there really - another good reason to have the app to hand. Lots of decent tunes in the background too including Good Enough by Dodgy, so tune of the day for me that one.
We walked back to the station and said our farewells but it had been lovely: The Love and myself headed on the train to Richmond and had a nice mooch around the shops there and a walk along the River Thames too which was busy as you'd expect. We did notice no more Hummingbird Bakery there though which was a tad disappointing, but we did see plenty of nice indepedent shops too. We stopped off at the Railway pub and I did see that Manchester City had beaten Watford 5-1, so a watch of Match of the Day later was definitel well worth it for me (which I did)
We got back via Clapham Junction to East Croydon and then I started to make the tea - we had some nice mushroom soup with bread to start, followed by the Wiltshire ham gratin and vegetables for main. We kept an eye on the snooker and there was one frame with Mark Selby against Yan Bingtao which went on for a record at the Crucible - eighty four minutes plus to be precise, which Yan won on the final black to go 12-10 up, and he won the next one to knock out the number one seed, well played to him.
Friday 22nd April - Covent Garden Circular
It was a day off work for me today as The Love In My Heart was heading over to mine this weekend. Originally we had planned that we were going to see Celeste at the Camden Roundhouse, but that had been cancelled due to Celeste losing her voice somewhat and being told to rest by her doctor. I must admit that we did think about looking at changing trains but was too late to look at any refunds etc, so it was what it was. As I had very kindly taken The Love's case home with me yesterday with all her things in, it meant she didn't have to take anything with her on the train, so another good win.
I had my food delivery from Sainsbury's, sorted the flat out so it was all nice and tidy, and then headed off to St Pancras and walked across to Euston, where The Love's train was on time and coming into Platform 16, so waited at the top and was able to give her a nice hug when she arrived. I do miss her of course! We headed off to the bus station at Euston and had an alternative plan for the day in operation, so we headed on the 68 bus and down Kingsway towards Aldwych and getting off at Drury Lane - and we then noted somewhere for lunch!
So first stop was the Wellington on, aptly, Wellington Street. We had been here before and the upstairs dining part has a nice view looking towards Waterloo Bridge from its Northern side. I ended up having the special which was a game pudding, which had venison and pheasant in with a really rich gravy and thick pastry, and The Love had the fish and chips which was also good too. I did have the Nicholsons Pale Ale which was pretty nice also of course (because it is brewed by St Austell) so all set up nicely.
We then walked around Covent Garden and then the market for some time - we did pop into a few shops including Sass and Belle in the lower section, where The Love likes all the little things they have, they used to have one on Clapham Common until it closed. There was also the Olivia Burton shop which The Love wanted to go in as she had some jewellery from there and the selection inside was lovely, as were the staff. They did have a thing where you could pay £5 for a token and use it on a machine downstairs similar to a gunball machine, but you got a surprise inside, The Love got a nice little butterfly pin. We both thought that was a good way to get people in to give it a go too!
We also had a good look around a number of shops in Covent Garden as well, and was sorely tempted to spend far too much money in the Moomins shop, so didn't go in to be on the safe side. We did end up though at the Porterhouse on Maiden Lane, and had a very nice beer from a brewery based in Leigh-on-Sea, and The Love had a glass of wine. We love the multi-level layout and the fact it feels more like being inside a sea vessel than a pub, but all good. We did also take a walk down the South Bank later which was also nice too, and then took the train back to my place from Blackfriars.
We had a relaxed evening in, and I made some nice pork loins together with a garlic butter topping for tea, along with some mash and some vegetables. We settled in also to watch some of the World Snooker Championship before then turning over to Channel 4 for this week's Gogglebox, which was pretty good. We did note they were watching the likes of Britain's Got Talent as well, but most of all they had also watched Freeze the Fear with Wim Hof, and was entertained by that. The theme tune, In A Perfect World by Kodaline, is still ace and so that has to be tune of the day for me.
Thursday 21st April - Garage Band
It was off to The Garage in Highbury tonight to see Kristin Hersh, long since a favourite artist of mine of course - from her days in Throwing Muses, then as a solo artist, and also founding the power trio that is 50 Foot Wave. Of course such a lengthy career means plenty of songs to pick from, and the current UK tour has been split into an electric and acoustic section - so tonight was one of the electric gigs, with Rob Ahlers and Fred Abong being along there too. I do want to try and get to an acoustic one too, but see how that pans out methinks in terms of gigs and dates.
I had taken the train back from The Love In My Heart's place this morning, which was surprisingly busy, especially from Wilmslow. I did note a fair few people dressed up, possibly heading off to the West End for a theatre show in the day (as they had no overnight cases so assumed coming back the same night) and after Crewe more so - but got to Euston fine and then headed across to St Pancras for the train home to East Croydon. All appeared well at home and after working through the afternoon, I then had some tea and was ready to head out.
I worked out a slightly cheaper route at peak time too - the Overground from West Croydon to Highbury and Islington does go through Zone 1 at Shoreditch High Street, but if you get off at Canada Water, take the tube to Stratford then the Overground to Highbury and Islington (touching pink reader at Stratford) it costs much less, so with time on my side I did that, and it wasn't a very far walk at all from the station - across the road literally and there was The Garage, not the largest venue ever (holds a maximum of 600) but I do prefer smaller venues anyway, so perfect really.
I got myself a drink from the bar (Camden Hells and Camden Pale were off, boo, so Goose IPA for me) and then got myself in a good position to watch the support of Fred Abong solo. He was very good, and played some really nice acoustic numbers, only spoiled by the number of people talking during Fred playing - massively disrespectful all round. If you want to natter, go to the pub next door and come in later. In any case Fred cracked on with it, and had the backing on a phone playing with Rob Ahlers joining him on drums so Fred could belt out the last two numbers. All good.
After a trip to the bar and The Garage's own lager, which for £4.50 for a pint wasn't bad - and Kristin Hersh came on with Fred and Rob. It was immediately noticeable that Kristin was in rocking mode, even with a soft flowered dress on. A nice varied setlist followed, and Kristin introduced LAX as "the worst airport ever" (clearly she's not had to go through Manchester Airport lately!) and the three rocked that one, so pleased to get that. And indeed, another older Throwing Muses classic, Bright Yellow Gun too, which was definitely fab. I do however also adore Mississippi Kite from her Crooked album, and that was impressive too, so tune of the day from me.
The gig did seem to go very fast, granted it was around an hour and ten minute or so set, but still. I did enjoy the likes of Shark during the encore, and some new 50 Foot Wave songs from the new album (which I need to purchase now it's released!) so that was good. It was enjoyable all round and certainly the three of them were having a good time - first time to be back in London for ages for them and indeed the first gig I've been to on my own since Seth Lakeman in early 2020, it's that long. I headed home direct on the Overground and thought to myself on the way home whether I should look at getting to see an acoustic set sometime...
Wednesday 20th April – Brighton Rock
I had a half day in work today as the afternoon was to be spent heading up to Manchester, off to watch Manchester City's rescheduled home game against Brighton and Hove Albion. City needed to win after Liverpool tonked Manchester United last night, and so managed to get my weekly reports and some other reporting as well as some support calls all tied up nicely in the morning, meaning I had sorted everything out before going off on leave, even if it is for two half days. I do prefer being able to get stuff done.
It was off to East Croydon station and it was pretty good timing as I was able to get the train over to St Pancras and then walk to Euston, well in good time for the 1340 departure to Manchester Piccadilly. I got a Sainsburys Meal Deal and kicked back with the trusty iPod, listening to the likes of Kristin Hersh in preparation for a gig tomorrow night (and as such tune of the day is the ace LAX by Throwing Muses – hope that gets played!) so that helped the journey speed up nicely too. I must admit it was pretty good to be able to see outside all the way through the journey.
I got the tram towards The Love In My Heart's place and she was a little late home from work so she asked me to nip to Asda and get some bits – with that done I headed to her place and she had just beaten me back there but thanked me for all the shopping as that helped her out. She was getting her hair cut by a friend of hers, and her sister came over too to have her hair done, and I was in the other room watching some more of the snooker with Judd Trump impressing eventually against Hossein Vafaei in a tough first session overall.
I had some pizza for tea and then headed over to meet my friend and it was time for us to head into the Etihad for the Manchester City game. We had our customary brew before the game and we had a good catch up chat as well, so that was nice. It was also good that he was going to try out my suggestion of a bus back home later to save waiting for a taxi, so had a plan in place for that. We pondered over what the game would play out like, but we both knew a win was massively needed in order to ensure that City would win and win well.
It was a dull first half, too pedestrian from City and not enough chances being made or taken, despite some promising moves occasionally. Brighton wanted to hit City on the counter a lot of the time and really did look impressive in doing so, so we were a bit concerned about that. The good thing was that we didn't concede, so 0-0 at half time was at least something. I had a feeling some changes would be made, and the return of Ruben Dias after injury was a real boost for the whole side.
Whatever was said at half time it had the right effect, as Kevin de Bruyne surged forward,his ball went to Riyad Mahrez and albeit with a deflection on the shot, it went over the keeper Sanchez and in for 1-0. Hallelujah! A goal! And not long after that, a second one. Mahrez took a corner and laid it to Phil Foden on the edge of the box, who struck a low and hard ball, and with the aid of a Brighton deflection, it went in for 2-0. Well if you don't buy a ticket, you won't win the lottery do you?
City pressed onward and brought Oleksandr Zinchenko on. He made an immediate impact by cutting out a Brighton clearance, finding de Bruyne who then gently nudged the ball onwards towards Bernardo Silva, who slotted it beautifully into the bottom corner for 3-0. The announcer even said his name like the start of the chant that he has, which got the fans going. 3-0, and all good, and we made it in time for my friend to get on the 172 bus and head home later, which was a lot easier on the whole for him to do, and it meant no waiting around either. So a good win in so many ways, really.
Tuesday 19th April – Oracle of the Office
I headed to the office today, as this was the only full day I had in this week (more on that later in the week) and so wanted to perform some additional testing to what I had been working on when I was last in on the Thursday before the Easter break. In effect, I knew that I could road test the bits I needed by just having the policy settings merged in registry prior to me looking at getting the new Microsoft Edge GPO templates uploaded and checked beforehand, so all good there.
So with the plan in action, and with the reg keys exported out from a test machine where I'd manually added the GPO templates and applied policy, I did my road test – I logged into the Oracle system, and noted that the logon page automatically went into Internet Explorer (IE) mode without any prompts or switch overs. I then hit the buttons which should launch the applets needed to prove that the Java plugins were working, and they did – first time. Nice. In fact, it was relatively seamless so it does mean that we can be proactive and get this up and running way before the June update to kill Internet Explorer.
I also felt positive later as I had been working on some additional testing for a few applications, and all those tests came back with some good answers, so that was good. In fact one of the new products which I've been deploying as an initial alpha test appeared to be operating as designed, and that was pretty nice all round too. I may get some requests later in the week to add some additional users and all that, but on the whole, it does feel very positive.
I did take a walk over to Charing Cross later as I wanted to nip into a couple of shops to get a birthday present or two. That done, I headed across to London Bridge as the station there has both a Paperchase and an Oliver Bonas, so choices of cards were plentiful and all decent – I do like to make the effort with a card for people, so it has to be nice, and I know both shops are good for this sort of thing. I got what I needed, and not too expensive a price either, and headed homewards.
I had a good chatter with The Love In My Heart, and also kept an eye on the World Snooker Championship in Sheffield as well as the Liverpool v Manchester United game. Liverpool won 4-0 and to be honest, it could have been ten or eleven, they were that good (and United were abysmally poor it has to be said.) It also showed a nice touch from the Liverpool fans who in the 7th minute joined the United fans in their show of support for Cristiano Ronaldo and his partner losing their baby, and with You'll Never Walk Alone from the fans too, so tune of the day there. Sometimes, things are more important than any football rivalry.
Monday 18th April - Styal in Style
As the weather was set fair to be nice this Easter Monday, and with me taking trains home later on, it was sensible to stay reasonably local and head out after a good breakfast and indeed getting everything packed and sorted. I did however have Brian the cat decide now was a good time to scratch me after he decided he didn't want any fussing and did a hissing face at me as well - not too bad I guess, but he does have a temper on him when he wants to be left alone, and so I found out the hard way about that one. He is of course very very clingy to his Mummy, it has to be said.
The Love In My Heart and I decided that a nice walk around the gardens in and around Quarry Bank Mill in Styal would be sensible, we're both National Trust members so the membership would cover that anyway. We got through the admission hut and then took the road downhill towards the mill, having a look in the shop along the way, with some Easter stuff discounted which might have been good if it wasn't chocolate related. We did note that one of the volunteers had hand crafted the likes of little crochet bees and heart cushions which did look nice and a bit of a different gift to have.
We followed the path across to the lower garden and followed the path along the River Bollin and onwards to the western edge of the National Trust park - and during the day you can take a gate through to follow a trail along the river, which curves back on itself and arrives at a bridge, which means that you were able to cross and follow that (and end up close to Manchester Airport, incidentally!) - but it was a nice loop around and back, and we could then take the upper path with steps towards the upper gardens complete with its greenhouse and its lean-to greenhouses where plenty of plants and vegetables were growing.
The upper garden now has a relatively nice new café and so we stopped off for a latte for me and a cold drink for The Love In My Heart, and that would be good to rest before then exploring the rest of the garden and heading back towards the entrance and the car park. It was a nice walk all told and following the River Bollin Trail does mean that you get to have some nice greenery too so that was good. I checked later and there's a whole different walk to do, the Bollin Valley Way, which is around 25 miles in six sections, I'll have to check that out sometime. Going My Way by Paul Weller for that reason is tune of the day.
We stopped off at the Griffin in Heald Green for a well earned lunch together. I had a rather lovely steak and ale pie and The Love had a really nice Wexford chicken with a very nice peppercorn sauce and some chips and veg on the side. Both had been cooked really nicely and The Love remarked it was very hot indeed, which showed it had been done well. I also had the indie lager as well which was rather good, so all in all, well worth a stop off on the way back. Shame I had to get the train home later really as it had been a great weekend, but such is the way it is.
Sunday 17th April – Easter Stroll
It was Easter Sunday today, which meant that the shops were shut, and it was a case of being able to relax and enjoy the day together. Brian the cat of course wanted to have his fuss and cuddle time and so was there waiting for his Mummy to get up. He was also later lay on the floor next to the bed and next to Mummy wanting to keep an eye on her, bless. We got up and had some breakfast and I was keeping an eye on the World Snooker Championship – Mark Selby had won last night and also this morning Zhao Xintong made very light work of Jamie Clarke, winning 10-2.
With the weather set fair and also being dry, with the sun out and a little wind, we did one of our favourite walks together. It was time to head off down the canal and towards the city centre, passing by the gasometers and then the old factories and mills before then arriving at New Islington Marina. It was definitely busy with people walking around, sometimes with their pets, and the cafés and restaurants had people all sat outside and taking in the sun. Of course, it would be rude for us not to do the same either, and so after a good walk we decided that a drink or two would be nice to have.
We stopped off at Cask, the first time we'd been there, and got an outside table. I went in and got the Manchester Union Lager for The Loveand the very nice Track Sonoma ale on cask for me, so that was all good. Lots of people with super soft and cute dogs were walking past and then thinking of stopping off themselves for drinks – some sausage dogs, some poodles too. It was just really nice to admire the boats in the marina and be by the bridge before we then headed towards Cutting Room Square and the places around there. Elnecot was very full for Sunday Roast as we imagined.
We did nip into Seven Bro7ers Beerhouse and got some nice pilsner as well as the Tiny Rebel Peloton Pale which had a hint of peach in it, which was lovely and very drinkable indeed, so all good there. In fact the shade was coming over the building so we sat in the square in the sun and chattered for ages, and that was lovely. We also then went back towards the tram stop via the marina and had a nice little drink at House of Esk as well – more of the Manchester Union Lager for The Love and some excellent Shindigger Mango Unchained for me, and with the canadian geese and swans in the water, it made for an excellent backdrop too.
Once back at The Love's place we rested up and Brian the cat got his customary space on the pouffle after tea, and then we had our own tea too – The Love made some gorgeous chicken wrapped in ham, potatoes, vegetables and a nice cheese sauce to pour over, which was wonderful. We stayed in and watched the likes of Britain's Got Talent as well as flicking over to the World Snooker, where Stephen Maguire's walk on blasted out Here I Go Again by Whitesnake (make that tune of the day) and the first round continued at pace, with some comebacks on the cards for tonight's matches also. Intrigiung stuff as ever.
Saturday 16th April – Semi Finals
It was nice having a well earned lie in with The Love In My Heart and Brian the cat this morning. It had been a long day travelling up North and it was good to be able to rest up and be able to enjoy the rest of the long Easter weekend together. In fact, Brian was wanting lots of fuss and attention, including plenty of tummy tickles. I think he knew that there would be visitors coming later on which meant that he would be hiding away in the bedroom and looking out of the window at all the passers by instead, so was making the most of all the adoration and love now.
The FA Cup semi-finals for both Manchester City's women and men were on today, so first up where the women at West Ham, which would potentially be a tricky tie. It was good to see it getting proper BBC coverage and in the first half City played well, and after Keira Walsh had hit the bar, the rebound was headed in by Ellen White for 1-0. A few minutes later and a defensive clearance was sent astray from Gilly Flaherty and straight into the path of Chloe Kelly, who slotted it home into the bottom left hand corner and made it 2-0. West Ham did score one before the break with a well taken finish from Lisa Evans, and so was still close at the interval.
A few of The Love's relations came over, including The Cute Little One and her parents, and she was as adorable as ever, and she wanted to walk to everyone, and did so holding hands of people to help her along. Also, she was pretty pleased with some nice Easter presents including some books and a nice lttle Tiddly Pot of chocolates from Hotel Chocolat – she was allowed a couple and happily enjoyed them. Whilst all that was going on, I saw Manchester City's women complete the FA Cup semi final job, with two well taken goals from Lauren Hemp in the second half making it 4-1 overall and an excellent win and the Match of the Day theme blasting out – so tune of the day.
I headed off on the bus later to see one of my friends and watch the Manchester City game there against Liverpool in the men's FA Cup semi final, and The Cute Little One was with The Love still being utterly adorable. I got the bus and all was well – it even had USB charging points in the back of the seats. It was good to see my friends and it was one of theirs' birthday a couple of days back, so was able to drop off some nice presents including the Rob Beckett book. Happy smiles all round, but as for the football – well another different kettle of fish there.
City didn't play at all well in the first half and Liverpool capitalised on it – first off with an excellent header in from Ibrahima Konate into the top corner for 1-0. Then City keeper Zack Steffen was messing around with a back pass, and so much so that Sadio Mané slid in, won the ball cleanly and hit it into the net for 2-0. It was a terrible defensive howler and we'd had a warning in the league game last week such a thing would happen. Unfortunately we didn't learn from that. Mané would score on the volley in acres of space and no one covering him and that would make it 3-0 to Liverpool at half time – effectively game over to be perfectly honest, and all we deserved really.
City did get a little better in the second half and it was an early goal from Jack Grealish that meant at 3-1 with time left we had a chance to get back. There were two good chances from Gabriel Jesús which he hit straight at the keeper which might have been finished on a better day, but with time ticking into stoppage time Riyad Mahrez went down the right and slotted it across the goal for Bernardo Silva to make it 3-2. Raheem Sterling had a shot late on but it wasn't enough, and we were out of the cup. Sadly we deserved it really, and shows that yet again in a one off major game sometimes tactically we've not got it right.
Friday 15th April – Standing Room Only
I had had a good night's sleep and was heading up relatively early as I was having to take a diversionary route on the trains today to see The Love In My Heart. I had booked trains from St Pancras to Sheffield and then Sheffield over to Manchester, so all good there. As I knew it might be busy because of the fact that Euston was closed over the whole Easter Weekend and as such no trains running direct to Manchester or Liverpool, inevitably any other routes would be taking up considerable slack. I got to Costa Coffee at East Croydon station and got a sausage bap with a coffee so I could have breakfast on the train to St Pancras (as I would imagine it'd be rammed later.)
I got to St Pancras and headed up the escalator to the ground floor, and could see the massive queues for Eurostar already forming. I took the escalator up again to the first floor and the Greggs and Pret close to platforms 1 to 4 were really busy, and as the time approached for boarding the 0902 to Sheffield, I could see it getting busy. I managed to walk down Platform 3 to Coach B and got my seat – even though that the reservation screens were still downloading (it transpired they were on the blink.) The train manager was trying her best to make sure those with reservations got seated, but obviously with that failing, hard to enforce. The train left St Pancras, full and standing in the coach I was in.
In fact, as the train approached Leicester, and seeing the number of people on the platform, it made me wonder if in fact for situations like these it should be that the number of tickets sold should only be enough for the seats on for the long distance routes and fully reservable, so if no reserved seat – no train. Whilst that may leave some disappointed, it'd avoid the severe overcrowing, which bearing in mind we are still in a pandemic, would at least keep people distanced as well. It was only at Derby that the train emptied out enough to be comfortable and I had the likes of the superb 5000 Miles by She Makes War (make that tune of the day) apt for the long journey that I seemed.
The train arrived at Sheffield and changing over trains for the ride over to Manchester, I knew the other train would be busy, especially as you didn't have a seat reservation even when buying an advance ticket. I had worked out where the train would stop and did get on at the far end and got a seat, but it was all full and standing all the way to Manchester, so was pleased to get all of that out of the way, with The Love In My Heart there to collect me, and we'd be off to her place where Brian the cat was being all cute and cosied up inside the curtain and looking outside and admiring the view.
We headed out some nice lunch at the Gateway pub and there was a rather nice JW Lees straw coloured ale that went down nicely. It was then over to John Lewis to have a mooch around, and there were plenty of possible things that The Love could get – including some nice picture frames which would hang well in the front room. We did also see some nice cushions for the chairs in the front room so that was nice too, and later we stopped off at Wine and Wallop for a well earned drink – and they the Dunham Massey Dark Mild, so that was very good indeed and we relaxed and chatted and enjoyed the rest of our Friday off, and for me a long way from trains!
Thursday 14th April – Thursday Tipples
It was off to the office today and it was the last working day before Easter – so plenty to get done and in fact, it was good that the majority of the team were going to be in the office today too so that we could head out for some drinks, and in a way it was to get over a postponement that we had a few weeks previous for a number of reasons. I took the train over to Charing Cross and then walked from there to the office – and it was nice and quiet on the whole. I got myself settled in and ready to crack on with a few tasks which would take up the day.
First of all was a planned change to add some revisions into the build task sequence, which included a new version of Firefox, two updated driver packages for two models of laptop, and also a couple of steps for our Brazil office folks which included an option to install Office 365 with the Brazil language added, so users could switch the proofing language as needed, and one final check to make sure that the key mapping was also spot on due to Lenovo's additional keyboard map. I had road tested all of thse so making them live made perfect sense to be able to get things moving nicely.
In the afternoon, I was able to get a couple of good datasets created for following up and checking with our Service Teams, and as some machines came online over in Brazil, I was liaising with one of the staff over there making sure that everything was working well. It definitely felt positive, and ended up creating a revised Windows 10 WIM image with the April updates included, ready for inclusion once we get the updates out to then masses, so definitely for me a good and pretty positive day. Of course as the day ended and with several of us in, it was going to be good to have a few drinks post work.
Thankfully the pub just down the road from the office is pretty good, and most of the time people just assemble on the outside tables and chairs, or stand and drink together as it's a pedestrianised area – so there would be some of us heading in and getting the drinks and then chattering outside. Also good was the fact that the pub did have the rather good Beavertown Neck Oil, so that at least meant I could have something I did like. Plenty of good chattering ensued and one of our networks team is a Watford fan, and he explained he took one of his female relatives to their first game – but I also suggested heading to watch the Watford women's team who play at Kings Langley FC – so something recommended.
We did have some more drinks and was able to get a good circle of people all chatting. I had a good conversation with my colleague about the forthcoming Liam Gallagher gigs and how it'd be pretty busy. He did say he was going to both days at Knebworth too so that would be pretty good, and we did discuss forthcoming gigs we were going to – such as for example Kristin Hersh for me relatively soon, as well as the likes of Skunk Anansie in June. It did make me want to listen to some Kristin when I got home later on, so it was on with the Hips and Makers album and the superb Sundrops track, so tune of the day.
Wednesday 13th April – In Repair
I had a nice visit from the maintenance people who look after the buildings for the flats I'm in today. A few weeks back I had noticed signs of a leak in the room where the washing machine is, and it actually did look not so great. They had came out to repair the leak but did note some water ingress into some of the walls in there as well as part of the bathroom, so wanted to give things time to dry out before coming out to sort it all. The good news was it was the same repair person as last time, so he knew I'd be spot on.
I had cleared out the rooms needed and so that meant that when he arrived, he could crack on and get things done. A sanding down of the walls was then followed by an initial coat of paint to make sure that the base coat was on, and once that dried (which it did fairly quickly) it was then on with the second coat, and the right colours in both rooms (white for the utility cupboard, the mushroom grey for the bathroom). Well, I say that, but he did say that the paint they had may not be a perfect match but he was going to put that in his report, but all seemed a lot better anyway.
One nice positive thing he did say that I was a very sound tenant and that I've kept the place spotlessly clean and looked after it, so that's a good thing to know – and of course by reporting any issues it means that I'm being proactive to keep it nice. When he pulled the washing machine out fully he noted that the leak was indeed the source as a bit of wall below the pipe seemed to be discoloured a bit too, so that was also resolved. He seemed to think like I did that it was leaking for a fair time and because of where the pipe is, right behind the washer, you wouldn't know.
Anyway, all sorted now, so just got to let the paint dry tonight (not going to watch that haha) but still good to know that everything is as it should be. I must admit that for me having that reassurance that things will get fixed as needed and also being able to report them is a definite plus point – I know that for me because I am bobbins at DIY letting someone else much more professional do the job makes a lot more sense too. So with that in mind later I kicked on some John Mayer, and In Repair is an obvious choice for me to be tune of the day.
Later on it was back to Sheffield and to watch the second part of Judgement Day for the final eight places for the World Snooker Championship live. Two former finalists were playing each other (Ali Carter against Matthew Stevens) and plenty of regular Crucible players were also battling to get through. Lots of close matches so far so it's going to be a fairly epic evening, we've not had a 10-9 result yet but this may change later. The draw is tomorrow so I think a lot of the players will be wanting to avoid Ding Junhui!
Tuesday 12th April – Absolutely Brilliant, Part 5
I had a nice positive day working from home today, and did have some deliveries as well which meant some more Commodore 64 games from Codemasters amongst others. This of course meant I'd be able to give them a good play in the evening and be able to see what I remember of them back then still holds true. In the meantime, I was road testing out the new security software we plan to roll out and so had the Windows and Mac laptops fired up for testing to be sure everything worked as intended.
With that all done and test results fed back, after a good cuppa it was time to get loading some cassettes. First of all was Monte Carlo Casino, which attempted to have five different games you'd expect to see at a casino, clearly inspired by the fact you could go into the ones in Monaco and lose shed loads of money. Blackjack and poker are the card games, as well as roulette, a slot machine and craps, the dice game. They all seem okay but again you do wonder what sort of effect gambling would have on those playing it on a computer in real life. And the music by Steve Barrett was also used in Pub Trivia Simulator!
Next up was Olli and Lissa 3 – which was one of five releases on Codemasters' short-lived Cartoon Time label, where the games had a number on the front. This was number 2, with Frankenstein Jr being the first one, then number 3 to 5 being Wizard Willy, Prince Clumsy and Little Puff in Dragonland. Suffice to say though that if you remember the original Olli and Lissa platformer released by Firebird, well imagine that with more Spectrum graphics and even less playability, even with the arcade adventure element, and you've got there. How the magazines at the time gave this 80% plus I have no idea.
The final one of the three to play tonight was the rather good Super G-Man, which is based on the original Commodore 16 and Plus/4 game G-Man. In effect you're in a gravity suit and you have to make your way across the level by using thrust at the right time to avoid the gaps, shoot any enemies if you have ammo, and also then collect the fuel, as no fuel means no thrust. I quite enjoyed this even though the difficulty level does ramp up a bit – and looks like the jingles from David Whittaker are also versions of the C16 ones, nice touch that.
I then headed over to BBC Two to watch the England women's football team away at Windsor Park against Northern Ireland. England took their time to break down a stubborn Northern Irish defence, but 1-0 at half time did become 5-0 at full time with the second goal from Manchester United midfielder Ella Toone being key to demoralise the opposition. Lauren Hemp bagged a couple as did Georgia Stanway, both play for Manchester City, so a victory with goals made from Manchester. Nice.
It was also the first night of two of what snooker calls Judgement Day, where the final 16 slots for the World Championship at the Crucible Theatre are won. I was pleased to see Ding Junhui get through a tough match against World Seniors champion David Lilley, and also good wins for the likes of Scott Donaldson, Stephen Maguire, Michael White and Jamie Jones. Of the battle of the newcomers, Ashley Hugill beat Joe O'Connor and doubled the black in to clinch a 10-7 win, epic stuff. Of course, part of me just wants to play the proper snooker theme (Drag Racer by the Doug Wood Band) so that's tune of the day.
Monday 11th April - Home Is Where The Cat Is
I was working from The Love In My Heart's place today whilst Brian the cat was happily being either asleep on the bed, sat by the window having a look outside, or on the pouffle all stretched out being super cute and wanting some fuss and cuddles. In fact, Brian did allow me to play ball with him later on, so that was a positive and we definitely bonded as he used his paws to good effect to bounce the ball back to me. I think also he was more than happy when I fed him some tea later on as well, with the tuna in his new cat bowl being scoffed more than happily.
I spent some time today with a colleague working on a resolution to an issue where we needed an application to be stopped, and some folders from the user profile removed - for example if they had disconnected a session and somehow the session had lost some connectivity with some open programs. The tricky bit mainly was to get only the running executable we wanted to kill for the logged on user running at the time, so this was where a nice bit of Powershell came into play. In effect we'd get the process for the logged on user in their session only, and then kill that executable. Nice, eh?
With that working and all the other script parts in place, I turned that into a small executable which can be run on demand if needed - and my colleague tested with me and it was working well - very well in fact. This should be handy if we need to resolve said issue with a couple of people who don't log off some termainal servers properly and instead disconnect - then wonder why some of the software they want to run doesn't do what it's supposed to do afterwards.
Anyway, I also made sure that one of our users who seemed for some reason to have a 32-bit version of Microsoft Office was able to run the installer we have from Software Centre in MECM, and thus upgrade it all to 64-bit. The good news for this is that a couple of years back Microsoft knew people would want to migrate over to the higher spec version, so included the MigrateArch option in the installer - so in effect migrating the architecture from one to another without the need to reinstall. That in effect works well.
I headed to Piccadilly station later and said a fond farewell to The Love In My Heart and nipped into Co-Op for some food bits for the train. I did try a vegan steak bake for a mere 38p reduced, and it was actually pretty nice, and would have again. The train was busy but I had a seat and the two blokes opposite me on the table seat were masked as I was so that was good. Tune of the day in the meantime is Painkiller by Judas Priest, certainly one to rock to as the train sped South, that's for sure..
Sunday 10th April - Title Tussle
It was a nice and relaxing sleep in the Gresham Aparthotel for us both last night, so we really did enjoy that a lot. In fact waking up and being able to have a coffee with nice cold milk from the fridge (we got a one pinter from Tesco Express nearby yesterday afternoon) was just the thing, and got us both up well. We had a good shower and got ourselves changed and packed ready, as we needed to check out by 10am. With that in mind, and because I was heading back for the Manchester City v Liverpool game, I wanted to get back on time anyway.
We walked back to Leicester station and whilst heading into WH Smith to see if they did any brekkie options (no, so it was a short walk to Greggs shortly) The Love was chatting to someone at the station. When I came out, I could see why, and the cat carrier was a giveaway. It was Dean and his trusty cat Nala from the 1Bike1World Instagram account (those of you who follow that will know who I mean). Nala was so well behaved and relaxed in the cat carrier and gave happy smiley faces to The Love and myself - so that was good. We had our breakfast and headed on to the 1019 departure to Sheffield.
In fact, because of the way the trains worked out, we avoided the mad stampede of people switching from platforms 7 to 2 to get the East Midlands train to Manchester, and had time for a well earned drink in the Sheffield Tap - and they had Froach on cask - so that was a total no-brainer for me of course. The Love and I then headed over to Platform 8a for the 1214 Northern train to Manchester via the Hope Valley - again a few people got off at Hope and Edale and gradually picked up passengers after Marple, including lots of Manchester City fans heading to the Etihad (as I would be too) - so once at Manchester, it was on the tram back to The Love's place and lots of fussing over Brian the cat.
I set off for the game later, and first headed over to the Betfred near City's ground, claimed my winnings (wasn't saying no to that of course) and then noticed the local chippy was open, so it was chips in a cone for me as a pre-match bit of food - and way cheaper than inside the ground too I should add. It was then into the ground and off to my seat for today's big game, and I have to admit I was prety nervous all told. So much potentially rode on it, but I would happily take a draw of course to keep things as is, and we did have a 2-2 draw at Anfield earlier in the season, so could work out another draw here.
No one of course was writing any script to say that after Raheem Sterling missed a good chance very early on, the ball would head out to Kevin de Bruyne and he would hit a deflected shot into the bottom corner for 1-0, right? That's what happened. Liverpool did bounce back and after no one had stopped the cross from Andrew Robertson, a ball into the six yard area from Trent Alexander-Arnold was finished at close range by Diogo Jota. Fair dos that, nothing we could do, and it was 1-1. All to play for still.
City did push on a bit, and after some chances were created without someone to finish them so well, eventually a lovely curled diagonal ball into the box beat the Liverpool offside trap, and there was Gabriel Jesús to beat Allison to it and off the bar for 2-1. Nice move and good goal all round, and that was the score at half time, so pretty pleased. However, a lack of concentration meant at the start of the second half a good Liverpool move meant that a pass from Mo Salah found Sadio Mané and he slotted home for 2-2. And a pretty excellent move it was, to be fair.
City did have the ball in the net later on but Raheem Sterling was offside (and VAR did correctly call it to be fair.) Also late on Riyad Mahrez could have won it but he dinked it over the bar and maybe a low shot would have been the better option. But, what a game. Toe to toe, the two best sides in the country showed exactly why they are that right now. No quarter asked or given, and respect between the two teams at the end of the match - that's how it should be really. I headed back feeling pretty happy - I'd have taken that at the start, with Supra's Blue Moon ringing out in my head as I walked - tune of the day definitely.
Saturday 9th April - The Modfather in Leicester
It was off for us to Leicester today, as The Love In My Heart's relatives had very kindly got us such a nice present - two tickets for Paul Weller at de Montfort Hall, and also a nice posh stay at an apartment hotel too, so that was going to be a good little break. I had sorted the trains out and with Two Together Railcard didn't prove to be that expensive at all (in fact, just over £35 for the two of us there and back) so once we'd got ourselves showered and changed and with the bags all packed, it was time to take the tram to Manchester Piccadilly and then onwards to Leicester on two trains.
First off, once in Piccadilly, we got ourselves a nice coffee from Costa and made sure we had all we needed, and scanned the tickets at the gates and got on the 1049 Northern train to Sheffield. It is the stopping one for all the Hope Valley stops, but lots cheaper than Transpennine Express, and even nicer - a new train too! It was pretty busy so was glad to get on early and get seats together before the train set off, and gradually from Edale onwards it emptied out with people and backpacks going exploring the Peak District, and picked up more at the likes of Grindleford for those heading to Sheffield - but there on time, so all good. The change was easy and off on the 1239 to Leicester and had a table sat opposite each other with no one sat next to us all the way, so a definite win there!
I had done my research and knew there was a nice pub close to the train station called The Parcel Yard, and that proved to be a winner. We both had a nice big posh sandwich with some chips for lunch - mine had roast beef and cheese and also a dipping hot gravy to dip the sandwich into - and actually worked out very well. The Love had shed loads of chicken on her club sandwich which also looked very nice. I was also able to have some nice beer too that definitely was all good there. We then walked down Granby Street and Belvoir Street towards the Gresham Aparthotel, and checked in.
Once checked in, we had a room on the first floor, and when we opened the door, The Love was delighted. We had a nice separate bathroom with shower, plenty of space for clothes, a nice big comfy bed, decent sized telly and a separate sofa, dining table with two chairs and even a kitchenette with microwave and hob, so if you wanted to make yourself something, you could. It had cutlery, proper mugs, proper plates, wine glasses and normal glasses, and even a little fridge too which we'd definitely take advantage of!
We had some time in the afternoon so went for a walk around the city centre, and discovered some nice independent shops as well as the Highcross Shopping Centre which had a John Lewis at the rear end, so The Love had a good look in there to see what was available, and also a branch of Flying Tiger so that was The Love sorted having a mooch. I must admit it did feel nicer here than parts of Granby Street, and also a lot of the pedestrianised streets were really good to see, all clean and tidy. The market is of course well known and it's still kept all that tradition intact.
We got back to the room and watched the Grand National, where Noble Yeats won (so that of course was me very happy indeed with a win) and as Delta Work was third, The Love had also won a small win as it was an each way bet on that one, so no complaints for either of us. We got ourselves ready for the gig later and headed close by to the Distillery pub, where a pint of the Clwb Tropica was mine as well as a nice meat feast pizza, and The Love had some really nice little dishes - one which was chicken and chorizo croquettes and the other being a couple of tacos with shredded duck and a nice sauce in, which proved to be pretty spicy but very nice overall.
It was then off down towards Regent Road and the walk uphill to De Montfort Hall, where Paul Weller would be playing. We did get to see most of the set by support band The Stroppies, an Australian band from Melbourne, who were actually pretty good. They were a lively four piece (having new member Zoe join recently) and played tight, including some new songs from their forthcoming album Levity, out next month. I quite liked Up To My Elbows as well from that album, so might have to check the album out when it gets released. The Love was a bit indifferent to them, but each to their own.
We got ourselves some drinks and the view from the left circle was had was pretty decent really, looking towards the stage from the side up above. Paul Weller came on, and for the next two hours or so played close to thirty songs, and it was an impressive set of both old and new, including plenty of Style Council songs which had The Love being a very happy bunny indeed. So if you liked that era of Paul, the likes of Headstart for Happiness, Have You Ever Had It Blue, It's a Very Deep Sea and Shout to the Top would meet with suitable joy.
The Love was very pleased to hear those and it was good also that Paul hadn't forgotten his early solo era either, with the likes of Into Tomorrow, Stanley Road, Hung Up and Above The Clouds getting some very good airings. Of course any song from The Jam was going to have the audience in raptures, so having Start! during the main set was an inspired move - the atmosphere was electric to say the least. And plenty of new stuff too, the title track of recent album Fat Pop, Village and Rockets all getting good receptions too. It was noticeable that pretty much everyone was our age or older, but that showed they all had superb taste too!
The two encores resulted in some absolutely classics being played: the first encore had Broken Stones which was majestic, a gorgeous relaxed rendition of You Do Something To Me, then a Jam classic in That's Entertainment, which of course had everyone singing the chorus, and Wild Wood, which I love a fair bit too. As the lights hadn't come on, we knew there was a chance for more songs, and sure enough, it was Come On merged with Let's Go, and then, to bring the house down, the classic Jam song that is Town Called Malice, needless to say everyone was up going mental to it, The Love loved it and so do I - so tune of the day it has to be. We headed back to the hotel both very pleased indeed!
Friday 8th April - Friday Fixes
It was off to the office so I could do my day's work there (and a Friday is normally relatively quiet anyway) before then heading off to Manchester to see The Love In My Heart for a very different weekend all told. I must admit that it was good to be still able to do some regular testing for the dreaded C and be confident that with a negative test, I know I am still being safe and making sure I don't pass anything on to people - it's only the right thing to do after all. Once all that was sorted and case packed, it was off to take the train and bus to the office and be able to sort out a few things.
In fact one of them was from a Service Team colleague who had been having some issues building what looked like a standard laptop and it kept failing. I did note that it hadn't installed any drivers, and a quick WMI query showed why - the model showed ThinkPad instead of the actual model number. When I delved into it further, I had actually notified a few managers almost three years ago that the BIOS model string was wrong and needed fixing, so was able to go through it and sort it there and then. The result of that? A first time build with no issues and everything working nicely.
I was also able to examine a few other machines with a colleague later on and assess the situation with those. One of them definitely appears to have a faulty motherboard of some description because it definitely isn't detecting all of the hardware correctly, which isn't good - and in fact it may well be that there's some which they won't be able to get working, such is the nature of everything being portable and being carried around a lot more. There's no lockers in offices anymore either, so you can't even put the laptop away somewhere either, so more carrying around too (which I also have to do of course).
After work I headed off towards the bookmakers not far from Euston and did the bets for myself and The Love In My Heart for the Grand National tomorrow, as it's something we've done together since we met and I know that some of her relatives always do the bet on this one too. Interestingly of course, I decided to plump for Noble Yeats, ridden by Sam Waley Cohen, who I knew was retiring after the race tomorrow and indeed had a pretty good record over the Aintree fences too, so worth a shot at 50-1 methinks. I also backed Commodore (for obvious computer gaming reasons) and also Death Duty, because it sounds like a song title Slayer would write.
It was thankfully nice and uneventful on the train up to Manchester Piccadilly from London Euston, everything on time, had a nice coffee from the shop and was able to kick back and relax nicely along the way with the iPod playing some classic tunes including Altern-8's rather good Hypnotic St-8 (and therefore tune of the day) reminding me of times when the likes of indie clubs would crossover and play dance choons like this. In fact, the folks even had PP Arnold (yes, that one!) on Evapor-8, still a track of theirs I love to this day, and the particularly bonkers video to match.
The Love picked me up from Manchester Piccadilly although because of an event down at the Mayfield Depot, it was rather busy near the station with taxis reversing everywhere and basic chaos on some of the roads. We got back and Brian the cat was there for his cuddles and Dreamies as he usually is, and after watching a bit of telly we were all good to head to sleep, we've got a good but long day tomorrow and it made sense to get an early-ish night before we set off.
Thursday 7th April - Mac Attack
It was mainly being on the work Mac for a fair part of the day today, as I wanted to package up and test out a new piece of software which our Cyber Security team want us to take a look at. In fact, the vendor had at least sent some packaging instructions out, which appeared to be okay, although in truth some of it did need a little proof reading as it wasn't fully correct. However, it did allow me to get the gist of what was needed: in effect write a config file with your instance address, token and ID number, and add that alongside the package, then let it all be installed happily.
It did seem to work and I did keep an eye on the cpu usage as well, which seemed to be at a reasonable rate of sorts. I wasn't getting any potential permission prompts that I thought we'd get though, although this might change when the instance itself it refers to is up and running, so we'll see about that. What I did note though is the fact that it seemed a little daft to have the original installer pkg and config file and post install script inside another pkg with a post install script doing what you'd normally expect a package installer to do - there must be a reason for that - maybe because it refers to the config file at the same time?
Anyway, the other thing I was road testing out for a colleague was the potential new drivers for the managed printers, which supposedly eliminates the permission prompt of an old legacy exectuable withi the driver itself. Now here's the thing: if you've already approved that beforehand (as I had done) you won't know if the prompt comes up when using the new driver and files, so what I had to do was in effect reset the security database to default (there's a good way this can be done), reboot, then install the printers with current driver. Yes, there's the prompt and I'm not going to allow it this time - because then I can see what happens otherwise.
So with new driver added, and configured, let's send a print this time. No prompts. Everything allowed. Good. So that seems to be a sensible way forward for me and the good thing is that we can in effect replace and rip out the package within the policy, and keep all the configuration intact, which is what we'd want to do as well (or else it's a complete recreate job which as you can imagine is a tad on the messy side to say the least) - so that has to be a positive really.
I spent a good while tonight chatting with The Love In My Heart and with plenty to look forward to this weekend as well, so we'll be definitely having some time out to be able to relax together. I did of course want to plan ahead a little for the gig we're going to on Saturday (first gig in ages too) so a bit of Paul Weller was blasting out from the speakers earlier - including one of the Modfather's classics, Wild Wood, which for me really does stand out from the many many songs he's written in his solo career - and tune of the day.
Wednesday 6th April - Absolutely Brilliant, Part 4
So when I got home from The Love In My Heart's place on Monday evening, no less than three packages had arrived at my place. They were all Commodore 64 games and all by Codemasters, so more chance to read the over the top blurb and hype as well as play some of the old games as well. I have to say, there's a very mixed bag of goodies and not so good ones tonight, but amongst that lot, which I'm going to play separately some time, was the Dizzy's Excellent Adventures compilation, which includes the likes of Spellbound Dizzy and Dizzy: Prince of the Yolkfolk.
That was in an ebay auction I won which also included the original Dizzy, Fantasy World Dizzy and Magic Land Dizzy - and all for £13.50 in all. When you consider someone on eBay, who always overprices their stuff, wants £125 for Dizzy, then you have to wonder just a) who buys from that seller and b) how he can justify those prices and is in fact a scalper. It may be the old adage like record collecting where you pay more for early releases and in mint condition, but still, it goes to show that there's so much variance. Thankfully I've got some very reliable eBay sellers who I end up going back to because they test their stuff first, and service is always spot on (and in fact Youtuber witchfinder1976 uses the same seller a lot too.)
So on with the single cassette Dizzy games then. The original Dizzy is way better on the Spectrum or Amstrad, the C64 conversion feels a little like it was a "port it because we have to" sort of game - even the David Whittaker music is a tad on the boring side for that one. Treasure Island Dizzy (which I already have) does at least play better and have some good Matt Gray music too (make that one tune of the day) . Fantasy World Dizzy on next, and I found this actually very playable. The music by Steve Barrett will become familiar (see why later) and in terms of the puzzle solving and finding the coins, it's actually a solid play - probably my favourite of those.
It was on to Magic Land Dizzy, and although this too wasn't bad, it still felt a little in parts like a port that wasn't so well received, even though the puzzle elements are pretty good all told. I must admit too that I did like the music by Steve Barrett in this one, even though it sounds like a remix of the Treasure Island Dizzy music in parts - and the lose a life tune is also similar. For the classic type Dizzy adventures though, and I can't say this enough: play them on the Spectrum or Amstrad CPC. they tend to be much better there.
It was then onto Fast Food, which is a maze game featuring Dizzy and quite arcade based fun - even if the music is the same as Fantasy World Dizzy (and in fact covers the Spectrum version of the Fast Food music) but that actually proved to be pretty decent fun all told. 4 Soccer Simulators was a re-release of their full price Codemasters Gold version, and.. well, imagine all the good bits of Microprose Soccer and attempt to clone them on budget, and re-use Matt Gray's Pro BMX Simulator music, and you've got it in a nutshell. It's okay, but the indoor and outdoor are just the same as Microprose's effort, only a lot worse, and the street one is attempting to be Epyx's Street Sports Soccer. The skills one is probably where you'd get the most mileage.
Then it was on to Bigfoot, which seemed to try to be an arcade adventure but too much emphasis on jumping and then attempting to use objects very quickly (which spoils the flow a bit) and didn't play so well, one more so for the fact that you've some half decent Steve Barrett music and that's all. And lastly, Fruit Machine Simulator, which of course is a juxtaposition - a gambling game you can't win money on but could lead to addiction for the real thing if not careful. It seems to at least play okay and the Matt Gray music is pretty good, but definitely one to exercise caution with. Still, a good gaming session all round methinks.
Tuesday 5th April - Office Of Course
It was off to the office today, and I did appreciate the fact that I had set an alarm on the phone to go off to make sure I got myself up, had enough time for a test to take to ensure I was negative (especially with travelling last night also) and have some breakfast too before then taking the walk to East Croydon station and indeed from there on the train to Victoria and bus to the office - after the Thameslink carnage last night which meant I had to take the tube and train home, I wasn't chancing going that way via London Bridge this morning to be on the safe side.
Anyway, I got to the office and all was well - I caught up on any emails that I'd missed yesterday and all appeared to be well there, and then spent some time checking out the state of play with some upgrades, and indeed whether I needed to be looking at any further driver package creation. The answer to that was yes for two models, although generally it was a case of them having pretty good hardware and the support was native from the manufacturer also, so that worked out pretty well really. Nice when a plan comes together.
I did also upgrade one of the test Macs in the office to a particular version of MacOS Monterey that we'd heard reports of some Internet access being slow. I did some testing and research and it appears that one of the main culprit reasons was that for those of you with an iCloud paid account, and if you've signed in with your Apple ID, the OS seems to want to enable by default a beta iCloud feature, which supposedly masks your browsing and makes it private, but at the expense it seems of having every other network appliance support it correctly, which in business isn't going to wash..
So I suspect what's happening is that the users have signed into iCloud, attempted some syncing (despite the fact it's not the corporate official sharing solution!) and then activated the feature without realising it. It's part of a paid subscription to iCloud though, so of course I couldn't replicate that natively as I don't have an account. I think we'll need to reach out to the users and see what the state of play is, but it does seem the most likely culprit. Yet again it's Apple introducing a "feature" and expecting everyone to follow suit regardless.
I did at least have a relatively smooth journey home although the train from Clapham Junction was busy to East Croydon, but managed it okay I guess. It is noticeable how much busier trains are, even with it being the Easter holidays for some but not all. I also did note too that even around the centre of Croydon more people were out about so it was nice to get home, have a lovely chatter with The Love In My Heart, and then chill out and listen to Manchester City's Champions League game against Athletico Madrid - so cue the anthem being tune of the day.
Monday 4th April - Chester Cheer
After a well earned lie in for The Love In My Heart and myself (as we both had the day off work as an extra bonus, meaning we could enjoy ourselves fully last night) we decided that it'd be nice to head off somewhere, even if the weather wasn't looking too great. We had some breakfast and watched a bit of escapism with HGTV including Escape to the Country (as The Love adores this programme and it was one of her fave presenters today also, so double win) and then thought that it'd be good head to Chester - we hadn't been for a while and of course a nice coffee and dessert at Snugburys on the River could be happening too.
It was off down Princess Parkway and the M56, which was fairly busy but not too bad, before a short burst of th M53 then the A56 into Chester itself. We remembered the car park from last time we parked at which was close to the city walls and a little underground too, but wasn't too expensive, so got into there and then as it was lunch time headed to the pub nearby for a spot of lunch together. A double win for me as the Plum Porter ale was on (well you know I had to!) and The Love had a nice chicken basket of boneless chicken and I had the barbecue chicken melt, both cooked really well and piping hot. So that set us off well.
It was down along to the main shopping streets and The Rows, the shops where one section is on top of another, and managed to peruse quite a few nice items in there. In fact The Love remembered she had her birthday gift from Hotel Chocolat of a fiver off, and so managed to get herself some nice chocolates to treat herself - and why not? We also did venture into the likes of Zara, and also inside the Grosvenor Centre, Søstrene Grene which is pretty ace - and there's one in Manchester now too. The Love does admire the chairs they have, so I'd have to think about those myself too as they are lovely. Shame you can't order those online though...
We walked down towards the River Dee and it was nice to see people out and about having a walk along the riverside. We soon got to the iconic white bridge (the one that always used to be in the title sequence of Hollyoaks no less) and just by there is Snugburys on the River. There wasn't a queue and tables inside, so we got ourselves a table, we had a nice coffee each (me a latte, The Love a capuccino) and I had the s'mores brownie dessert complete with a scoop of the honey and ginger ice cream. And it was rather delicious to say the least - and that's an understatement!
We walked back up the hill into Grosvenor Park and admired the view from there over the river and beyond, and even spotted the tiny little miniature railway in the park too, before heading back past the Roman Ampitheatre into the city centre, perusing more shops and passing the cathedral along the way. We did pop into Joules and they did have Feargal Sharkey's classic A Good Heart playing in there (so tune of the day) as we browsed, which was a good bit of 80s goodness, before it was back to the pub for a nice drink together before we would be heading back homewards.
It did feel really sad later leaving The Love behind and off to Manchester Piccadilly to get the train home to be honest. As the scenery flew past and the train headed south, it did make me appreciate the time that we both have together even more, and how much we do treasure the time together. Today proved that us both having time off was a really good thing to do, but also that we both felt the sense of belonging together and being us, so that is something more than ever I'm going to make sure I make the most of.
Sunday 3rd April - Birthday Bliss
Today was The Love In My Heart's birthday, so it was especially nice for us to be together. Of course Brian the cat wanted his Mummy up early anyway, so he could have his breakfast and indeed to have fuss and cuddles, with him doing his gentle tap to attempt to get The Love up. I'm normally a heavier sleeper so all of this happens without me knowing most times, but I've seen Brian do the tippy tappy antics when I've been up and about for work and he's been looking at Mummy asking her to get up. It is sweet, and no doubt all the nice wrapping paper for her presents would be his to play with!
In fact, lots of The Love's relations had got her really nice presents, from flowers to chocolate and some money to spend on herself also, as well as a nice present for her and The Cute Little One's mother - afternoon tea together at a posh hotel in the centre of Manchester. So that was nice. The Love really appreciated the presents I got her - a nice little bracelet with her initial on in silver from Posh Totty Designs, a nice purple/maroon pouch bag from Turner and Bell (which happens to match both her boots that she has and indeed her raincoat from Joules too) and some nice Kenzo Amour Make Me Fly perfume too.
The Cute Little One came round with her parents (after all, The Love is the cool Nana and all that) and she was more than happy to help The Love open some more presents anyway. However, they were way too nice to The Love and had got her and myself tickets for Paul Weller next Saturday at de Montfort Hall in Leicester along with a nice place to stay too. That was way too much genorosity but like they said, The Love is always there for them and does so much for The Cute Little One that this was their way of saying thank you too, which was massively appreciated.
Later on The Love and I met in the centre of Manchester with two friends of ours, and we had some nice pre-lunch drinks in Seven Bro7ers Beerhouse first of all - I had the Honeycomb beer which was lovely and it looked like they still had the Porteresque beer from last week so was saving that for after lunch. We chatted about all sorts and it was a nice relaxed ambient vibe in there together, which really did feel good. We had lunch booked down the road at Elnecot as their Sunday roasts are pretty excellent, so headed there shortly and had a nice table for the four of us along with some good beers.
And my, the Sunday roast did not disappoint one little bit. I had the chicken complete with a confit leg as well, with plenty of roasties, a massive Yorkshire pudding, tons of gravy and vegetables. Delicious. One of our friends and The Love both had the pork belly which looked totally scrummy, and our other friend had the vegetarian nut roast, which actually looked pretty decent. The Love also had paté for starters and I saved myself for this rather indulgent cheesecake dessert which really did feel a guilty but good pleasure along the way, and well why not?
Conversation continued to flow well into the early evening back in Seven Bro7ers although admittedly the music was not to everyone's taste, there was definitely a sense of thrash and power metal and a play list taken from Guitar Hero and/or Rock Band, with the likes of Dragonforce blasting out. We did have a lovely time though and the meal was also lovely, and before we knew it, it was time to say our fond farewells with The Love's present from our friends of a Joules umbrella (matching the coat and boots also!) meaning with spits of rain she could even more look the part than she gorgeously already did.
We headed back to The Love's place, Brian the cat was fed his tea and we settled in for the evening. We did see a bit of of the Tour Championship final snooker and it looked like John Higgins might win, but later on we knew it was the final episode of Peaky Blinders, so The Love was of course gripped to that (meaning by default Red Right Hand by Nick Cave and the Bad Seeds is tune of the day to set the theme.) It was pretty gruesome and dramatic and the end just sets it off nicely for the forthcoming film (you'll have to watch it yourself to find out - no spoilers here) and that extended episode seemed worth it. Meanwhile.. Neil Robertson was staging a snooker fightback and I watched it with The Love and Brian heading off to bed - he came back from 9-4 down to win 10-9!
Saturday 2nd April - Take That and Party
It was nice to have a good lie in with Brian the cat having plenty of cuddles and tummy tickles along the way (because of course, he can) and it was good also that The Love In My Heart and I were able to relax together and potter around for a bit watching James Martin as well as seeing a few other bits of telly in the morning. I had managed to reset her Blu-ray player after it had been doing some weird things on startup, so we checked Netflix was all good on it again, and all seemed very well indeed. In fact, everything appeared to be much more responsive too so it was nice to get that sorted.
It was off out later to see The Cute Little One, as it was her Mum's birthday today so good to call round, have a coffee and catch up. Of course with us having a drink The Cute Little One was tempted to try and have some herself (but a bit too hot for her at present) but she was pretending to serve out tea from a teapot with her set, which was adorable. As was Maggie the dog who happily let me give her tummy tickles and was being super well behaved today.
The Love and I dropped off The Cute Little One and her Mum off in the city centre as they were meeting some friends, although some tears from the youngster indicated a sense of being overtired at present. That done, The Love and I went over to the Elizabethan in Heaton Moor for some nice lunch: I had the steak and ale pie whilst The Love had the chicken fingers with some messy chips which went down nicely. In fact we had time on our hands so we then headed off to Wine and Wallop for a well earned drink in there too, because we could!
It was nice just to stay in later and watch a bit of telly and The Love and I watched a couple of episodes of Formula 1 Drive to Survive, which also had the incident at Silverstone for the British Grand Prix, which some did find a tad controversial. It's always good to see behind the scenes for that, and a later episode we saw with Gunther Steiner of Haas was always entertaining to see how he'd balance the ego of the Mazepins with the father being the owner of a main sponsor and son Nikita driving the car, and showing some decent wet weather prowess in Sochi, where local knowledge proved to be very worthwhile.
Later on we noted a bit of a Take That fest on BBC2, perfect of course for The Love. She's always been a fan of theirs since the early 1990s and has seen them live several times (and loved it.) So naturally as the "at the BBC" performances included the likes of The 815 from Manchester, Going Live and Live and Kicking, all Saturday morning TV stalwarts back then, it made sense to feature them, some of the background around the original split up and the get back together. The Love was like "this is my favourite!" and then, next track, "This is also my favourite!" to which my response was "They're all your favourites aren't they?" in a nice happy way.
I must admit though that one song that we both do like (because it's also referenced in MJ Hibbett and the Validators' The Lesson of the Smiths song) is Back For Good, so that's tune of the day really. That of course featured on the performances tonight, as did the likes of Patience, The Flood, Greatest Day, the cover versions of It Only Takes A Minute and Could It Be Magic, and the more stadium filling likes of Rule the World, Shine and Never Forget (the only song Howard Donald had lead vocals on at the time, and argubaly better for it) - and even though not my thing, I get why The Love adores it so much!
Friday 1st April - Delayed
I was having a pretty good and productive work from home day, but was keeping an eye on the trains as I was heading up to Manchester to see The Love In My Heart for a nice extended weekend together. Of course, the one good thing about getting a train on the Friday evening is that we get to spend a little more time together, and Brian the cat gets some more cuddles. It also does mean I can at least head up after working at home and be there at Euston in good time to be able to head up.
Or so, it normally happens. But it seems that the April Fool, even though it was after 12 noon, was that the overhead power lines around Rugeley would develop a fault and come down in the wrong place (and it looked like it was a London Midland train full of passengers that had a narrow escape from being electrocuted) - and so as such that meant that there was no alternative but to close the line so that the repairs could be carried out. As this part is a main part of the West Coast Main Line, there's some alternative options to take, but not many, which did of course mean slower trains.
So I headed off to East Croydon and got the train over to St Pancras, and walked to Euston. It was pretty much carnage. No station staff to help out whatsoever either, just announcements at random. And in fact it seemed that some parents were happy to have their children run aroud the concourse as if it were a playground. Not the thing to do when you've got people worried about getting to their loved ones of course. Anyway, I did cleverly use the Euston Platforms app thing and noted that although my train was cancelled, the 1857 train - the one before - was running, albeit a bit delayed getting back out. I got to the platform, down to Coach C and in C26 by the window so had a seat at least.
All was well up to Rugby following the normal route, then it was branching off towards the West Midlands via Coventry and Birmingham International. It was from there all the way to the other side of Wolverhampton, diverting via Stechford, Aston, Witton and Bescot Stadium that it was pretty much go slow and it was only at Stafford that I got an idea of the delay really - which meant an arrival into Piccadilly around 10.15pm, so I let The Love know so that she was kept in the picture. I had the iPod on so the likes of Gavin Osborn's excellent Don't Know Enough About That (make that tune of the day) was keeping me going.
Anyway the train did at least pick up the pace from here and apart from a minor delay between Stockport and Manchester did at least get in around the time I thought, still well late enough for a full delay repay and all that. It was only later when I checked that the other trains behind that one were even worse off: in fact the 1940 train, due to arrive at 2154, arrived at midnight. Ouch. That would have been painful and to be honest it seemed stupid to me that Avanti West Coast didn't just announce to people they could travel tomorrow instead and minimise the disruption a bit more, but there you go. At least I got to be with The Love and that was nice.