Dear Diary...
This is my diary. How things are. Or something. Please note that the diary is archived month by month, so feel free to click the links for the archives.
| | | | | | | | | | | | | |
| --- | --- | --- | --- | --- | --- | --- | --- | --- | --- | --- | --- | --- |
| 2017 | Dec | Nov | Oct | Sep | | | | | | | | |
| 2016 | | | | | | | | | | | | |
| 2015 | | | | | | | | | | | | |
| 2014 | | | | | | | | | | | | |
| 2013 | | | | | | | | | | | | |
| 2012 | | | | | | | | | | | | |
| 2011 | | | | | | | | | | | | |
| 2010 | | | | | | | | | | | | |
| 2009 | | | | | | | | | | | | |
| 2008 | | | | | | | | | | | | |
| 2007 | | | | | | | | | | | | |
| 2006 | | | | | | | | | | | | |
| 2005 | | | | | | | | | | | | |
| 2004 | | | | | | | | | | | | |
| 2003 | | | | | | | | | | | | |

Monday 18th September - I Miss Jô
As much as I'd love to be writing about the delivery of the excellent new Gary Numan album Savage: Songs from a Broken World, and how brilliant it all is, especially the fact that his daughter Persia sings with him on the single "My Name Is Ruin" (going to make that tune of the day as it really does give a perfect insight into the place that Numan is at currently) - there's a slightly more important thing that's on my mind right now and it hit home especially after seeing The Love In My Heart yesterday, and something that I've put to the back of my mind over most of the weekend but hit home when I got home last night.
One of The Love's two cats, Jô, is no longer with us, sadly. He started to become ill again with issues around the urinary tract, was having more difficulties attempting to go to the toilet, and The Love had to make the call to take him to the emergency vet's last Wednesday, with his legs feeling all stiff and his belly seemingly also being quite sore and not right. As it transpired, his bladder was almost fit to burst but had nowhere to go due to the urinary tract being completely gone, and it was either allowing it to burst and cause a lot of pain, do an emergency operation to stop the burst and do a repair, or be gentle to him and put him to sleep.
All I could do (and I felt helpless) was to be calm and supportive as The Love was clearly upset. What I didn't mention was that I was welling up inside too and feeling really helpless as she agonised over the decision, and how much it was going to be the less painful option in the long run. He was all calm and had his cute face on as he was gradually resting and being put to sleep, and had the look as he used to have when on the pouffle, all being rather lovely and soft and cute (and he'd have a paw over the edge on the pouffle too). It's that look of contentment after having some Dreamies that we'd both want to remember him by.
In fact, there's nothing but wonderfully happy memories of Jô, despite the fact that he would occasionally go to scratch me if I was over-fussing over him. The way he loved a little ball and would run after it and play football with it, the way he would open the kitchen cupboard with his paw looking for the Sheba wet food, the way he'd gently paw The Love to wake her up and have his early morning fuss over and feed, and especially most of all the way he'd just sit with his paws crossed, with a look of "it's MY Mummy!" and be the boss of the flat, which along with Brian, he pretty much was.
I have shed some tears myself, even though he wasn't my own cat, so heaven knows how upsetting it was for The Love being there and having to see all that happen first hand. I will remember all the happy times with Jô though, because you can't take them away and it's also a part of the last few years of my life having him cuddle up at the end of the bed when I've stayed with The Love as well. Farewell little fellow, I am going to miss you. A lot. And especially with lovely little poses like this - a pleasure to have known him really.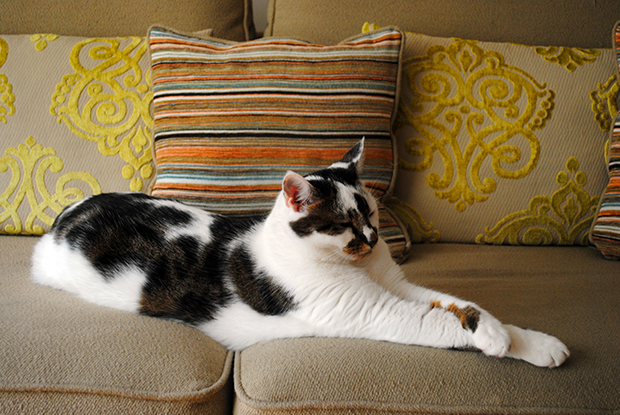 What I do know is that he will always have a special place in my heart, and each time I see The Love and give Brian a hug, I'll be thinking of Jô and he'll be looking down to us saying "time for Dreamies, Mummy!" and a gentle miaow along the way to the cupboard where the Dreamies would be kept. I also loved the way he would just get first dibs on the bed and give me a look of "It's my bed!" and a gentle purr of approval. He was so lovely, and I'm missing him tons already.
Sunday 17th September - Home via Manchester
It was nice to be up and about and again have an excellent breakfast thanks to my friend's hospitality. We spent a bit of the morning seeing the remainder of the Match of the Day repeart to see the other games being played, and also seeing the remake of the PC game VVVVVV (in itself a tribute to retro gaming) on the Commodore 64, which looked pretty decent. We also spotted a video of a speedrun of the PC game in its entirety, and a mere twenty minutes with everything collected and the "no death" bonus unlocked as the player didn't die once during the whole game. We were all like "how?"
As I'd booked the train from Ulverston to Manchester at 1042, my friends all went with me to the station to bid farewell which was actually rather nice. It had been an excellent weekend throughout, and as ever the time went by far far too quickly. Hopefully though it's looking like February for the next one, which will be the stuff of awesomeness if that happens. I felt a tinge of sadness as clearly what should be a Transpennine Express train but on loan to Northern Rail arrived, which did at least mean a nice comfy seat and a good view as I headed back towards Lancaster and beyond.
Due to engineering work, the train was terminating at Manchester Victoria instead of Manchester Airport via Piccadilly, so The Love In My Heart had arrived there and very kindly came to collect me. She was massively happy to see me and we had a massive hug before heading back to her place for the afternoon and some qualit chill out time together. And with the F1 on, with all the drama on the first lap with Sebastian Vettel being all aggressive and writing off his own world title hopes by being a complete idiot, that did go on for a bit it has to be said.
The Love and I had lots of fussing over Brian the cat especially, as he'd sit by us and love to be stroked on his b belly and indeed have plenty of cuddles. The Love had sent me a picture of him in the little blue tent with him peeking out which was cute, and certainly curled up to us both on the sofa, which was rather lovely. The Love also made a superb spaghetti bolognaise with fresh pasta, a really nice thick sauce and lots of meat as well, really puts my cookery to shame to be perfectly honest.
The time went by far too quickly in the afternoon, and before long it was time to head off to Piccadilly, and more hugs and kisses ensued before I'd be getting the 1715 departure from there to London Euston. I did have the iPod on though and so it was good to listen to some Kraftwerk on the way back including the iconic title track of the album "Trans-Europe Express" which is tune of the day - and a really good classic that is, would have been perfect playing that as I headed out of Ulverston and along Morecambe Bay..
I arrived home safely later on and saw the Guy Martin thing on Channel 4 where he had joined the Williams F1 mechanics and pit crew for the weekend of the Belgian Grand Prix. It was ace, and he ended up having to help rebuild the Felipe Massa car after a practice crash, and fitted in so well that he was allowed to be part of the pit crew in the actual race for tyre changes. He did pretty well, and as Massa did finish in the points, it was just reward for all the hard work put in. Excellent stuff.
Saturday 16th September - Lakes Weekender, Day Two
It was a good job I'd brought the air bed with me (my friend had asked me to) and so I slept pretty comfortably on that overall - my friend had got some spare bedding from his parents' place, so it was a nice cosy duvet and pillow for me to crash on, and because I'd brought the electric pump, I could easily deflate in the morning when I got up and inflate when I needed to at night. Surprisingly I really did crash out and sleep awesomely too, probably because it was nice and inflated so was restful and had had a long day yesterday due to extended travel time.
Our friend made us some excellent sausage barms for breakfast, massively appreciated and with some orange juice that got us all in the right frame of mind for the day ahead. We first headed off to the Ulverston Canal Foot, a nice part of the town where you could see the water reaches, and indeed a nice pub and hotel that faced where the canal comes down too. It was good to sit outside, even if it wasn't the warmest day ever, and be able to take in the views. I could even see the train line and bridge that I had travelled over yesterday so that had to be something good too.
We then headed off towards Ulverston Sports Club where there's a really good pub opposite, The Old Farmhouse. It is literally that but there's several good things going for it - a good selection of cask ale (the Jennings Cumberland Ale was on form) and best of all, a pool table for 50p a game. That of course was going to be well played and with the Crystal Palace v Southampton game on the big telly in the background, all was good there. We all won some games of pool and there were some excellent shots being played, including a clearance by one of our friends which was five balls on the bounce, including a black along the cushion. Fantastic stuff.
Later on it was off to a pub not far from my friend's house, so it was off to the Devonshire Arms which had a good selection of ales on, and Sky Sports News was on in the pub so we could all see how our respective teams (Man City (Doncaster were playing tomorrow so no need to worry there), Sunderland, and Liverpool, as well as Barrow AFC) were getting on. I didn't expect City to be 3-0 up at half time at Watford with Sergio Agüero on fire, but that's how it turned out really. It was also good that Sunderland had made a decent start and Liverpool were drawing 1-1.
After a nice drink or two in there it was into the town centre and to The Sun Inn, which made my friend from South Shields and I happy as Black Cat was on cask. Oooooh yes. That had to be done. They also had a telly showing some dodgy foreign channel with the Liverpool game on live, and that ended 1-1 much to my friend's disappointment. None of that for me though as City won 6-0 in the end and went top of the league, so I was very happy about that. It looked a little posey in The Sun Inn, so we then headed to a local chippy to sit in and have some food before then heading to some more nice pubs for the evening.
First off was The Rose and Crown which had a beer garden outside, and it was still light, and so we headed out there and chatted away about all sorts of retro games, and football, and general stuff. It was noticeable that some groups had entered there and a couple of people looked a tad worse for wear in the drink department, peaking too early before the lantern festival later. I did have a very nice Robinsons' Wizard ale in there, and once all good, it was off to my friend's favourite pub, the Kings Head. And with good reason. Decent prices, friendly staff and a real homely feel, the sort of place we all like.
The ale was a good selection (in fact one of the ales I had was quite a citrussy twist to it, and really nice) and we got a table with ITV1 in the background on mute. We did hear some noise from outside later and it was the lantern festival parade going right by the pub's front door! We stayed outside for a little while and watched it go past, and it was very enjoyable, lots of really good home made lanterns including a massively tall ET, and with the theme being space, lots of Star Wars and Star Trek inspired ones (R2D2 for example) which were all good - and enjoyable to watch too it has to be said.
It was then off to the local Chinese takeaway to get some food to go back with us, and I have to say it was the best Chinese I've had in ages. I had one of the Schezuan chicken dishes, which was spot on - lots of chicken and vegetables in a slightly spicy sauce, and with some egg fried rice to go with it. It was delicious, and all of what we had was really good, no matter what it was. In fact my only regret was not getting some prawn crackers to go with it!
We saw a bit of Match of the Day (and the City highlights so that was me well and truly happy of course) and then later on put on some more classic stuff on the Youtube app including some more C64 related stuff, including some SID tunes, and it was good to listen to that before the tiredness and ale was kicking in, so it was good to call it a night just before midnight. Tune of the day in the meantime was the excellent "Personal Jesus" by Depeche Mode, which we'd put on in the pub jukebox in the Kings Arms after realising it'd probably play the tracks we selected for the dosh. Excellent!
Friday 15th September - Lakes Weekender, Day One
What was going to be a routine trip up to Ulverston to see my friends for the weekend and have an enjoyable time around the Lakes changed at around 0700 this morning when I woke up, saw the BBC News and spotted that there was a massive fire not far from Wembley, which effectively took out anything from the West Coast Main Line leaving London Euston. This was of course particularly bad for me as it meant that my train to Lancaster from Euston wouldn't be probably running. I had a quick look around the Virgin Trains site and thankfully ticket acceptance had been sorted on other routes, so thought of a plan.
So with that in hand I got myself ready earlier on and headed from East Croydon to London Victoria, but instead of staying on the Victoria Line all the way to Euston, I changed at Oxford Circus and got the Bakerloo Line up to Marylebone instead - believe it or not the first time ever I'd got this line when in London, meaning I only need to do the Waterloo and City Line to have travelled on all tube lines (albeit not visiting every tube station). My first line was probably the Northern Line or the Victoria Line in the early 2000s, incidentally.
So at Marylebone the lovely Chiltern Railways staff were being very helpful, and so managed to get on to the next train to Birmingham Moor Street, so with that in mind, and with free wi-fi, it also meant that I could relax a little and then see how it lied walking across to Birmingham New Street. Of course, if they turned round the trains to Lancaster and beyond at Milton Keynes Central, I could pick up at New Street, or alternatively, CrossCountry to Manchester and Transpennine Express to Lancaster, so I had options. Thankfully at New Street I noted that the train to Lancaster was indeed running, so happy bunny all round - even got a seat no problem and headed up North.
The train did get a little delayed but I factored this in and so at Lancaster just got my ticket to Ulverston and all was good for the train going. It was a little bit busier, but good to see that the Northern Rail guard Danielle had spotted two wheelchair passengers at Carnforth and sorted them all out for getting on there without issues (and indeed off at Grange-over-Sands too.) It's a lovely line of course, as you head over a bridge at Arnside and then along the shore at Grange before heading over another bridge just before Ulverston, where two of my three friends were waiting. Due to the earlier tube bombing, there was extra security at the station, which my friend from there remarked it was the first time he'd ever seen security. Ever.
So it was back to my friend's place, and a good catch up chatter ensued. Our friend from Doncaster was having all sorts of road issues though, with each different way having some sort of road accident. Eventually, a mere five hours after he set off, he made it to Ulverston, a journey which takes a lot less (I know because he used to pick me up from Manchester on the way, and even that took less time!) - but with us all here, it was nice to relax and chill out, and once Domino's pizza delivery had arrived, it was good to munch into some meat feast pizza and generally have a good time.
Later on it was the relatively short walk to the Stan Laurel Inn close by my friend's place, where a very nice selection of ales was on. Every table was booked for eating though which shows how popular it must be for that (and not just because of the Lantern Festival on tomorrow night incidentally) but we had an outside table which was undercover too, so headed there and that meant some quality ales, and more chatter, lots of retro gaming chat in amongst that which was excellent. In fact the Thwaites Dark was on excellent form and definitely well worth me having a pint of that!
After that it was back to the house for some retro gaming goodness, seeing various videos of all sorts, including the bizarre thing that is Monotrona - effectively a dancer and singer doing her own vocals on top of Commodore 64 classic tunes, including Jeroen Tel's "Hot Rod" and Rob Hubbard's iconic "Sanxion" (make the original tune of the day because it is a classic). Naturally of course there's probably zero royalties paid, with a misnomer of an assumption that it's all free. Err. no. The freaky dancing did make us giggle and think "who really thought of that?" and stuff.
We also saw some of the series by Theshadowsnose ("Who knows what evil lurks at the heart of games? The Shadowsnose"..) reviewing some of the "Simulator" games released by the likes of Codemasters (obviously), Firebird et al during the late 1980s. He does play all formats and compares version and you can hear the microswitched joystick playing along too, with outbursts of "s****" as he loses another life. It does at least give you an idea of the gameplay itself though, and how different say the Spectrum, C64 and Amstrad versions were of the same game.
Thursday 14th September - Plans Have Changed
Well, only slightly anyway. I'm still heading up to the Lake District this weekend and to see my good friend in Ulverston along with two friends for a real weekend chattering all sorts of retro gaming, having lots of nice beers in quality pubs and also having a really good catch up as well. For me that's the important bit really, spending the time with good company and having a laugh and really making the most of the time that we have. I do still feel sort of sad that I won't be able to have any ones at my old house anymore, as they were always really good to host and always enjoyed the times, special times indeed.
However, I felt that I also needed to get a bit of time with The Love In My Heart on Sunday, primarily because I miss her so but also because I think that we're both having tough times of it at work and so a chance to unwind was good. In fact for me this only means a slightly earlier train - the 1042 - which gets to Manchester Victoria direct, and so we can have a good few hours together before then making sure that I get on a train back to London. For both journeys advance tickets were still available and it wasn't going to work out too expensive either, so definitely well worth the effort on that one.
In fact my day was quite productive, albeit investigating a few things and working out a possible way forward on some others. So for one site that wasn't quite doing what Wake on LAN told it to do, I tried a few different things today and noted that if I sent the Wake on LAN packets to one of the static ARPed addresses, it then was able to get to the clients and wake them up correctly, so whether something's wrong with the ARP protocol when being used through the router at the remote site, I'm not sure, but it definitely looks like it's not something that's entirely down to me. Hurrah, sort of.
I also had a couple of thoughts as to how to progress a few things and had documented some processes and ideas as well, so good to be able to share those. I think too that sometimes it's not just about saying that things can improve, it's having the nouse to actually say how they could be improved too, so to be constructive. And on top of that, I got the new version of FileZilla deployed out to clients in pretty quick time all around, so pretty pleased with myself as I headed homewards.
Once I packed for tomorrow, I decided to kick back and chill out, and indeed listen to the new Gavin Osborn album again. It's really ace, and well worth a purchase if you can. There's a lot of really good songs on there including the epic "I Am European" but another cracking one on there and tune of the day is "Priced Out" which is an observation on how the housing market is really knackered and that how most people cannot afford to buy a place where they were growing up and wanted to live. So bloody true.
Wednesday 13th September - Four Nil In The Netherlands
I had a pretty good productive day at work today, primarily as I had done some further testing and realised that the customised boot image we tend to use for our OS deployment needed a redistribution of content, primarily to include the new binaries from the SCCM 1706 update and therefore be more stable in terms of operation and use. Thankfully it's a pretty simple process to do so, but still well worth being sure that it's all taken care of sooner rather than later and in good time too.
I'd spent most of the morning assisting a colleague as they were remotely helping out a member of staff who hadn't connected their laptop for some time and so were missing a number of Windows 7 deployments with the old SCCM 2007. Thankfully I have the nouse to ensure that application updates are still being pushed out to older laptops till they're upgraded, and on the whole this does work pretty well. Once we'd found out how to see it remotely over the VPN connection used, it was a piece of cake to get stuff checked and also re-run any failed deployments that might have occurred also, so good to get that done.
I headed off to Wimbledon Park on the way home and to the excellent James Barbers which are near the tube station there. It's always good to have some football chatter with the staff in there and also feel like masses of clumpy thick hair are being taken off me in chunks, and felt a lot better for doing so too. Amazingly it did feel rather nice to be walking around and feeling better, and once I boarded the tube at Wimbledon Park and changed in record time for a tram back home, I actually arrived quicker than planned, so was most pleased.
Once home I'd also noted that the folks from All The Stations had posted the final video, Inverness to Wick, so we can all see the epic moment when they arrived at the 2,563rd and final station of their epic journey. It's been a blast and a real sense of an adventure getting everywhere visited and explored, and spending time about the railway, the people behind it all, and the people who just love it too. It's really a case of going back and enjoying so many moments from it, so huge thanks and respect to Geoff and Vicki for making this happen and then with suitable aplomb. What next, All The Castles (I know that'd be a Vicki thing) or even All The Pacers?
Anyway, on to tonight's football, and wow, weren't Manchester City rather good? Of course scoring just a couple of minutes in will undoubtedly help of course, but still, to go on from there, have Sergio Agüero and Gabriel Jesús bag one each and then have John Stones score a second (he's a defender, remember!) and for us to win 4-0, just the stuff of dreams really. I thought it was good when we beat Liverpool on Saturday but if anything, this tops it. Tune of the day is Supra's epic version of "Blue Moon" which has us all getting pumped upbefore each game..
Tuesday 12th September - Surprises Galore
Well today was a much better day to say the least. First off, it was the SCCM upgrade to version 1706, and that went by unbelievably smoothly. I think from the test server run, it made perfect sense to be able to then work on learning from that, so a restart before upgrade helped massively, and this allowed for smoothness of operation. Near the end when the services are starting under SMS Executive, the key thing is to keep an eye on sitecomp.log as it shows all the sub-services of that being reinstalled and the running, which frees up the replication configuration monitor perfectly and allows for everything to work as it should.
For me, it's noticeable that I also was able to freshly build a machine without a problem, and the laptop that one of my colleagues worked on also did build properly too, so felt rather good about that. I had also spent some time during the afternoon sorting out some plans for the next things to test on and get working, so including a more recent Windows 10 ADK would prove dividends for the Windows PE image for example, but would also be sensible to back up the existing ones too, stuff like that.
Even better news was awaiting me at home later, as I knew that today was the day that the oven was being replaced due to the old one dying a painfully slow death. The good news was that not only was it all fitted professionally, but it was actually the same model as the existing one, so no need for new instructions to work it etc as I already knew what to do with it, so that was good. In fact I switched it on at the wall, set the clock, and cooked the Pizza Express La Reine pizza I'd got for when The Love In My Heart was at mine a week or so back, but froze it in order to keep it for when the oven was sorted, and that tasted especially good once it was all cooked.
And on top of that the pictures came back from my favourite film developers, DS Colour Labs. I'd used my Nikon F80 film SLR in earnest when The Love and I did the Warhol inspired walk around the centre of Croydon a small while back, and so sent off all the film (two rolls' worth). They all came back with a CD as well so I could transfer those to the PC, and admittedly it was nice looking at proper pictures, but also managed to have concocted a neat bit of tweakage in Photoshop to eliminate some of the film grain effect but still make them feel film-like in digitial form, so all looked good when I sorted those out.
I must admit all twelve pieces of art were good for different reason, but the final one, Love Letters Only, seemed to be the winner for me due to its simplicity but also its use of bright yellow and red to really accentuate the art, very much of the pop art era. If you haven't already been as yet, I can highly recommend a walk around the centre of Croydon to see it all, as it's there for the rest of this month and it's a nice way of seeing the town centre in a different light.
The other nice surprise was the new album by Gavin Osborn and the Comment Section, the wonderfully titled "Echo Bridge". And it's full of songs that really do make you think about the last year or so and what's happened, and how the need to write something to try and be positive is something which is a channelled energy. The likes of "I Am European" is pretty epic, but for me and having seen it live, my favourite is "Don't Know Enough About That" which has a really nice cheery feel and is tune of the day. Now for Doctor Foster...
Monday 11th September - Solutions and Solitude
I had one of those days today where mostly things went okay, but I had a sense of feeling not altogether 100% either. I suppose it's always more difficult when I leave The Love In My Heart, but more so when I won't see her for a while. Admittedly I am seeing some friends this weekend which will be lovely, but at the same time it does mean we'll have time apart, and I don't really like that always. However, I do know that when we make the most of the time we have, it is special and that's always a good thing.
I did also get to the bottom of the issue I was looking into on Friday along with my team lead. Effectively, the mapped drives appeared to be using a UNC path to the shared folders area, but that path has dots in it. Now for most stuff internally at least this appeared to be okay, but if you tried to drag and drop documents or files, or right click on a zip file, it would come up with a warning. That's actually because of an in-built function into Windows and Internet Explorer which states that anything with a dot is treated as a Internet domain, rather than your own internal one. Meh.
However, the solution was really simple - it was a case of adding that domain into the site to zone assignment list and treating that as number 1 (Intranet) - and giving that the zone accordingly. I got back to a member of staff who reported said issue and he was massively pleased that the issue was resolved, so was pretty grateful. Long term we'll be looking at ways of ensuring that some of the policies are split up and so can be easily more assigned across the estate as a whole rather than they do now, so that'll be good to do.
I did have a think about a few things during the evening though, and did wonder if the solitude I do have on occasions is making me feel a little less happy overall. I do look forward hugely to seeing friends, seeing The Love In My Heart especially of course, seeing family et al, and it did make me wonder at times if in fact having made such a brave move down, was it all worth it. Then I remembered how happy one customer was at me resolving an issue today and one which had been bugging them for some time, so that was something.
I spent some time this evening playing some more vinyl as well, thought it would make sense to have a bit of a calming down influence on me, and started off with some 80s dance classics, including A Guy Called Gerald's "Voodoo Ray", the seminal "Won't Stop Loving You" by A Certain Ratio (make that tune of the day- hugely under-rated in my view) and then ending with some New Order, including the 12" remixes of Fine Time as well as playing Run 2 as well, notably the Scott Litt remix which never seemed to make it to CD so easily. A classic Factory release that one.
Sunday 10th September - A Wee Cat Problem
So it was a nice lie in this morning, all snuggled up together with The Love In My Heart, but I noted that Jô the cat wasn't his usual self - he's normally dead snuggly with his Mummy and wants the part of the bed where the legs would go and be able to stretch out. Instead he was constantly haunching around and looking not the most contented of cats it has to be said. We've seen this before, usually when he has a little trouble attempting to go for a wee and ends up having an occasional nervous drop dribble out. This was the case this morning, and I daren't go near incase he was grumpy and swiped his claws at me.
We both thought that it might be his urinary tract playing up a little bit, so thought it best to head out but make sure we got some cat stuff along the way, including these urinary treats with cranberry which Jô quite likes, meaning that it helps out a little bit (after all, cranberry juice does the same to us humans too), so we ventured out, firstly to one of the pound shops near my old house so The Love could stock up on more Dettol spray and wipes incase he had a little accident whilst we were out, and then from there onwards to Stockport and to Pets at Home, where the car park was packed out.
We went in and managed to get the urinary treats and as well picked up some useful information on differing cat behaviours that were in some of the leaflets. I also treated the cats to some new thing from Dreamies, called Dreamies Deli-Cats, which looked quite good for them to have as a little different treat rather than regular Dreamies (which both of them will run to us both for if we shake the packet.) The rain was hammering down and so we thought that going for a walk wasn't really on, but Sunday lunch definitely was, and before we knew it, we'd arrived at Platform 5 in Cheadle.
We had a lovely lunch in there and the Chorlton Pale Ale was on so that was me well and truly sorted out. In fact, they even had a proper steak and ale pie so had that for my lunch, and The Love had the Sunday roast lamb which was simply gorgeous, lots of vegetables, a massive Yorkshire pudding, and some good gravy too, made my very nice pie pale into insignificance afterwards to be perfectly honest. I had a coffee afterwards and we spotted an area sectioned off for a 70th birthday party, which looked nice and certainly was a good place to be for those that went there.
Later on it was back in The Love's car to Piccadilly, and hugs and kisses later I was on the way home. The good news was that when The Love got back home, Jô had done a big wee in the litter tray and after having some urinary treats he appeared to be back to his normal more contented self, which was a big relief - I remember The Love having to take him to the vet's and he cried all the way there in the cat carrier. So perhaps it's fitting that the classic "Cool For Cats" by Squeeze is tune of the day which was entering my head a lot as I made the train journey back down to London Euston and then homeward.
Saturday 9th September - Feeling All Rosy(lee)
After some lovely breakfast, it was off with my friend to the Etihad Stadium for the 12.30pm kick off, and the Manchester City v Liverpool game. It was the second home game of the season, and the international break had meant a pause in proceedings. We did know we could temporarily go top of the league for a few hours if we won at lunchtime, and both of us thought it would be a difficult game for City, having had experience of Liverpool giving us a good pasting before. And when I was younger during the 1980s, any game against them at Maine Road was usually a 3-0, 4-0 or 5-0 defeat, so wanted to avoid that if possible.
We'd timed our way into the ground well, avoiding a chunk of rain and then seeing over a brew that the rain was lashing down. I suggested hitting the ball low and hard (understatement) to shoot on sight, and we were both thinking that we'd need to hit the ground running in order to be able to go at them. The teams came out and the introductory video with superb narration by David Threlfall really gets the crowd going, and the City fans had a "Don't Buy The Sun" banner which hopefully the Liverpool fans saw and appreciated - we're not going to buy that excuse for a newspaper either (in fact, I never have...)
So the game got underway and it was a good game, open and end to end stuff, with the goalkeeper Ederson pulling off some good saves to keep Liverpool out, and we went forward well and were at least testing the keeper somewhat. So it was good to note that we pressed onwards, and wanted to do well. I think the key was that we were going forward with purpose and getting back as we needed to, and Fernandinho was being superb at providing insurance for the back four and stopped plenty of moves in the meantime.
The ball was threaded through from Kevin de Bruyne into the path of Sergio Agüero, who coolly rounded Simon Mignolet and slotted the ball home into an empty net for the opener, and that's six home games against Liverpool on the trot he's scored against them in the league, and he also became the highest scoring Premier League player from outside Europe in the process. And then the moment - Ederson came out for a ball to head it, only to have the high foot of Sadio Mané clatter into him. It was a tense few minutes to see to the injury, and Mané was rightly sent off for the challenge.
It did mean lots of first half stoppage time, and after having a header disallowed a few minutes earlier, the ball was crossed from de Bruyne into the path of Gabriel Jesús, and he didn't miss the header from close range to make it 2-0 at half time, which made us both very happy indeed. And just after the start of the second half, the ball was played through to Agüero, and he unselfishly sidefooted it to Jesús who slotted home for 3-0, and that was enough for some of the Liverpool fans to start leaving - I did think that was a bit early myself, but each to their own.
The second half became more processional as City eased into any gear they wanted, and although some of the subs changed little, it was the impact of Leroy Sané which was impressive, he teamed up well with Benjamin Mendy down the left hand side and the two of them had a great 1-2 together which meant a slot into the bottom corner for Sané for 4-0. And still plenty of time left. In fact, enough time in stoppage time for Kyle Walker to pass the ball to Sané on the edge of the box, and for him to curl home an absolute beauty into the top corner and that was 5-0.
5-0! We don't beat Liverpool 5-0. Ever. In fact we hadn't scored five against them since 1937, if that tells you anything. So it was a really impressive victory, and one which showed plenty of passion, fire and also a lot of skill. Possibly too early in the season to say if it sends out a statement of intent, but considering all the pain I suffered as a kid getting hammered by Liverpool, I'll take it thank you very much indeed. So that set everything off nicely for the rest of the weekend, no less.
Later on The Love In My Heart and I got ourselves showered and ready, and it was off on the tram to the city centre and to Rosylee, as we were heading there for The Love's niece's birthday meal out. It was good to see both of The Love's sisters, her father, nieces and partners, and so we had a nice long table and was able to chatter and catch up accordingly with everyone. I was tempted by lots of the lovely food in there and it was a really nice menu to choose from, as it always was in there. The Love looked gorgeous in her top and trousers and heels, really classy too.
So I had the pork and chorizo meatballs to start, they came topped with mozzarella cheese and a tomato sauce, and some flatbread as well. They tasted gorgeous and it was really nice, and for the main I had the chicken pizza, which was hand made and totally gorgeous. The Love had the half chicken which looked massive, and several others had the burgers or the steak, all of which looked lovely. It was really nice to have the Poretti beer as well, that went down very nicely indeed.
Later on the birthday cake came out which looked stunningly nice, a hatbox of white chocolate and sponge and was really good. We also had possibly the biggest cake knife ever to cut it with, and it was a really nice evening all round. In fact tune of the day is the excellent "Happy Birthday" by Altered Images, an 80s classic I still admire to this day, and once The Love and I headed off homewards, it was a snuggle up with the cats, watching some of Match of the Day (well I had to see the City win again didn't I?) before heading off to bed.
Friday 8th September - Through The Rain
It was a busy day at work, and good to get several things all nice and sorted, including a deployment of one of the recent updates of software we needed to get done (PowerBI Desktop in this case) and also investigating an issue that was reported that the shared network drive was showing not as a secure drive, and so when opening documents, or copying documents, or right clicking a zip file, it would come up with an error, as it thought that the drive mapping used was actually an Internet URL. We think we've got it all sussed, so see what happens on Monday and take it from there.
I headed home and popped into Waitrose on the way back, primarily to get some pasta in for tea as there was a half price offer on, but also I noted that the favourite coffee of The Love In My Heart's choice was reduced to half price too, and the offer had already proved popular due to there being only two jars left when I got there, so one of them was mine and I'd take it in the case with me later for The Love to have and make the most of over the next week or two - the very least I could do after all.
It was still quite wet outside but it was also pretty sticky and humid, and even after having a nice refreshing shower and feeling all nice and clean afterwards, it was a case of feeling a tad warm again during the walk to East Croydon station, and the Victoria Line tube wasn't exactly cold either. However, it was at least getting dark outside and so stepped out onto the front of Euston for a little while, seeing everyone walk around, spotting their departures and moving, and generally feeling the Friday night vibe. It was also attempting to tip it down with rain though, so off I headed and towards the platform.
It was a very dark yet relaxing train trip up to Manchester tonight, the 2040 always seems a bit more calmer probably because the majority of people have already left - so had no one sat next to me through the whole journey, and as the rain lashed down outside incessanly, I had the iPod on with some nice relaxing tunes, including the excellent "My State of Mind" by Swing Out Sister, so that's tune of the day - it really did lash it down and was a case of being at least dry on the train, and hoping that it would stop when I hit Manchester Piccadilly.
And amazingly, it actually did. Long enough for me to take the lift down to the tram station and head on the tram towards The Love's place, and once off the tram stop, took the short walk to her flat. She was in and so were the cats Jô and Brian, and we had a quick chatter and catch up before all settling down to a nice cosy bed, with the cats at the end all being cute and lovely. In fact, Brian just wanted his tummy tickling a lot by Mummy, so once that was all done we drifted off to a nice long sleep, and felt just all happy being back together. Awwww.
Thursday 7th September - Vinyl Revival
Once I got home from work, there was a nice little package in the letter box, no less than the rather nice new belt for my Pioneer PL-514X turntable that was a good eBay purchase. It was £5, and because the turntable is a classic (made in the late 1970s) you can't get the original Pioneer belts anymore. Of course there's plenty of spot on compatible ones that are for a range of Pioneer models, and the plinth and the platter are really heavy duty too, so really does sound awesome when it's played through my AV amp, which I bought specifically as it had a proper turntable input.
So it was good to take the old belt off, put the new one on the platter and then couple it around the spindle (the platter has sensibly placed litle holes to make this a lot easier) and once done, give it all a spin, check it plays at the right speed, and you're all good to go. As indeed I was with a test run on a couple of albums showing no vibrato effects of the speed being inconsistent (loose belts are guilty for this of course) as well as sounding really nice in the bass department especially.
So on with the vinyl, and played some classics tonight, first off, "2112" by Rush, and yes, the title track which is the whole of side one, in seven epic parts. Naturally of course it sounded rather gorgeous, especially the guitar playing, and the fact that it really does tell its own story as the album plays through, so tune of the day for the title track especially. I think too that it was a case of remembering my vocal prowess as I played through this on Guitar Hero: Warriors of Rock, notably as I've expert completed some of those parts (for the game: it's split into the seven parts as specified in the title track) - and not easy, I can tell you..
So it does feel that I'm getting all the classic stuff back together and being played, and that for me has been one thing I've wanted to do since I've been purchasing a bit of vinyl over the last few weeks, and the visit to the Book and Record Bar in West Norwood on Saturday especially really did make me feel all happy and nostalgic. There's a certain something about being in a record shop and just taking in all the sounds, browsing the racks for the records and admiring the sleeve art, which really deserves to be admired in large scale form.
It definitely as well means that I now want to get some albums that I haven't as yet been able to find, although admittedly it's a reasonably decent sized wish list, and added to that the fact that some of them are pretty difficult to find, either because there weren't many copies pressed, they're an obscure indie band not many people will have heard of, the edition I'm after isn't the standard one (especially with singles) and all that sort of thing. For now though, a change of mood and on with some dance choons, including the classic 12" of A Guy Called Gerald's "Voodoo Ray". Major!!
Wednesday 6th September - All Go
So, it was all go today at work, but in a good and positive way as I managed to work out several things as a plan of action (all good) and indeed was able to get on with plenty of troubleshooting along the way. I think it's good to move things and progress them all nicely, and at the same time be able to be on hand to answer any questions or issues that come my way. I think on a massively positive note that it's good to see that there's a real sense of people appreciating what I do too, which is nice.
I tested out the new version of Microsoft Power BI and made sure that the installer was going to do its bit, and that worked perfectly well in the test environment so all well there. I was also testing out an uninstallation method for some of the old call centre software that is now no longer used. Effectively the new one should now work better, but in effect it's a case of making sure now that we get rid of the old one. The uninstallation gets rid of most of it, but leaves a desktop shortcut behind, some other folders behind along with some profile stuff, so thought it best to get a task sequence together which nicely cleans all of that up, and it'll be good to go from Monday provided the change is approved.
It was also a case of spending some time in the afternoon with one of our network team and getting to the bottom of a couple of issues, one of which seems to be that some of the PCs seem to have a slightly different version of Office 365 than the rest. For the majority part, the one returned is current, and if it's one of the test ones that gets the updates first, that also seems to be playing ball as well, so it's a case of looking where the older versions are and seeing either if they're machines not connected for a bit, or indeed for some reason not updating and resolving it from there.
I got home later on and after having some chicken korma for tea decided to play some of the old vinyl records that I have - and by old I mean ones handed down to me by family relations that are classics from the late 1960s and 1970s. One of these albums happens to be the eponymously titled Fleetwood Mac album (known by some fans as The White Album) which was released in 1975, a couple of years before the all conquering Rumours, and the first to have the "classic Mk2" line up of Mick Fleetwood, John McVie, Christine McVie, Lindsey Buckingham and Stevie Nicks.
Straight away the catchy "Monday Morning" with Buckingham on fine form is always a good start, remember that from being little, but of course the real classic is half way through side one, the superb "Rhiannon" with Stevie Nicks in mighty fine form (so that's tune of the day). Overall, the album is excellent and "Crystal" at the end of side one is pretty nice also. For me, the closer in side two was long a favourite too, "I'm So Afraid" which really does give a sense of foreboding. Well worth hunting down on vinyl or CD, let me tell you.
Tuesday 5th September - Doctor Foster, Minus Gloucester
So another day in the office, and plenty of thinking on the feet as well as troubleshooting. I did commence the SCCM test server upgrade to version 1706 today and that went pretty well, with the only slightly downside of it was that our anti-virus solution appeared to be taking up a chunk of RAM on the server concerned, and that was something of note. On the plus side, the pre-production collection of machines got the new client (always good to get that done before going live) so the good thing is that it looks like that'll bode very well for the eventual live push to happen in the next week or so.
I must admit I wasn't bothered about watching the Great British Bake Off tonight, not least as the last part of it would inevitably clash with what another channel would be showing at 9pm. I also knew what was on tonight - the return of the excellent series Doctor Foster, with Suranne Jones being particuarly excellent in the first series as Gemma Foster, who found out her husband (excellently played by Bertie Carvel) was having an affair and the fall out from all of that.
I think for me that a good drama series doesn't go on forever and leaves you with more questions than answers. Of course the second series is set some time afterwards, and the plot from what I read on the TV guide effectively had the cheating husband back in the area in some way, so there'll be some developments and fall out from that I'm sure. The start of the final episode of series one, as Gemma revealed the affair in front of those affected, was a spellbinding bit of telly that was one of my highlights of the year in terms of that.
So with that in mind, how did it turn out in the end? Well, it was tense with a capital T to say the least. Let's make the theme tune tune of the day and also take note that all the incidental music really does add to the whole drama nicely. I won't spoil it for you, but there'll be some interesting plot twists ahead and it's set the scene for how the series will develop. One thing is for certain though: you will love to hate Bertie Carvel, love the fact that he plays his character so well enough that you'll also want to hate that character with suitable disdain also...
It's also been a case of getting some stuff sorted here, so after me checking the prices locally of camera shops and realising they're more expensive than my trusty place back in Manchester for film processing, it's off to DS Colour Labs by post for two rolls of film that I used with the film SLR on Sunday whilst on the Warhol Walk. It'll be fascinating to see how they all turn out, especially the fact that both rolls of film were a year expired, which is kind of the intention to go even more arty with it. We shall see..
Monday 4th September - Five Marble Arches Named Moe
It was good to be back at work, but also interesting to know of a few different changes ahead. They don't affect me too much currently and I do think it'll mean that I'll be able to develop still, although of course with any change planned it'll be interesting to see how all of that turns out. On a positive note, I'm still going to be able to do the hours I do now which is a good thing, as it allows me plenty of time for development and testing plus also a suitable time to be get on with the day to day tasks on top of all of that.
In the meantime, it was a positive email I had from the landlord's customer service department with regards to the faulty oven. After I'd described the fault to them, they reckoned it was easier to change it for a like for like model (or as close as possible) and this would be fitted early next week. It's good that I've been able to get this all sorted out, and I have enough stuff to make on the hob and do the likes of stir fry, curry, pasta etc and so aren't going without food as such, just improvising differently and will be able to freeze some of the stuff I got before I knew the oven had conked out, so positives there.
I headed home, grabbed something from Sainsburys I could put in the microwave, and once that was done, I was able to make that for tea at home and then head out later on. I had an email on Friday that I had won a ticket for tonight's performance of Five Guys Named Moe at the Marble Arch Theatre, and so it was the train off to Victoria, then the 390 bus towards Marble Arch. As I passed the Dorchester on Park Lane I spotted lots of people outside going "Wooooooo!" and it was the TV Choice television awards, with plenty of soap stars from the likes of Coronation Street being on the red carpet.
Once at Marble Arch, it wasn't difficult to spot the Spiegeltent that was the temporary theatre, right next to Marble Arch itself. It looked a hive of activity and produced my confirmation email to pick up the ticket, and all was well. The bar area looked very much like the New Orleans 1930s era, and had a band on top of the bar playing some tunes from the era as well, which really did add to the atmosphere nicely. I located my seat and had a really good view of most of the stage: there was a bit at front and the band playing behind, but the tent was circular and the wooden stage all the way around was where some of the action would also take place as the show did its thing.
It was a really fun and enjoyable show, much more so than I thought it would be. In essence, it's a celebration of the musician Louis Jordan and many of the songs which became household staples in America during the swing era particularly, and plenty of his songs get an airing. The plot is effectively that one character Nomax is drunk and dreaming about his girlfriend, and in that dream the Five Guys Named Moe all give him advice in various songs, with the second half of the show being them doing a live show before Nomax would wake up, realise what he needed to do and ring his girlfriend. It of course meant lots of the circular stage was used as the five musicians, all really good and emphasising their different characters, were on fire!
Edward Baruwa (who plays Nomax) is someone I've seen before, in Avenue Q, and has also been in Motown The Musical as well, so knows his stuff, and was able to play the slightly dishevelled character spot on, and had a cracking voice to boot. Out of the five Moes, I'd say that Horace Oliver (Big Moe) was really good, and again voice spot on, had the moves, it was a case of being excellent throughout. In fact the cast led you all in a conga towards the bar for an interval after having a good sing-song with one of the numbers, and audience participation in parts was encouraged massively.
The band were also sound (the saxophone player in particular was superb!) and that really added to the whole professional feel of the whole thing. £4.40 for a pint was also a very reasonable price to pay for London theatres, and with the programme being free that was pretty good. In fact the central seats had tables, you could have table service and get a complimentary glass of bubbly too - a nice treat if you fancied some of that for sure. For me, many songs were great, but tune of the day is the excellent "Choo Choo Ch'Boogie" - and if you get chance, check the Louis Jordan recorded version :)
Sunday 3rd September - Warhol's Walk
After a well earned lie in, I made The Love In My Heart and I some breakfast - I used the frying pan to fry some bacon (the hob is still working as it's separate from the oven, so at least I can use that for now) and did that to have some bacon toasties and all was well there, and had a coffee and some fruit juice to go with it. The weather didn't look as sunny as yesterday but it was still reasonable, and once we'd got ourselves showered, up and ready it was time to head out, and this time taking my film SLR with me for a change.
With good reason, too. September sees a whole month of events related to Andy Warhol, and one of the main events of the month is the Warhol Walk, which is a little tour of the centre of Croydon where there's twelve pieces of public artwork which are inspired by Warhol. As I looked at the map, we could start off at number 9 of 12 and make our way around to finish at number 8 nearest the flat. It was a good walk around towards Fairfield Halls and spotted the works there, and then off towards East Croydon station with the six images of Warhol as one piece looking quite distinctive.
From there it was along to Ruskin Square, seeing the imagery of the Ambrosia creamed rice can (as a pastiche of the Campbell's Soup classic) and then close to the station at the entrance on Caithness Walk, another distinct bit of typography, before then going towards the Whitgift Centre, and under the subway, through the centre and out by the HMV where another piece greeted us. It was then along to Dice Bar, seeing the dollar bill of Chairman Mao above the door, and walking down to Surrey Street followed to the square by the Exchange to tick off the last two.
In fact it was an enjoyable walk around, and a circular walk at that so you could join potentially at any place. Naturally if coming by train having number 1 by East Croydon station did of course make a perfect starting point, and there's guided walks for people to walk along on a day by day basis should they wish to do so, but it was good to do so ourselves under our own steam really, made a lot more sense in the end. I now just need to get the two rolls of film developed and so have checked the prices of where I usually send my films off against a processing place close to home - I'll see what works best.
Later on we played a nice game of Scrabble whilst having on the Buckingham McVie album, which The Love quite enjoyed and said it was a nice album to relax to and listen in the background. I must admit for me it's grown on me quite a bit, and I think for me "Feel About You" has some great hook lines with Christine McVie on fine vocal form, so tune of the day for me for sure. I also managed to play ZERO with the Z on double letter and the word as triple word for 69, and The Love played JAW (making JO and WE) for a massive 49 points as the J straddled double word both ways, cracking stuff.
We headed back to central London later and off to The Crown and Anchor for the late lunch there. Of course it was as lovely as ever and I had the beef and amber ale pie, always good that, and The Love had the Sunday roast pork. There was also Tribute on cask so that was me nicely sorted too, and we chatted for ages before then heading along towards Euston and making sure that The Love got her train home. I did feel very sad really because we'd had such a nice chilled out weekend together, but on the positive side, we did have some quality time and I'm always grateful for that.
Saturday 2nd September - Records and Relaxation
This morning I decided to head off to a record shop I've been wanting to visit for some time, the Book and Record Bar, which is close to West Norwood station. I normally have passed it on the train to and from work but the train doesn't stop there, so can't just head off and have a look. However, as The Love In My Heart was heading down on a slightly later train, I decided instead to use the time in the morning once I'd cleaned the flat ready and was all good to go to have a good browse and see what I could find - especially more so as they had a 20% sale on to celebrate their fourth anniversary!
So it was off to West Croydon station and then on the local stopping train via Norwood Junction, Crystal Palace and Gipsy Hill before departing at West Norwood, taking the road down the hill and to the shop itself. And I was immediately impressed. Shelves of books lined the outside and many racks of all sorts of vinyl, neatly organised, well looked after, and plastic boxes full of 7" singles which you could carry to some tables and browse in comfort there too. I liked the place - and the owner was playing some Durutti Column as well which of course pleased me no end - especially as that sort of stuff you never get to hear down HMV or wherever.
After a considerable time browsing I plumped mainly for some singles, and the owner also alerted me to a rack of new stock which included some PWEI stuff too. I had most of it, but one caught the eye so bought an item in there too, so I ended up with the 7" red vinyl single of PWEI's "Beaver Patrol", the 12" of PWEI's "Poppiecock" EP, along with the 10" blue vinyl single of "Charity" by Skunk Anansie, and best of all, and one single I'd been after for a bit, the 12" single of "Cat House" by Danielle Dax (make that one tune of the day) which is a classic and less appreciated indie classic. I know what you're saying: "But you could have got it off eBay or something!" - not the point. It's nice finding it yourself in a proper record shop, not having to worry about it being smashed in the post etc. Ace it most certainly is.
I headed home and not long after headed back out to East Croydon to collect The Love In My Heart, and she was all well and good having had a good journey down. Once back at mine and all unpacked, she ironed her nice black casual dress she has (and always looks lovely in it) and we then headed off for some lunch. With the oven awaiting a repair (need to chase that on Monday) I was limited in what I could make, but The Love was fine with that and we stopped off locally for some food before then heading back to East Croydon and heading on the train towards London Blackfriars.
It was a leisurely walk along the South Bank, stopping at Oxo London to look around some of the design shops in there and getting some nice gift ideas along the way, and the conference suite in there was being used for a wedding so we saw the bride come out of there and looking rather demure and nice. We then headed past the ITV Studios and onwards past the National Theatre, under by the Southbank Centre, and then not too far from the London Eye, we spotted a temporary site for the Underbelly Festival, which had theatre shows by the river, and many food and drink bars in there.
We stopped in there for a bit as the sun was lovely and warm, and we managed to get some decent beer (I had the Calendonian Moo Brew which was creamy and ace, The Love went for the Amstel) and shockingly both came to less than £10, which for central London is actually reasonable. We then walked further along, saw the crowds all attempting to board the London Eye, and into the Namco Station at County Hall, where we did the Bowlingo bowling. Unfortunately, Namco need to seriously get this fixed. The strings that hold the pins weren't always functioning and one pin always fell when being reset, and on top of that despite me hitting three clear strikes the machine hadn't detected that the pin had been moved from position. Bobbins, and even at £3 a game each, I can't really recommend it unless it's functioning as it should.
It was stupidly warm in there too so we headed out, crossed Westminster Bridge and walked along the North side of the Thames for a while, then crossed the pedestrian bridge close to Charing Cross station and back along the South Bank again, passing the National Theatre (which was still packed or else the Understudy Bar would have been very tempting) and along to the Wharf close to Oxo, where the little shops had then closed leaving only the eateries open. You'd think on a Saturday passing trade of people walking would be enough to open longer, but apparently not.
However we did stop at Doggett's Coat and Badge close to Blackfriars and went into the beer garden at the back. I had the Nicholsons Pubs app on the phone and this meant a pint of their pale ale for a mere £1 (Yes, really!) and that was all good. We had our evening meal in there too, The Love had the chicken with an ale glaze which looked lovely, and I had the chicken and chorizo pie, and that too was also really nice. Of course having a decent ale with that helped nicely, and we sat outside as the sun set chatting and being just together and happy, which was a lovely thing.
We got the train from Blackfriars back to East Croydon later on and once back home we settled in for some catch up telly (mainly The X Factor for The Love, not my thing at all but she loves it) and then on to BBC Four for back to back 1984 Top of the Pops, including some excellent performances by the likes of The Smiths, Wham, Frankie Goes To Hollywood, Howard Jones, Nik Kershaw, and so on. Proper music back then and showed just how much of a staple of the week the show actually was too - so well worth a good peruse. And anything that features a Smiths classic of course has to be done.
Friday 1st September - Maltese Misery
The end of what seemed like a very long week, if it's only a four day one due to the Bank Holiday. On the plus side, I did manage to get quite a few things done, including some additional testing which meant that I was able to document the whole thing with OSDBackground which I've been trialling out. It does seem pretty good in terms of being able to show nice bits of progress including a start time, elapsed time, and all that sort of thing, but it also goes to show that there's some nifty work out there to make the process seem nice and simple (and it generally is.)
The other positive was that I had been observing the latest version of Firefox being rolled out to the machines and without any issues. The only one that I saw was one today and it looked like the user hadn't realised that the software was installed on all machines, and instead had tried to install a copy in their local profile and run it from there - and so they had also created a desktop shortcut which pointed to that instead of looking for one in the start menu where it happily is. I guess on the plus side it shows that some people are still happy to run it too - which warms me, especially as a diehard Firefox fan myself.
Anyway, with the day done it was off home, and settled in for the England v Malta game in Ta ' Qali, which is near an air base and in the middle of open spaces mainly. It did look a reasonably sized ground and was pretty packed with plenty of England fans. Now you'd expect England to win it, and in the end they did, but it wasn't the most comfortable and enjoyable watch to say the least. It was more about getting the job done than being fancy and free flowing, and especially when the score was 0-0 at half time I was starting to think we may not break them down after all.
Second half got underway and like the first, a bit of urgency at the start. Thankfully some skill by Dele Alli allowed a pass to his team mate Harry Kane, who shot home from close range. However, Malta did at least go forward then and have a couple of decent efforts themselves, which makes you wonder why they didn't try to do that from the start to be perfectly honest. In fact it was only four minutes left on the clock when a speculative long range shot from Ryan Bertrand bounced past the Maltese keeper for 2-0.
Late on and as the opposition tired a tad, it was a chance for England to show the fitness gap and after a finish from Danny Welbeck for 3-0, it was then a bit of a controversial moment as Marcus Rashford played on when there was a player down, and from the forward move, the ball fell to Harry Kane to tuck it in for 4-0. It shouldn't matter to be honest, but it's the principle of stopping play which was a little bit off in some people's eyes. Unfortunately the other negative with watching ITV is that you have to put up with the inane annoying comments from Glenn Hoddle, hence I end up having to watch with the sound down.
I really don't know who is worse, him, Andy Townsend, David Pleat (noooooo!) or as was Ron Atkinson, so I suspect that's one for you the football fan to mull over. The former Irish player even had a rap done about him by Goldie Lookin' Chain (make that tune of the day) in which they managed to utilise the classic phrases "in and around" and "he hit that too well" with the next line the band asking "what are you talking about, you massive bell?" Hehe, classic.